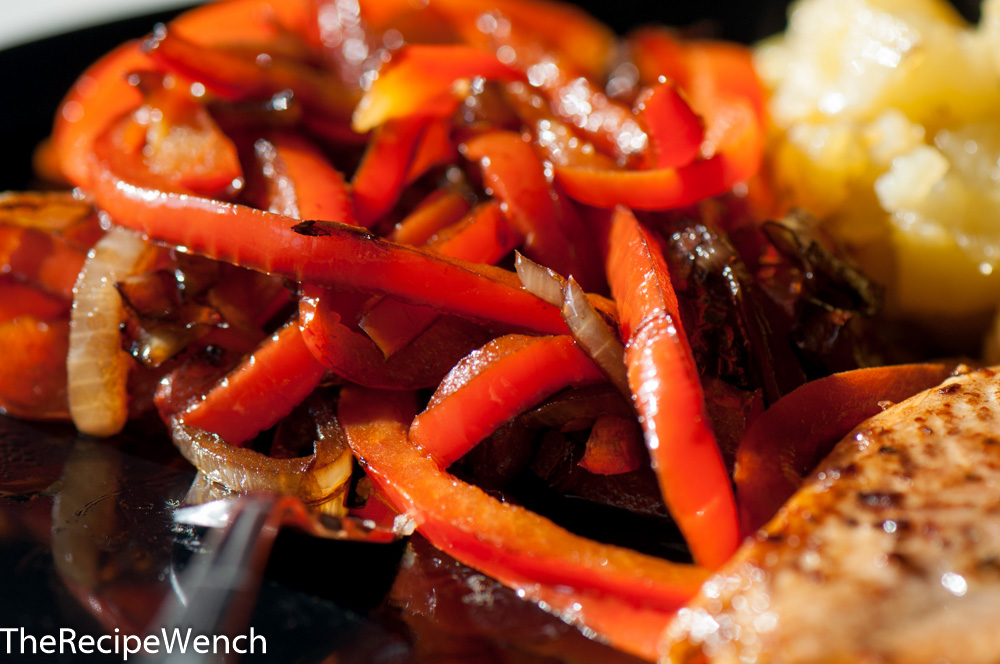 Now that we've all pushed ourselves away from the Thanksgiving table, I've got a very tasty and easy (and healthy!) side dish for you.
We learned how to make this dish during our cooking lesson with Lorenzo in Abruzzo.
The only change I made was to add a bit of sugar to help bring out the flavors.
If the balsamic you use is on the sweet side, you may be able to skip this step.  I used Progresso brand balsamic and the addition of the sugar to the dish was an improvement.
ENJOY!
Red Peppers, Onions and Balsamic

Print recipe
Ingredients
2 Red (or Green) Peppers (Sliced thin - about ¼ inch thick)
1 Medium Yellow onion (Sliced thin - about ¼ inch thick)
2-3 Tablespoons Olive oil
2-3 Tablespoons Balsamic Vinegar
Vegetable broth or white wine (If needed as additional liquid.)
¼ - ½ Teaspoon Sugar (This will help everything carmelize and the flavors will pop)
Directions
Step 1
Heat olive oil in skillet over medium-high heat
Step 2
Saute peppers and onions approximately 10 minutes.
Step 3
If you need additional liquid, you can add a bit of vegetable broth or white wine.
Step 4
Bring to simmer. Add balsamic and sugar and continue cooking for 10 more minutes.