Talk about a satisfying salad, this Asian Steak Salad has everything you could ask for . . .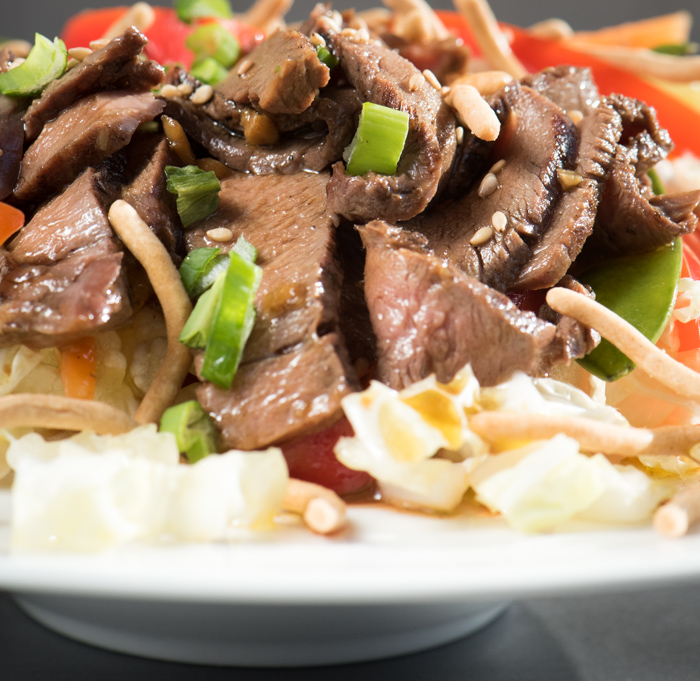 It's loaded with healthy, crunchy, fresh vegetables and then topped with tender grilled steak.
I prefer flank steak for this, but I've used top sirloin and that's really good too.
I've also compared grilling to broiling.  For me, grilling is the way to go!
The dressing, though, that's the kicker!
So delicious.
Lime juice, soy sauce, garlic and sesame are such a great combination.
I use Chinese cabbage for this salad.  It's sturdy and holds up well to the dressing without wilting.
But your favorite combination of salad greens will not disappoint, I'm sure!
ENJOY! - The Recipe Wench
Asian Steak Salad

Print recipe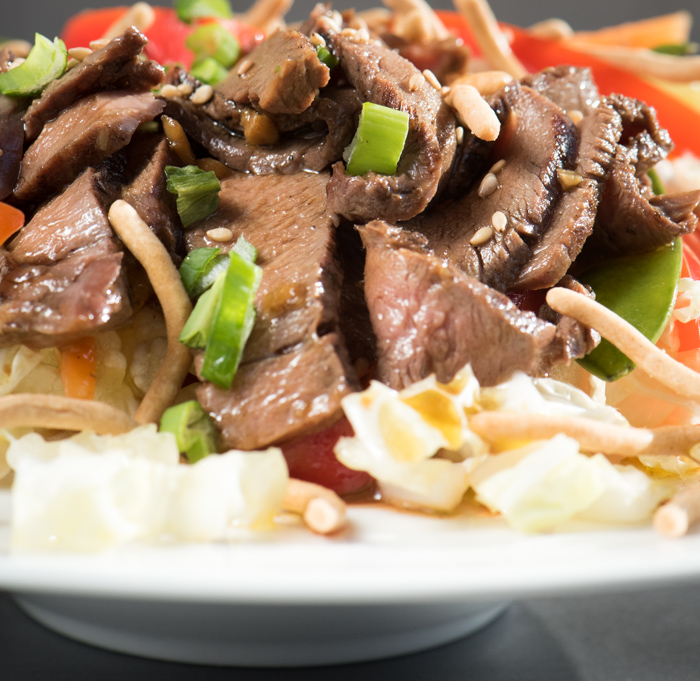 Ingredients
1 Pound flank or top sirloin steak, grilled or broiled (I prefer to grill, but broiling is good too!)
¼ Cup soy sauce (I prefer Kikkoman brand)
¼ Cup fresh lime juice
¼ Cup olive oil
3 Tablespoons sugar
2 Teaspoons sesame oil
2 Teaspoons minced garlic
1 fresh jalapeno, minced (optional)
6 Cups Chinese cabbage, sliced thin (alternatively you can use your choice of salad greens)
2 Medium carrots (shredded or cut into matchsticks)
1 red pepper (sliced into thin strips)
1 Handful Chinese snow peas, blanched
½ Cup thinly sliced green onions
½ Medium red onion, sliced thin (optional)
¼ Cup fresh cilantro, minced (optional)
1- 5 ounce can crispy Chow Mein noodles
Toasted sesame seeds (optional for topping)
Directions
Step 1
Grill or broil steak to medium rare.

Slice steak across grain into thin strips. Set aside.

Prepare dressing by whisking together lime juice, soy, olive oil, sugar, sesame oil, garlic and (optional) jalapeno.

Place sliced steak in dressing and set aside.

In a large bowl, toss cabbage (or salad greens), carrots, red peppers, snow peas, green onions and (optional) red onions.

Divide salad among plates/bowls.
Top with steak, crispy chow mein noodles and sesame seeds.

Drizzle with remaining dressing.
Finish by topping with crispy chow mein noodles and (optional) cilantro.