We're twisting things up a bit with this chocolate chip baklava . . .
Sweet and rich.  Buttery and flaky.
Layer after delectable layer -- baklava is the perfect way to top off a delicious meal.
Just a tiny piece is enough to satisfy my sweet tooth.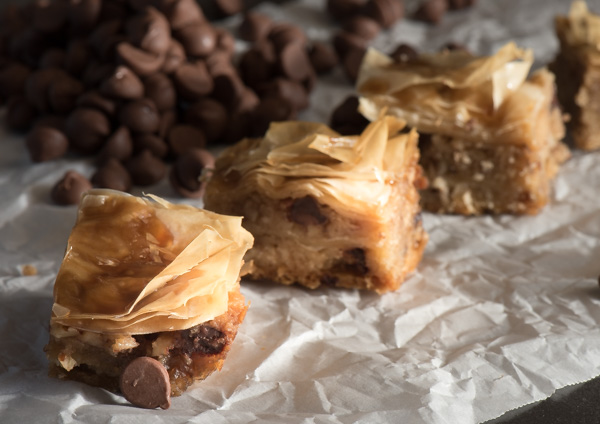 Listen -- I've seen recipes for homemade phyllo dough.  Seriously.
But I'm just not ready for that.  Someone's going to have to convince me it's worth the time.
I used store-bought phyllo dough which was fabulous.  Easy to work with.
And the sheets fit perfectly into a 9x13 baking dish.
 Enjoy! - The Recipe Wench
Baklava with Chocolate Chips
Ingredients
1 box phyllo dough sheets (thawed)
2-½ sticks butter, divided

COOKIE DOUGH

½ cup brown sugar
½ cup granulated sugar
2 tablespoons milk
1 tablespoon vanilla extract
1 teaspoon salt
3 cups flour
1 cup milk chocolate chips
1 cup chopped nuts of your choice (optional)

BROWN SUGAR DRIZZLE

½ cup water
¾ cup dark brown sugar
1 tablespoon vanilla extract
Instructions
Cream together 1-½ sticks butter, brown sugar, granulated sugar.
Add milk and vanilla.
Add salt, flour, chocolate chips and nuts.
To Assemble Dish:
Preheat oven to 350
Spray 9x13 baking dish with cooking spray
Layer 10 phyllo dough sheets one at a time, dabbing/brushing each with a little melted butter (I basically drizzle about a teaspoon of butter over the phyllo dough and use my fingers to spread it around the sheet)
Sprinkle one-half of the cookie dough over the buttered phyllo sheets. Press gently.
Layer another 10 phyllo dough sheets, buttering each one.
Add remaining cookie dough. Press gently.
Finish up with remaining phyllo dough sheets (about 20 of them), buttering every sheet or two.
BEFORE baking, use a very sharp knife to cut baklava into squares (or diamonds).
Bake until golden (approx. 30-45 minutes).
WHILE BAKING, make brown sugar drizzle by heating up water and brown sugar until boiling. Reduce heat and simmer for 10 minutes. Remove from heat. Add vanilla.
ONCE baklava come out of oven, drizzle with brown sugar mixture while still warm.
Allow baklava to cool completely before removing from baking dish
7.8.1.2
31
https://www.therecipewench.com/baklava-with-chocolate-chips-2/