(This post contains affiliate links. As an Amazon Associate I earn from qualifying purchases.)
The Bloody Mary . . .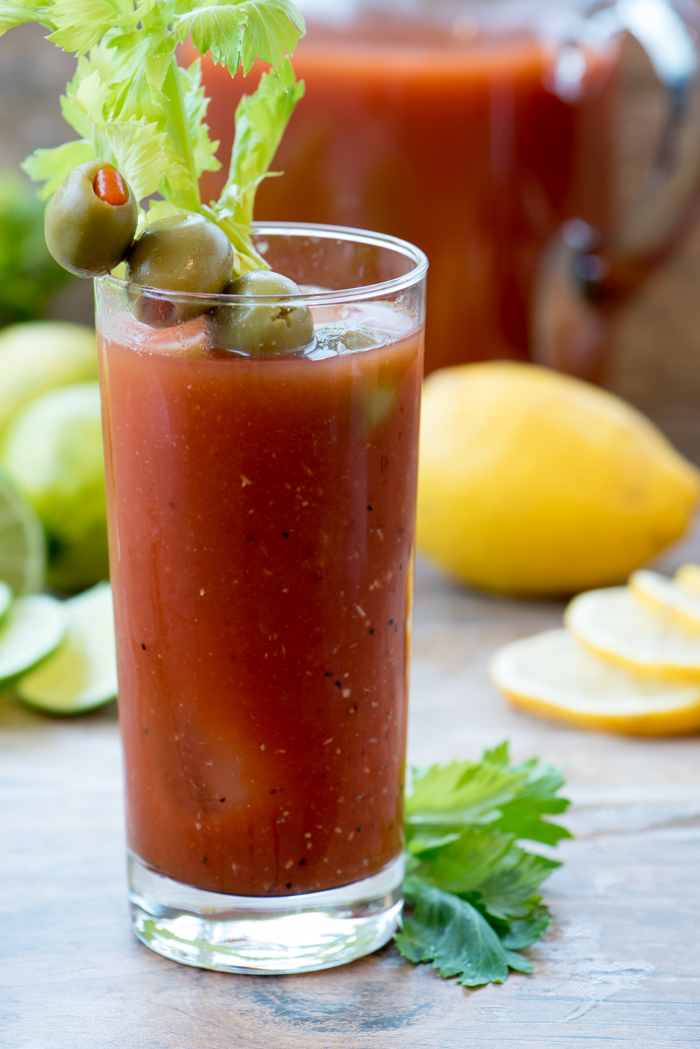 Such a classic.
And with all the vegetables, can I make an argument it's a healthy choice for a cocktail?
No?!
Well, I tried!
Okay, but without a doubt, it's a delicious cocktail choice.
Agreed?
The key ingredient/shortcut in this Bloody Mary is Spicy Hot V8 Juice.
Even with the "spicy" in the V8, I like to add a few shakes of Tabasco.
I also really like coarse grind black pepper and lots of pimento stuffed green olives.
So good you might want to mix up an entire pitcher!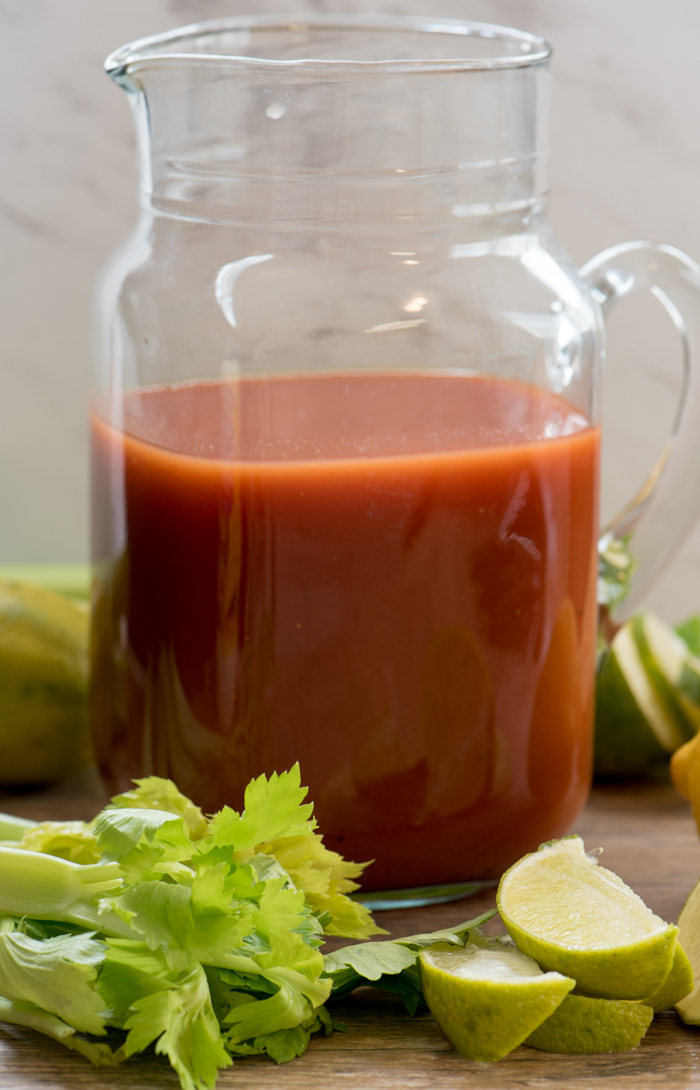 I'm also particular when it comes to ice, believe it or not.
The freezers we've had in Italy don't come with an automatic ice maker.  Making ice the old-fashioned way is too slow for us, considering how much ice we use.
So we've been buying bags of ice from the grocery store for years.
But, I recently thought I'd play around with the size of ice cube in my drinks.
I found a silicone tray that makes LARGE ice cubes.  2.25 inch cubes. (Affiliate link)
So far, I'm enjoying it.  I'm not sure how I feel about the silicone, though.  It's BPA free so that's good.
I'm just wondering how long the silicone will hold up.
Do you have any idea how much of a demand I will put on this tray -- just by the shear volume of ice I use in my day???
Whether we're using gigantic ice cubes or beautifully clear ice from the grocery store, this is how Jeff and I roll with our Bloody Marys.
I've seen gorgeous, over-the-top Bloody Marys garnished with bacon, shrimp, dill pickles, you name it.
I've even seen one garnished with . . . a CHEESEBURGER.
What?!
I'd love to try to concoct one of those -- just for the photography opportunities alone!
But sometimes it's good to get back to basics.
And that's what this Bloody Mary is.
     Straight-forward, simple, tasty.
ENJOY - The Recipe Wench
1 large cocktail
Bloody Mary – A classic brunch cocktail
5 minPrep Time
5 minTotal Time
Ingredients
Ice
2 ounces Vodka
½ teaspoon (or a few splashes!) Tabasco
1 -½ teaspoon Worcestershire
1 Tablespoon lime or lemon juice
1 teaspoon horseradish
8 ounces Campbell's Spicy Hot V8 juice
Pepper to taste
3 Pimento stuffed green olives, for garnish
1 stalk celery, for garnish
Instructions
In a 16 ounce glass, pour the vodka, Tabasco, Worcestershire, lime (or lemon) juice, add the horseradish and a few shakes of black pepper.
Stir.
Add ice (ice is important to me – I usually add ice to just about the top of the glass)
Top it all off with Spicy Hot V8 juice (about 6-8 ounces, depending on how much ice you added)
Give it another stir (I use a butter knife for this because it's classy).
Garnish with green olives and celery.
Notes
If I were making a pitcher of Bloody Marys, I'd use the following measurements:
1 bottle Spicy Hot V8 (46 ounces); 1 Tablespoon Tabasco; 2 Tablespoons horseradish; 3 Tablespoons Worcestershire; ⅓ Cup lime (or lemon) juice; 1 Tablespoon coarse grind black pepper; 1 -½ Cups vodka.
I would NOT add ice. Instead, I would make the pitcher of Bloody Marys in advance (if possible) and place in the fridge to chill. When I'm ready to serve, I'd fill glasses with ice, give the Bloody Marys a good stir and pour. Then garnish, of course.
7.8.1.2
15
https://www.therecipewench.com/bloody-mary-classic-brunch-cocktail/