Imagine starting your day with a bowl full of crisp greens, sweet fruit, a fresh tangy dressing and crunchy protein-packed nuts . . .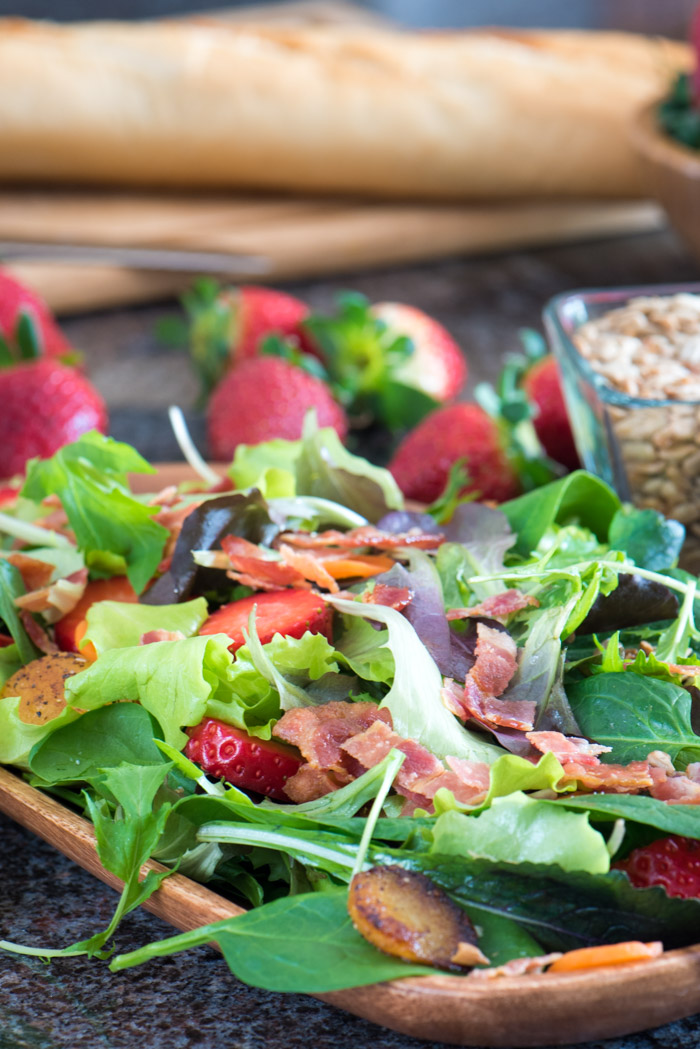 A breakfast salad has all that for you.  AND bacon!
Never had a breakfast salad?
It was a first for me in 2006 -- August 2006 to be exact.
Jeff certainly keeps me laughing . . . a lot!
But August 2006 is one of the funniest periods I can recall.
The four of us (Jeff, Alyssa, Jackie and I) were making our way cross country from San Diego to Norfolk and eventually onto Naples, Italy.
I can't remember what state we were in at the time, but Jeff woke up early and headed out to forage for our breakfast.  He returned to the hotel room and woke me up announcing, VERY enthusiastically,
"I brought breakfast!  Salad!"
My eyes were not even open and I was already cracking up.
What?!  You brought me salad?  For breakfast?!
I don't know what was funnier -- the idea of salad for breakfast or his enthusiasm over what he found . . .
But it was delicious -- a mix of greens, with strawberries and grilled chicken.
I loved it.
You just know it's going to be a great day when you're laughing before you've even opened your eyes.
I put together a breakfast salad and three tasty dressings.  I leaned more to the sweet side rather than savory.
Do you need an actual "recipe" for salad?  Probably not.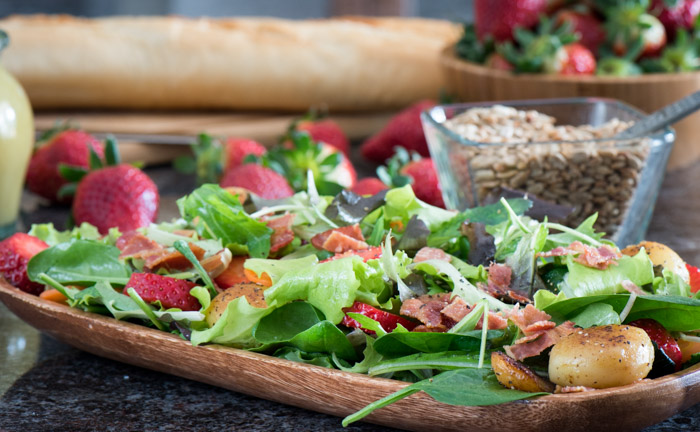 Start with your choice of greens.  I chose a spring mix (I tossed in a bit of baby spinach because I had it and I love fresh spinach).
Add some fruit.  I had some beautiful strawberries on hand, but mango, apples, bananas would be really good too.
Toss in some seeds or nuts.  I used sunflower seeds -- of course, any seeds or nuts you have available are going to work really well.
And bacon!  Don't forget the bacon.
I even tossed in some leftover roasted potatoes to give the salad a little umph!
Leftover brown rice would be tasty.  Croutons too!
What you do need a recipe for are the dressings!  I've got 3 recommendations for you --
Lemon Poppy Seed (recipe below)
I can't even pick a favorite -- they are all so perfect for a salad featuring fruit.  The sweetness of the dressings goes really well with bacon and potatoes.  Good stuff!
Enjoy! - The Recipe Wench
Lemon Poppy Seed Dressing

Print recipe
| | |
| --- | --- |
| Serves | 1 cup |
| Prep time | 5 minutes |
| Meal type | Condiment |
Lemon poppy seed dressing is sweet and tangy dressing that goes really well on salads containing fresh fruit and/or grilled chicken. Super easy to make and you can't beat the fresh flavor!
Ingredients
¼ Cup sugar
½ Teaspoon dry mustard (you can substitute a teaspoon of prepared or dijon mustard)
1 Teaspoon kosher salt
¼ Cup olive oil
¼ Cup vegetable oil
2 Tablespoons + 2 Teaspoons white wine vinegar (you can substitute apple cider vinegar)
1 Tablespoon fresh lemon juice
1 Teaspoon poppy seeds
Note
Lemon Poppy Seed dressing goes really well on a Breakfast Salad with fresh fruit.  I would also highly recommend this dressing on a salad with grilled chicken.  Other tangy/sweet dressing options for these types of salads would be Maple Balsamic and Lemon Honey Ginger.
Enjoy! - The Recipe Wench
Directions
Step 1
Whisk everything except poppy seeds in small bowl.
Taste.
Adjust seasonings to your preference.
Whisk in poppy seeds.
Step 2
Enjoy!