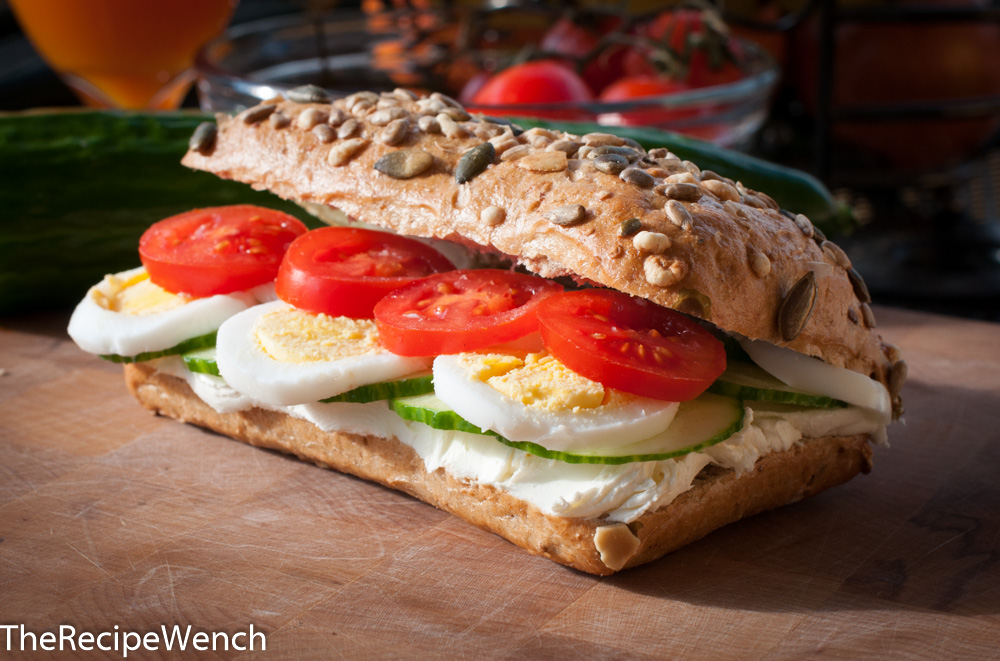 We were lucky enough to live in Germany for a short time until Jeff's job brought us back to Italy.  The Germans do a lot of great things with food!
Every day on my way to my "intensive" 3-week German language course, I would pass a "Bäckerei" (bakery) offering a wide selection of beautiful sandwiches, freshly made that morning and proudly displayed at the front counter.  The language course was tough and frustrating.  The Bäckerei was the highlight of my day, and this is one of my favorite sandwiches.
ENJOY!
Healthy Breakfast Sandwich

Print recipe
This hearty breakfast sandwich is a great way to start your day. Packed with veggies and protein, it will keep you satisfied until lunch!
Ingredients
1 Hearty, healthy seeded roll
Cream Cheese (softened)
Cucumber (thinly sliced)
Hard boiled egg (thinly sliced)
Tomatoes (thinly sliced)
Salt & Pepper to taste
Directions
Step 1
Slice roll open. Spread cream cheese. Layer with cucumbers, eggs and tomato. Season with a little salt and pepper, if desired.