I don't eat enough pancakes.
Neither does Jeff.
This needs to be remedied right now.
And if you don't eat enough pancakes, let's fix this together!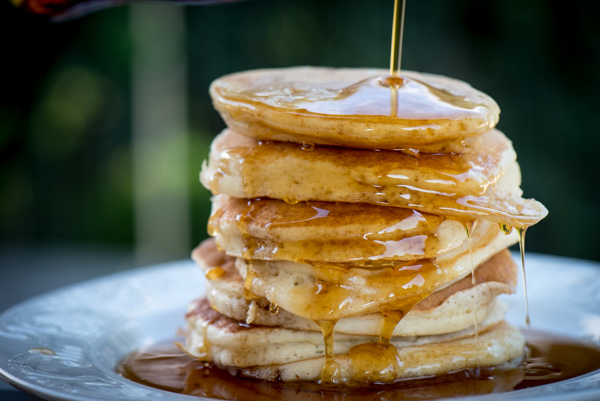 These buttermilk pancakes, honestly, melt in your mouth.
Whip these up from scratch and in no time flat you'll have --
Tender
Fluffy
Delicious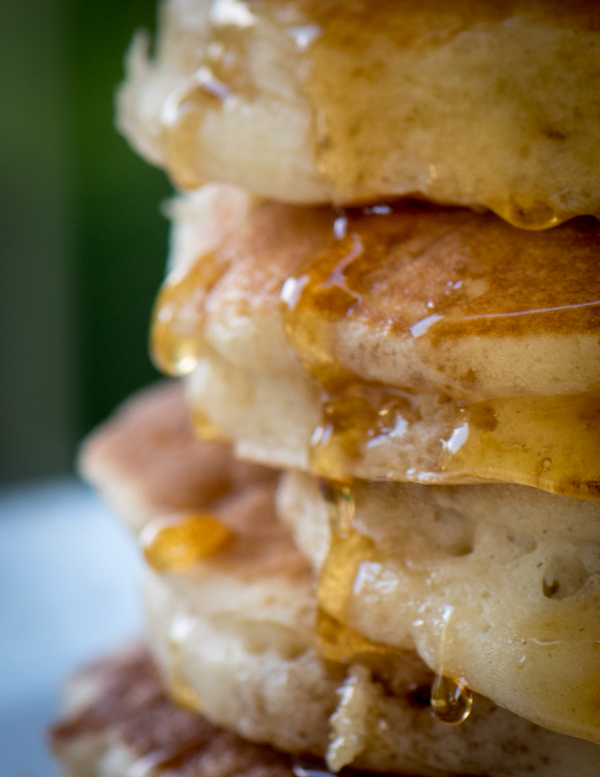 When you make these, it's important not to pack down the flour as you measure.  Keep it fluffy and light -- just like the pancakes.
You also don't want to over-mix the batter.  A few lumps are okay
We ate these with maple syrup.  Loved 'em!
Next time I'm going to serve them topped with Caramelized Banana Topping . . .
Enjoy! - The Recipe Wench
Buttermilk Pancakes From Scratch

Print recipe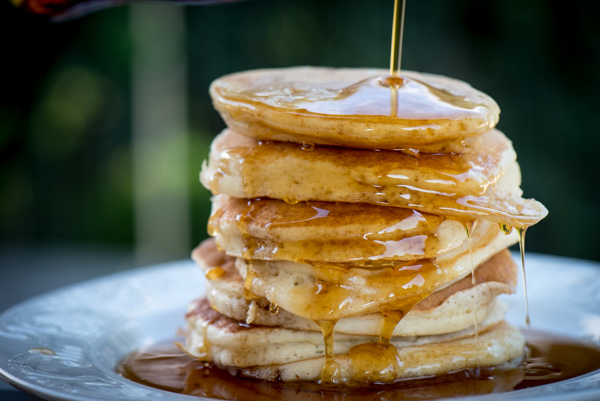 | | |
| --- | --- |
| Serves | 16 |
| Prep time | 5 minutes |
| Cook time | 15 minutes |
| Total time | 20 minutes |
| Meal type | Breakfast |
| Slightly adapted from recipe on | Oh Sweet Basil |
Ingredients
2 Cups flour (careful not to pack down when measuring)
2 Tablespoons sugar
2 Teaspoons baking powder
1 Teaspoon baking soda
1 Teaspoon salt
2 eggs
2 Cups buttermilk*
2 Teaspoons vanilla extract
2 Tablespoons unsalted butter, softened
Note
I am forever in debt to Oh, Sweet Basil for the original recipe for these buttermilk pancakes.  The only modification I made was the addition of a little vanilla extract because I love the extra layer of flavor it gives.  My technique for preparing the pancakes was slightly different -- I'm not a big fan of sifting, especially when I'm making breakfast!  I hope you enjoy these.  They'd be excellent topped with Caramelized Banana Topping too!
If you don't have buttermilk, the internet is full of info on how to substitute. My favorite is 3 Tablespoons lemon juice plus enough milk to equal 2 cups. Stir gently and let sit for 3 minutes.
Enjoy - The Recipe Wench
Directions
Step 1
In a medium bowl, whisk together the dry ingredients.

Add remaining ingredients and stir only enough to combine. Do not over-mix. It is okay if there are some small lumps.
Step 2
In a non-stick skillet over medium heat, add about ⅓ cup batter.

Cook until bubbles form, pop and batter no longer runs into the middle of those holes.

Flip pancake and continue cooking until pancake is golden.

This recipe should yield about 16 pancakes.