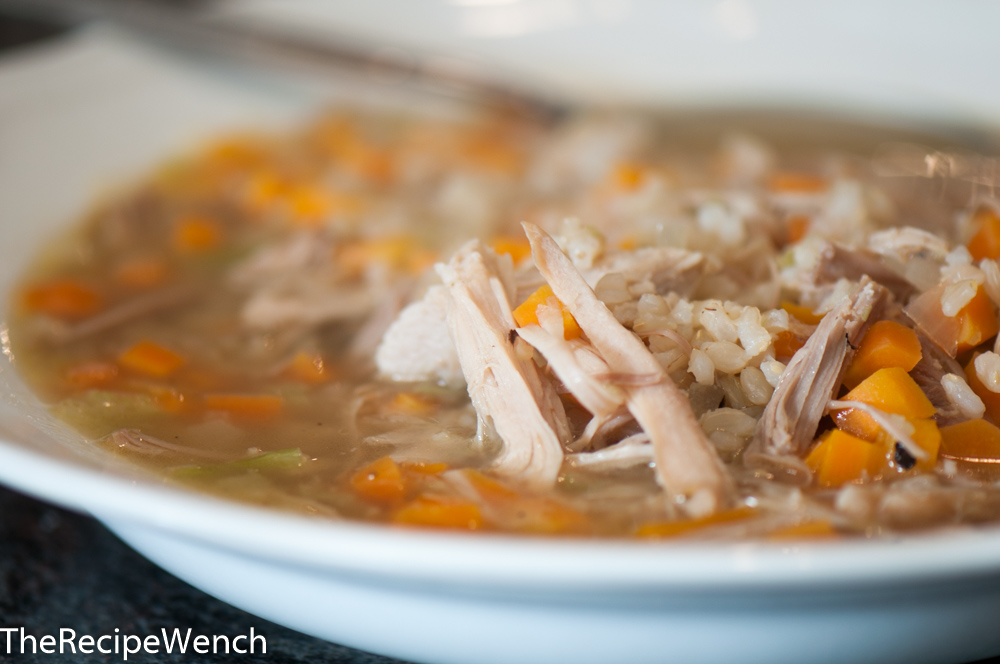 One of my favorite stories from my childhood is "Stone Soup."
I don't recall the author of the version I heard as a child, but research tells me the original author was Robert Moser.  The book was first published in 1808.
As a child, I thought it was just magical the way everyone's small contribution to the pot combined to make a delicious soup that fed so many people.
When our daughters were young, we had a "Stone Soup" activity on a chilly, rainy weekend.
I read the story to them and then we set out to make soup.
We even found a stone to add to the pot of water as the first ingredient.
I don't know if they had the same reaction to the story as I did when I was young, but I loved sharing the experience with them.
Here is a recipe for a very simple soup using ingredients you probably already have in your kitchen.
Just start with some broth and meat and toss in whatever makes you happy.
If you need directions and measurements, here's a recipe to get your started!
ENJOY!
Chicken Soup With Brown Rice

Print recipe
| | |
| --- | --- |
| Serves | 6 |
| Prep time | 10 minutes |
| Cook time | 30 minutes |
| Total time | 40 minutes |
| Meal type | Soup |
| Misc | Serve Hot |
A simple and versatile chicken and rice soup. Throw in your leftover rice, vegetables, chicken or turkey. A simple roux gives thickens the soup perfectly. Let it all simmer and enjoy this delicious and nutritious soup!
Ingredients
2 Chicken breasts (approximately 2 cups of meat)
5-6 Cups Chicken broth
2 Medium Carrots (peeled and diced)
½ Medium Onion (diced)
½ Cup Diced celery
3-4 Tablespoons Butter (divided)
2 Tablespoons Flour
Salt and Pepper to taste
1-½ Cups Cooked brown rice (I usually just use rice I have left over from a previous meal.)
Note
Chicken Soup with Brown Rice
There are many ways to vary this soup -- use your leftover rice, vegetables, chicken and/or turkey.
Directions
Start the soup
Step 1
Place chicken breasts in pot with chicken broth and bring to a boil. Reduce heat and simmer on low until chicken is cooked through. Remove chicken from broth, chop and/or shred into bite-sized pieces and return to chicken broth.
Thicken the soup by making a roux
Step 2
In a skillet, melt 2 Tablespoons of butter. Add flour and whisk until roux starts to brown. Add roux to the chicken/broth and stir.
Prepare vegetables
Step 3
In skillet you used to make the roux, melt the remaining butter. Add onions, carrots and celery and saute until onions are transparent. Add vegetables to soup.
Final touches to soup
Step 4
Add cooked brown rice to soup. Depending on your preferences, you can add more or less rice. Taste. Add salt and pepper to taste. Simmer soup until carrots are tender. Enjoy!