Yeah . . . it might be spring where you are, but that's no excuse to turn your back on this luscious cinnamon pumpkin coffee cake!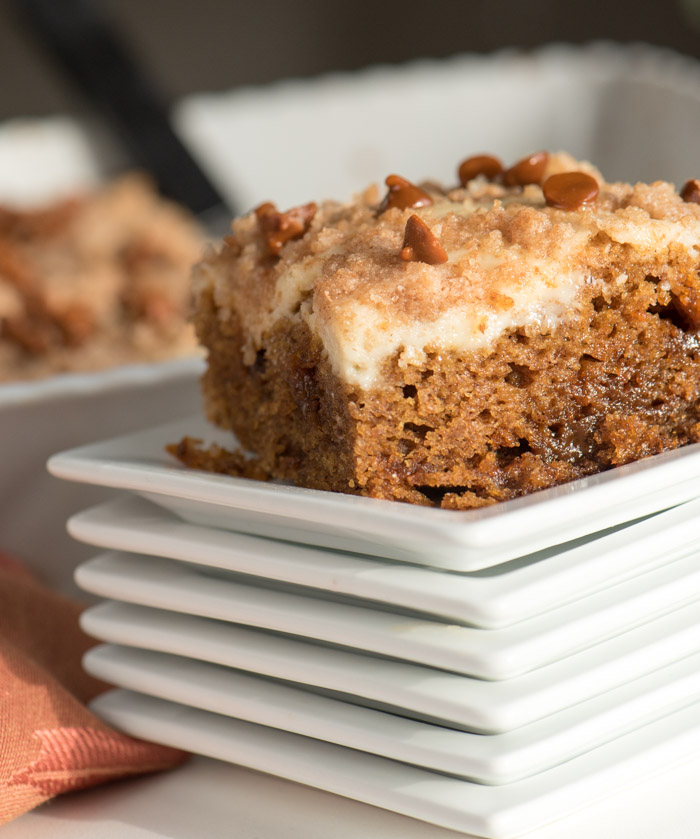 Yes.  Luscious.  I said it because it's true!  I wouldn't lie.
The cream cheese layer is definitely my favorite part.  Definitely.  Or maybe it's the pumpkin pie spice?  Or streusel topping?
Whatever, folks. This works!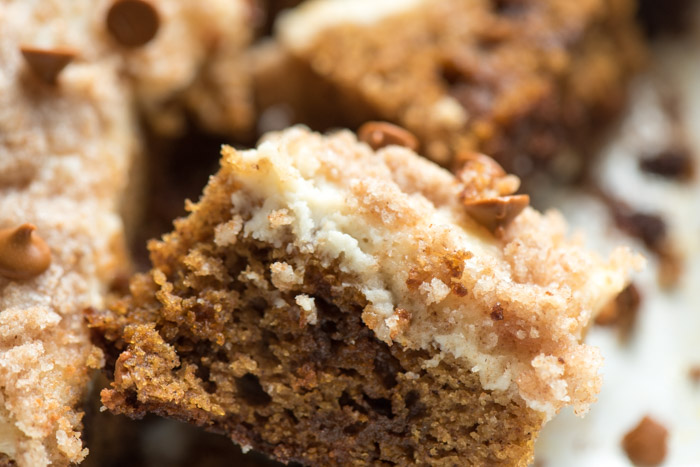 Thankfully Jeff works with a happy crowd of people who are enthusiastic about sampling baked goods.
I did, however, keep a few pieces back home.  You know, for emergency sweet cravings!
Enjoy! - The Recipe Wench
Cinnamon Pumpkin Coffee Cake

Print recipe
| | |
| --- | --- |
| Serves | 28 |
| Prep time | 15 minutes |
| Cook time | 40 minutes |
| Total time | 55 minutes |
| Meal type | Dessert |
Cinnamon pumpkin coffee cake is extra special with a cream cheese layer and streusel topping. Can't find cinnamon chips? No worries -- chocolate chips can easily be used instead!
Ingredients
Cake
2 Cups whole wheat flour (you can substitute all purpose if you like)
1 Tablespoon pumpkin pie spice
2-3 Teaspoons cinnamon (use if you are substituting chocolate chips for the cinnamon chips)
2 Teaspoons baking soda
½ Teaspoon salt
1- 15 ounce can pumpkin
1-½ Cups sugar
½ Cup sour cream
¼ Cup vegetable oil
3 eggs
1 Cup cinnamon chips (Can't find cinnamon chips? You can absolutely substitute chocolate chips!)
Cream Cheese Layer
1- 8 ounce package cream cheese (softened)
¼ Cup sugar
1 Teaspoon vanilla extract
Streusel Topping
½ Cup whole wheat flour (you can substitute all purpose if you prefer)
¼ Cup sugar
¼ Cup butter, cold
Note
This coffee cake has a nice, rich, moist texture thanks to the cream cheese layer.  A 9x13 pan will yield nearly 29 portions at 2x2.  This is a great cake to take to an office gathering or potluck!
Enjoy! - The Recipe Wench
Directions
Pre-heat oven
Step 1
Pre-heat oven to 350ºF.
Spray 9x13 pan with cooking spray.
Prepare Cake Batter
Step 2
In medium bowl, combine flour, pumpkin pie spice, baking soda, salt and cinnamon (if using).
Set aside.

In large bowl, mix together pumpkin, sugar, oil, sour cream until well combined.
Add eggs, one at a time, mixing well after each addition.

Add flour mixture to pumpkin mixture and stir until well combined.
Stir in cinnamon chips (or chocolate chips, if using).

Using a spatula, spread cake batter into prepared pan and set aside while preparing the cream cheese layer.
Prepare Cream Cheese Layer
Step 3
Mix cream cheese, sugar and vanilla until smooth.

Spread thin layer over cake batter. (It's okay if you miss spots -- this cake is delicious even without the cream cheese!)

Set aside while you quickly prepare streusel topping
Prepare Streusel Topping and Bake!
Step 4
In small bowl, mix together flour, sugar and cold butter using your finger tips. Topping will be crumbly.

Sprinkle evenly over cake and bake in pre-heated oven for approximately 40 minutes or until wooden toothpick inserted in center comes out clean.