Coconut cake.  Essential!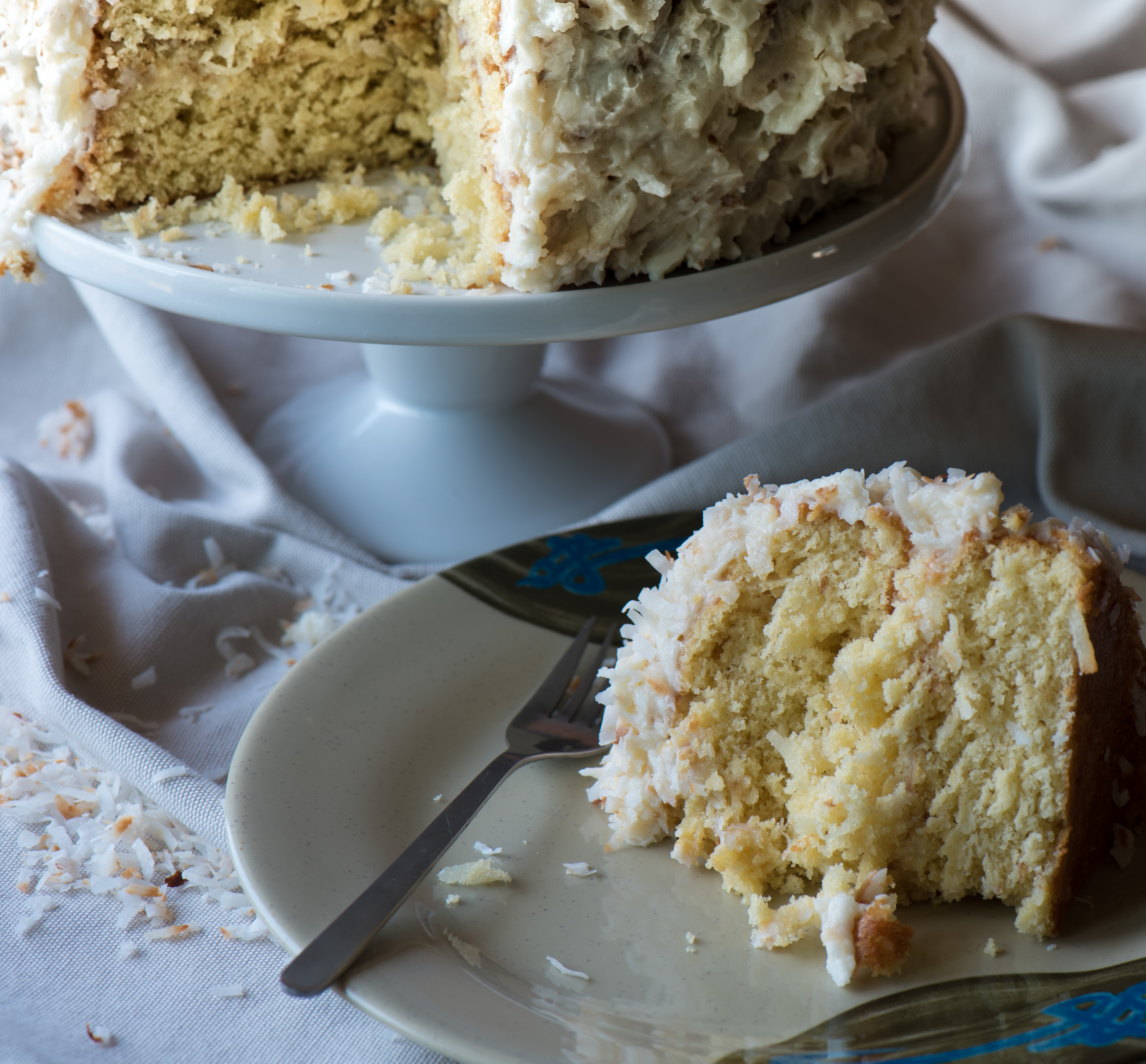 I actually am  not a huge fan of coconut -- Almond Joy? Mounds? Coconut cream pie?  No thanks.
But this cake!  Necessary.
The texture is indulgent.
The cake itself is not too sweet - so the cream cheese frosting topped with toasted coconut flakes gives the perfect balance.
And . . . I can always justify having a slice for breakfast if it isn't too sweet.  See what I did there?
I started with a recipe I got from my friend, Adele.  Her recipe used boxed cake mix.  It's delicious, but there's nothing like a made-from-scratch cake!
Enjoy!
Coconut Cake

Print recipe
Ingredients
Cake
2 Cups coconut flakes
2-¼ Cups flour
1-½ Cups sugar
4 Teaspoons baking powder
1 Teaspoon salt
1 Package (4 servings size) vanilla pudding & pie filling
¼ Cup butter (softened)
1 Tablespoon vanilla extract
1-⅓ Cups milk
4 eggs
⅓ Cup oil
Frosting
4 Tablespoons butter
2 Cups coconut flakes
1- 8 Ounce Package cream cheese (softened)
3-½ Cups powered sugar
1 Teaspoon vanilla extract
2 Tablespoons milk
Directions
Step 1
Toast the coconut flakes. I prefer to toast them in a skillet on my stovetop over medium-low heat, stirring/tossing often. Careful -- these flakes can go from golden brown to burnt black in the blink of an eye!
Step 2
Set the toasted coconut aside.
Step 3
In large bowl, mix the remaining ingredients through oil. Add toasted coconut and stir to combine. Divide batter into two greased and floured 9-inch cake pans.
Cake
Step 4
Bake in 350ºF oven for 30-35 minutes. Cool for 15 minutes before extracting from pan to cool completely.
Frosting
Step 5
Melt butter in skillet over low heat. Add coconut and stir constantly until toasted. Set aside.
Step 6
In medium bowl, mix remaining ingredients on high speed until creamy. Frost cake. Top with toasted coconut.