It's almost always the right time for these coconut macadamia nut muffins!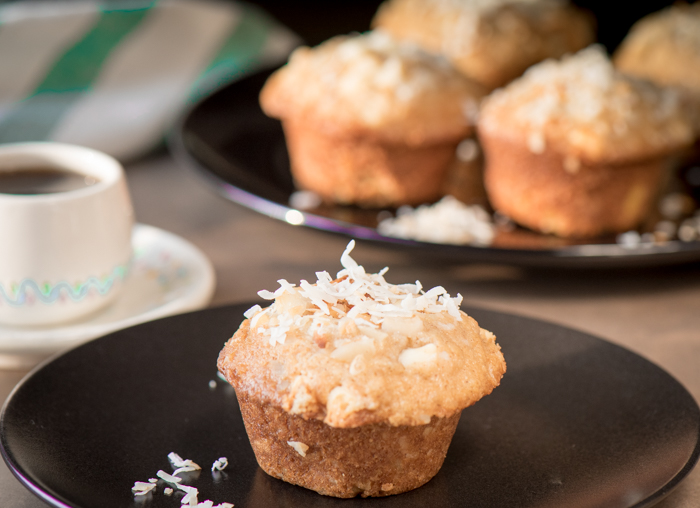 They aren't overly sweet, they do a good job at filling you up, and they go really well with a glass of milk or a cup of coffee.
They freeze perfectly too -- so feel free to make a double batch!
A little hint:  when I make these muffins, I reserve a few chips, nuts and coconut to sprinkle on top of the batter just before I put everything in the oven.
When these tasty beauties are finished baking, their tops are nicely adorned!
Enjoy! - The Recipe Wench
Coconut Macadamia Nut Muffins

Print recipe
Ingredients
2 Cups flour
2 Teaspoons baking powder
1 Teaspoon baking soda
1 Teaspoon cinnamon
¼ Teaspoon salt
1 Cup sugar
2 eggs
½ Cup butter (melted)
¼ Cup milk
1 Teaspoon coconut extract
8 Ounce can crushed pineapple, with juice
1-½ Cups sweetened coconut flakes (lightly toasting will enhance the coconut flavor)
¾ Cup roughly chopped macadamia nuts (toast first to bring out flavor)
¾ Cup white chocolate chips
Note
These coconut macadamia nut muffins make a nice, substantial breakfast, snack or dessert.
They're not too sweet.  I recommend using a skillet to toast the coconut flakes and nuts.  Toast over medium heat, stirring often and being careful not to burn.  Once the coconut starts to brown, it all happens pretty quickly, thanks to the sugar in the coconut. Toasting will do wonders to bring out the flavor of the coconut and nuts. Obviously, the coconut extract will further enhance the coconut flavor, but you could absolutely substitute with vanilla if you preferred.
Enjoy! - The Recipe Wench
Directions
Step 1
Preheat oven to 350ºF
In large bowl, whisk together flour, baking powder, baking soda, cinnamon and salt
Set aside
Step 2
In medium bowl, mix sugar and eggs
Add butter, milk and extract
Stir in crushed pineapple, toasted coconut flakes, toasted macadamia nuts and white chocolate chips
Add these wet ingredients to the flour mixture and stir until well combined
Spoon approximately ¼ cup of batter into paper-lined cupcake pans (alternatively, you can spray with non-stick baking spray)

Bake for approximately 20 minutes