A can of Guinness, a few spices and a crock pot are all that's needed to transform a chuck roast into the most tender meat and delicious au jus -- perfect for French dip sandwiches.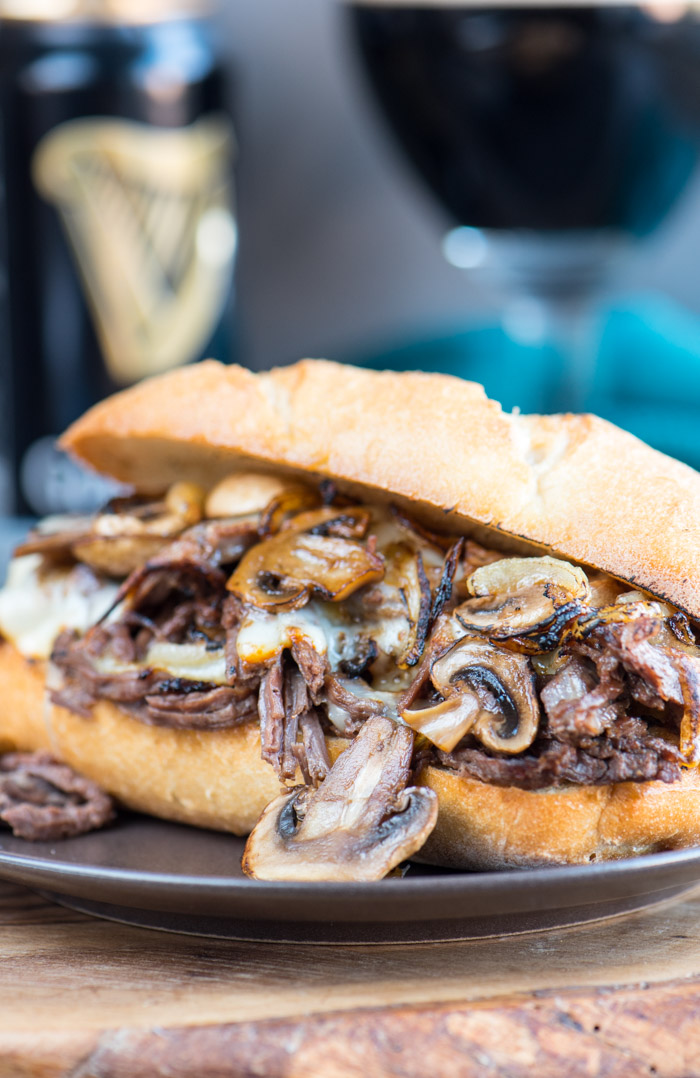 Set this up to cook when you wake up and it'll be ready by dinner.  Or, even better, cook this early in the week and by the time Wednesday or Thursday rolls around and you're busy with life, just reheat and serve!
Our 3 pound roast was enough for 9 big ol' sandwiches.  We added sauteed mushrooms and onions and some Munster cheese.  The leftovers went into a ziplock and now reside in our freezer until the next French Dip craving hits!
For us, the au jus wasn't enough for 9 sandwiches, but that's because we dunked way too much. It was so good!  If you are dunking fans, I suggest throttling back on the reduction of beef broth a bit.  That way, you'll retain more for happy dipping!
I'm telling you, these "make ahead" meals are really nice to have around.
I almost always have Carnitas, Shredded Chicken and even Ragu on hand for quick meals.
These days, it's just Jeff and I at home.  I can't say we are "busy" -- at least not like we were when we had young children.
Still, it is pretty cool to be able to make a delicious dinner using treasures from the freezer.
Beautiful, right?  Well, a photo is a mere snapshot of a brief moment in time.
Here's what happened after I captured the last beautiful moment of the sandwich . . .
The backdrop, which was precariously propped up on those two water bottles, decided to come crashing down and knocking over the glass of Guinness ONTO the sandwich, filling the plate and then proceeding to flow out onto the floor and splash on all the walls.
This all happened only minutes before I was to leave to attend a yoga class.
Namaste, folks.  Namaste!
Enjoy! - The Recipe Wench
Crock Pot Chuck Roast

Print recipe
| | |
| --- | --- |
| Serves | 9 |
| Prep time | 5 minutes |
| Cook time | 10 hours |
| Total time | 10 hours, 5 minutes |
| Meal type | Main Dish |
| Slightly adapted from recipe on | Baked by Rachel |
This crock pot chuck roast is pretty much effortless! The meat and au jus are perfect for a French Dip Sandwich! We added cheese (of course) and sauteed onions and mushrooms to our sandwiches. Delicious!
Ingredients
3 Pound chuck roast
1 Teaspoon each salt, pepper, chili powder, garlic powder, onion powder
1- 14 ounce can Guinness Stout
3 Cups beef broth
Note
Crock pot chuck roast needs to be a regular on your menu rotation.  The shredded meat and au jus make a delicious French Dip Sandwich.  The 3 pound roast provided enough meat for 9 hearty French Dip Sandwiches.  I used 3 ounces of meat in each sandwich. Good stuff!  I portioned out the meat, put it in a ziplock and froze it to use later.
Enjoy! - The Recipe Wench
Directions
Step 1
Mix dry seasonings together.
Rub half of the dry seasonings into the top side of the chuck roast.
Turn roast over and rub in the remaining dry seasonings.

Step 2
Place roast in crock pot.
Add Guinness and beef broth.
Cook on low for 10-12 hours or until meat pulls apart very easily.
Remove roast and shred.
Step 3
To make a delicious au jus --
Pour juices into saucepan and cook on medium-high heat until reduced by half.
That's it! The seasonings you put on the meat are already in the juices!