Yeah, these cherry muffins happened when I decided I should add a few fresh cherries to a mound of glorious dark chocolate chips.
The cherries were an afterthought, but let's just keep that little detail between us, okay?
Fresh cherry pieces add some nice bursts of juiciness.  But the dark chocolate is really what I was after when I put these muffins together.
Of course, another upside to adding fresh cherries is that you are absolutely permitted to tell anyone who inquires that you are consuming a fresh fruit muffin.
So there!
Fresh cherry muffins with dark chocolate.
Dark chocolate is good for you, right?  Of course it is!
Because I had leftover buttermilk from my escapades with the Vanilla Lavender Cake I made earlier, I used buttermilk in the muffin recipe.
I am a fan of buttermilk in my cake recipes.  You absolutely could substitute regular milk though.
But, really, try the recipe with buttermilk . . . at least once. I think you'll like the results!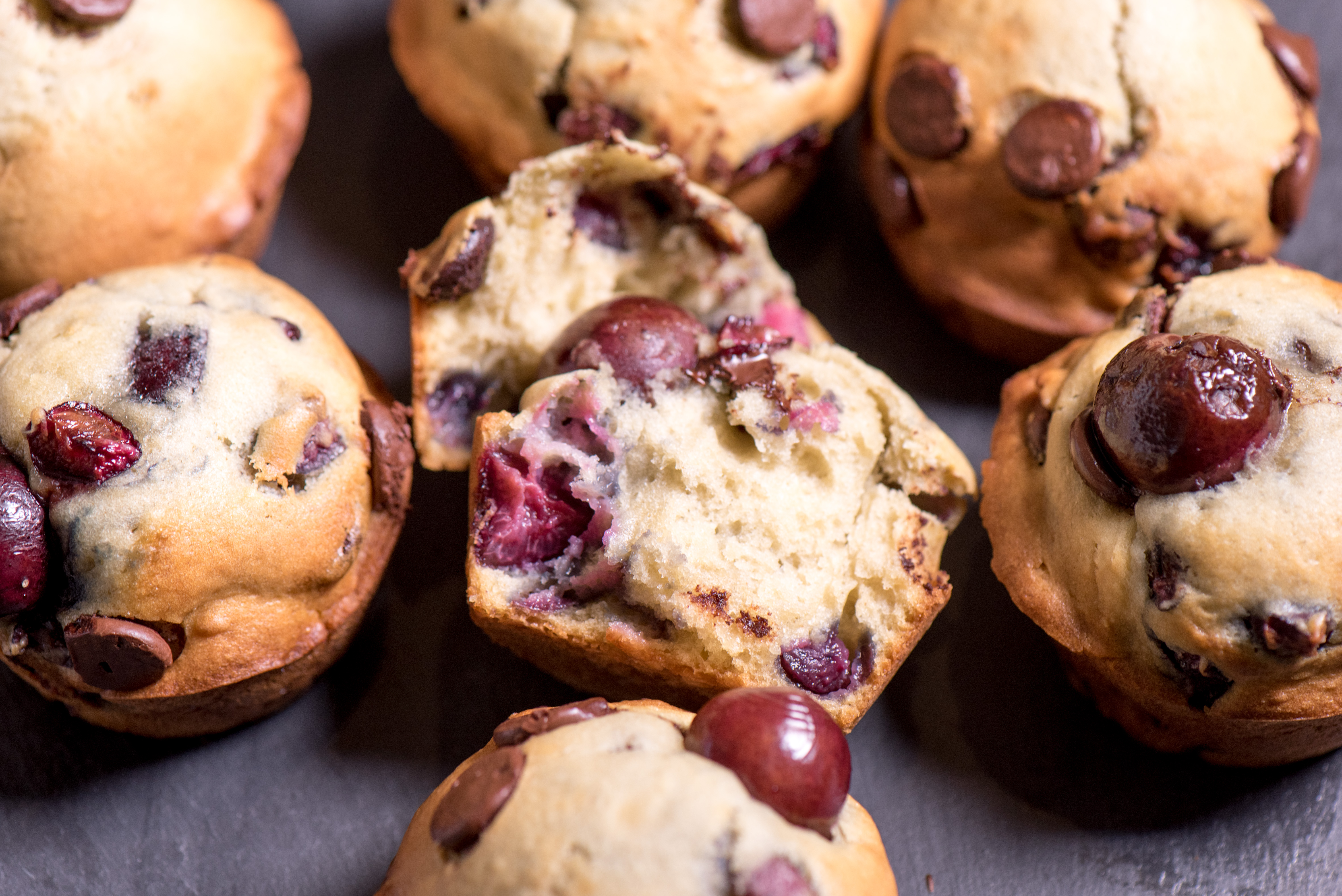 You can also create a buttermilk substitute by taking 1 cup (minus 1 tablespoon) milk and adding 1 tablespoon fresh lemon juice or white vinegar.  Allow to stand for 10 minutes.
Viola!  A buttermilk substitute!
As I mention in the recipe, I like to save a few chocolate chips and cherry pieces to sprinkle on top just before popping the muffins in the oven.  I think it looks really enticing to see the goodies on top!
Enjoy! - The Recipe Wench
Fresh Cherry and Dark Chocolate Chip Muffins

Print recipe
| | |
| --- | --- |
| Serves | 20 |
| Prep time | 10 minutes |
| Cook time | 20 minutes |
| Total time | 30 minutes |
| Meal type | Breakfast, Dessert |
Fresh cherry and dark chocolate combine for a delicious and hearty muffin. Breakfast, snack or dessert. These freeze well too!
Ingredients
3 Cups flour
2 Teaspoons baking soda
¼ Teaspoon salt
1 Cup sugar
½ Cup (1 stick) unsalted butter
3 eggs
1 Cup buttermilk
1 Teaspoon vanilla extract
2 Cups chopped fresh cherries
1 Cup dark chocolate chips
Note
I like to sprinkle a few extra chocolate chips and cherries on top of the batter just before I pop them in the oven.
Enjoy! - The Recipe Wench
Directions
Step 1
Preheat oven to 350ºF

In medium bowl, whisk together 3 cups flour, 2 teaspoons baking soda and ¼ teaspoon salt. Set aside.

In large bowl, mix together 1 cup sugar, ½ cup butter, 3 eggs, 1 cup buttermilk, and a teaspoon of vanilla extract.

Add flour mixture to sugar mixture. Stir until combined. Add in 2 cups chopped fresh cherries and 1 cup dark chocolate chips.

Spray muffin tins with non-stick spray (or line with cupcake liners).

Divide batter into 20* muffin tins(roughly ¼ cup batter in each) and bake until done (approximately 20-25 minutes).

*You can divide batter among 24 muffin tins if you like. Muffins will be smaller and cooking time will be reduced by 5-10 minutes.