The clocks sprang forward not long ago.
The days are longer.
The birds are chirping.
And our lemon tree is loaded!
Naturally, I'm thinking spring –
Strawberries – lemons – lemon cookies - lemon cookies with strawberry ice cream.
Right?  Isn't that how your brain works?!
And basil!  Add basil, I told myself...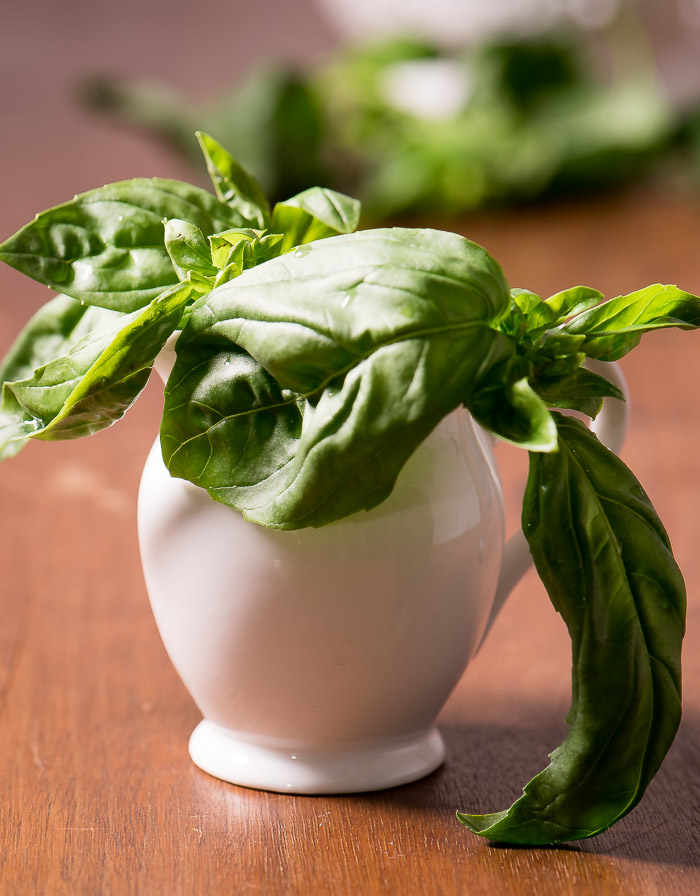 The basil flavor in these lemon cookies is pretty subtle.
For these cookies, I started with a recipe from Albion Gould.
But made some slight changes (i.e., more basil, please!).  I also added more baking powder.
But that's really the only modifications I made to the recipe.  I was super happy with it.
The cookie is a basic sugar cookie with a healthy dose of lemon extract and lemon zest . . .
. . . and, of course, the basil.
The balls of cookie dough get rolled in sugar before baking.
This step could be omitted, but this is what gives them a really nice melty-sugary texture.
Do try it because these are just lovely!
I enjoyed mine with a cup of tea .  . .

And then Jeff and I tried them with a scoop of strawberry ice cream sandwiched in between for an after-dinner dessert.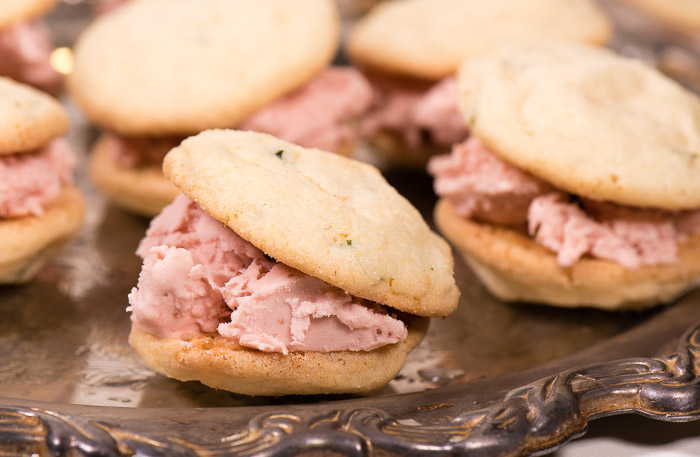 Splendid!
I used this recipe for homemade strawberry ice cream, if you're feeling extra creative!
Enjoy! – The Recipe Wench
3 dozen
Fresh Lemon Cookies with Basil
Ingredients
2-½ cups flour
1 teaspoon baking powder
1-½ cups sugar (plus ¼ cup more for rolling cookies in before baking)
1 cup butter (room temperature)
1 egg
1-½ teaspoons lemon extract
Zest of 2 medium lemons
8 basil leaves, finely chopped (about ¼ cup)
Instructions
Pre-heat oven to 350.
Line baking sheet with parchment paper.
In medium bowl, mix flour and baking powder together. Set aside.
In mixer, mix sugar and butter until fluffy.
Continue mixing while adding egg, lemon extract and lemon zest.
Slowly add flour mixture and chopped basil.
Add the ¼ cup sugar to a shallow bowl or small plate.
Take approximately a tablespoon of dough, form into a ball and then roll into sugar.
Place on parchment lined baking sheet, allowing about 2 inches between cookies.
Bake at 350 for approximately 11 minutes.
Cool completely on the baking sheet before moving to plate.
This recipe makes about 3 dozen cookies.
7.8.1.2
22
https://www.therecipewench.com/fresh-lemon-cookies-basil/