This post contains affiliate links which means as an Amazon Associate I earn from qualifying purchases
I've been a fan of gazpacho ever since my mom introduced me to it when I was a child.
I remember my mom busy in the kitchen -- lots of chopping and dicing.
The gazpacho was SO good.  I couldn't get enough.
Fresh tomatoes are the core of this cold soup!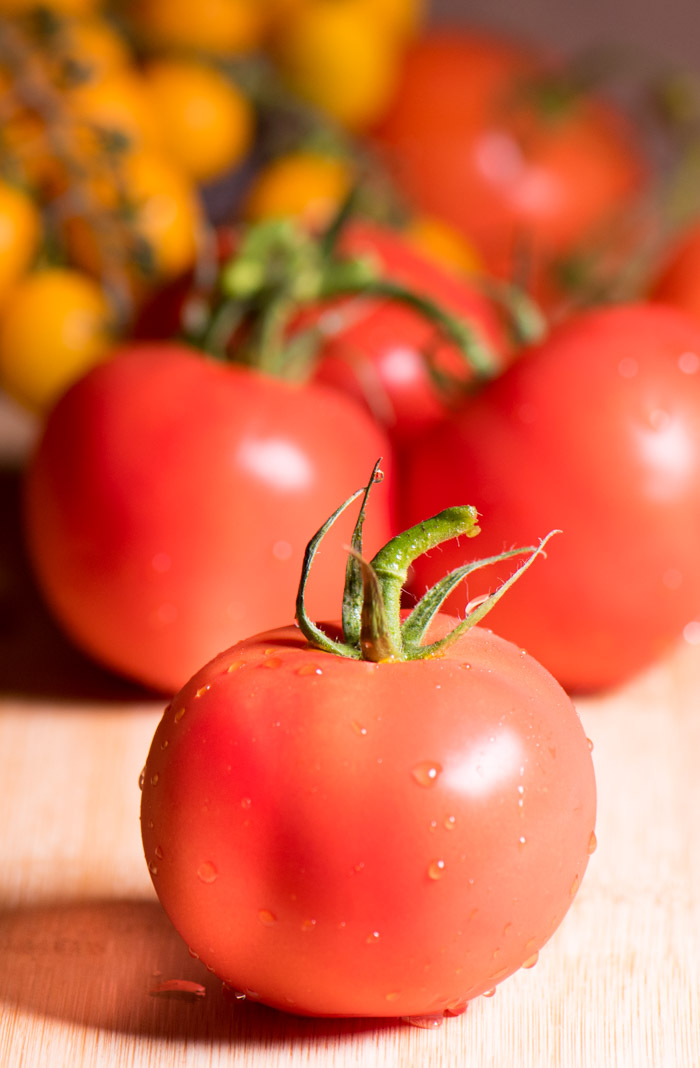 Add some tasty olive oil, seasonings, a few more fresh vegetables and it comes together beautifully.
Actually, the chopping isn't even that big of a deal for me.
And by that I mean . . . I have a chopper.
Of course.
It's a simple Black & Decker model
 and it's fabulous.  [Affiliate Link]
One of my favorite kitchen tools, by far.
I generally use it for chopping the items I want very finely chopped.  Minced.
Garlic? Onions? Jalapenos? Cilantro? Celery?
It's up to you -- whatever you don't want big chunks of.
My chopper accomplishes the task in a few seconds.
Seriously!
It's crazy fast.
In my kitchen, this chopper is always within easy reach.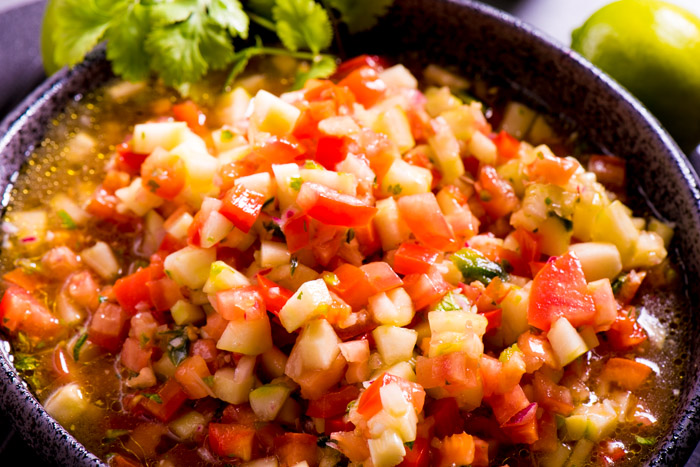 When you break down this gazpacho recipe --
It is a dieter's dream.
Aside from a little olive oil, it's all vegetables, folks. (Yes, yes, I know tomatoes are fruits, not vegetables -- but you know what I mean.)
This recipe makes a large batch, but you can easily cut it in half.
In our house, I'm the one who eats this.
Jeff, my dear husband, love of my life, has an aversion to . . . fresh tomatoes!
He can drink bloody marys until the cows come home.
He can eat salsa all day long.
He'll never turn down a tomato-based pasta sauce.
But not one piece of fresh tomato shall he consume.
I'm okay with that because . . .  I don't want to share my gazpacho!
See Jeff?
Don't be like Jeff.
Enjoy! - The Recipe Wench
Gazpacho – fresh and healthy
Ingredients
5 cups finely diced fresh tomatoes
1 medium red onion, finely diced
1 red pepper, finely diced
3 medium cucumbers, seeds removed, chopped
2 stalks celery, finely chopped
1 fresh jalapeno, seeds and ribs removed, finely chopped
2 cloves garlic, minced
1 handful fresh cilantro, minced
1 lime, juiced
1 tablespoon (give or take) kosher salt
½ teaspoon black pepper
2 teaspoons oregano
⅓ cup olive oil
2 cups vegetable broth
2 tablespoons red wine vinegar
Instructions
Are you ready for these complicated instructions???
Put everything in a large bowl.
Refrigerate for 60 minutes or so to allow flavors to marry.
Enjoy! No guilt. This gazpacho is full of fresh, healthy vegetables.
7.8.1.2
6
https://www.therecipewench.com/gazpacho-fresh-and-healthy/