Scrolling through Pinterest and my heart fluttered at the sight of this grilled marinated flank steak . . .It's delicious, easy, juicy and tender.
The recipe originated in the May 14 issue of Martha Stewart Living and was then adapted by Anne-Marie (the creator behind This Mama Cooks).
Anne-Marie's recipe was pretty much perfect -- all I did was add a little shaved parmesan over the arugula.  (I feel obligated to throw on parmesan from time to time!)  It was a nice addition.
We've cooked this steak two ways -- stovetop on a cast-iron grill and also outside on our gas grill.  Both methods worked really well.
The cast-iron method was a little more "dramatic" with all the smoke in my kitchen.
But aren't those gorgeous grill marks totally worth it?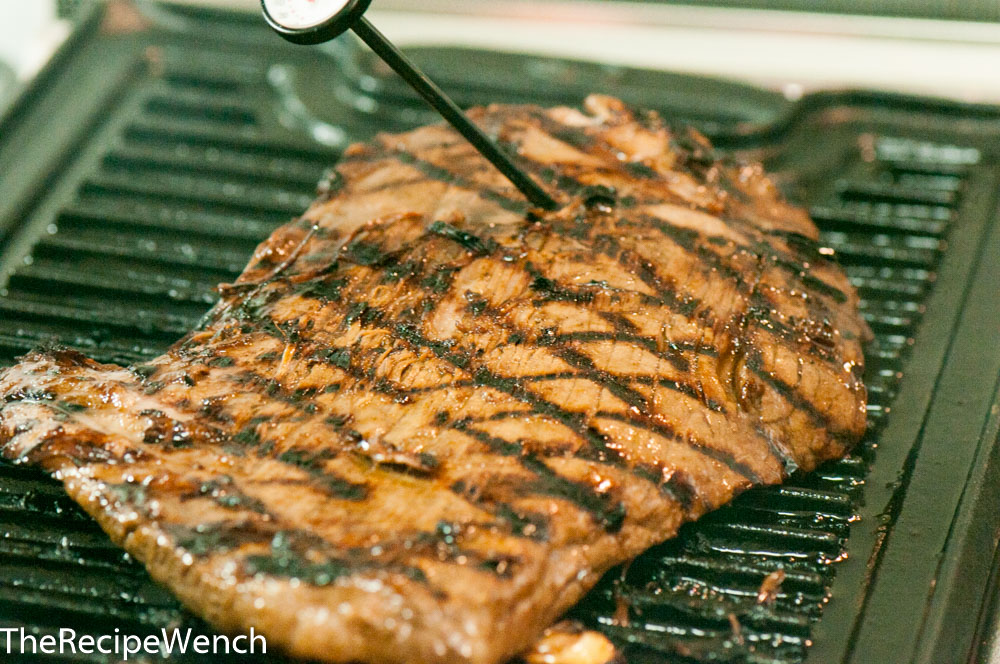 This steak goes really well with our Cucumber, Orzo, Feta Cheese Salad.  
Enjoy!
Grilled Flank Steak with Arugula and Parmesan

Print recipe
| | |
| --- | --- |
| Serves | 4 |
| Prep time | 5 minutes |
| Cook time | 10 minutes |
| Total time | 15 minutes |
| Meal type | Main Dish |
| Slightly adapted from recipe on | This Mama Cooks |
This grilled, marinated flank steak is zesty, tender and juicy.
Ingredients
1-½ Lbs. Flank steak
¼ Cup Olive oil
¼ Cup Soy sauce (I prefer Kikkoman)
2 Tablespoons Light brown sugar (packed)
¾ Cup Lemon juice
2 Cloves Garlic (smashed)
Black pepper to taste
Lemon wedges for serving
¼ Cup Parmesan cheese shavings
Directions
Step 1
Whisk olive oil, soy, brown sugar, lemon juice and garlic. Place flank steak in large ziplock bag and add marinade to bag. Allow to marinate at room temperature for 2 hours or in the fridge for up to 6 hours.
Step 2

Light grill to high. Reserve ¼ cup of marinade. Cook steak 3 minutes on each side. Flip. Then cook 2 minutes on each side. Steak is cooked to medium rare when thickest part of steak reaches 130°F

Step 3
Remove from grill and allow steak to rest for 10 minutes. Slice steak against grain. Top with arugula and parmesan cheese shavings. Serve with lemon slices.
Step 4
While steak is resting, heat reserved marinade to boiling. Drizzle over steak before serving.