I love that this blog gives me the perfect excuse to try so many beautiful and delicious recipes!
Grilled stuffed flank steak is not only beautiful and delicious, it is fun and easy to make -- surprisingly easy!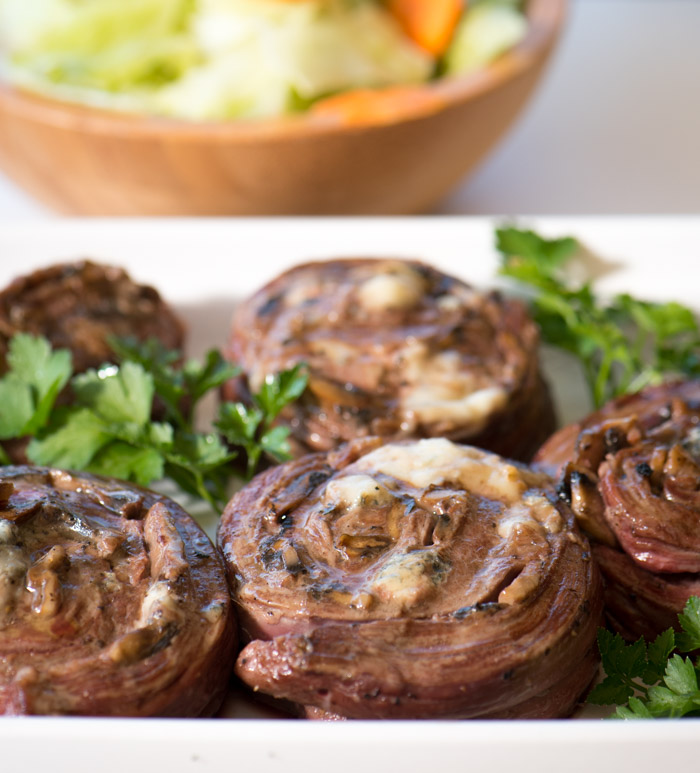 I hear you can buy pre-butterflied flank steaks or you can ask your butcher to butterfly them for you.
I managed to do it myself, slowly and carefully.  I made some mistakes, and realized the steak was pretty forgiving. For me, the most difficult part was butterflying the steak.  And actually, it wasn't as difficult as it was awkward.
I found it challenging to slice evenly all the way through because the steak was wider in parts than my knife was long.  The challenge certainly could be overcome with better (proper!) technique.  There's a helpful tutorial here at Serious Eats, complete with lots of photos if you're interested.
After I butterflied the steak, I generously spread sauteed mushrooms and about a cup of crumbled gorgonzola cheese evenly over the whole thing. (I wanted to add spinach too, but that would not have thrilled Jeff so I resisted the urge!)
I then rolled it up from one end to another and secured in several places with cooking twine.  (Okay, don't look too closely -- I didn't use cooking twine.  Lack of planning and desperation resulted in my grabbing the closest thing to cooking twine I could find!)
Next, I stuck BBQ skewers in and sliced the rolled flank steak into single portions, making sure each "pinwheel" was secured by twine and a skewer.
Then I plopped them on a pre-heated grill for about 4-5 minutes on each side.  I found that closing the grill lid while cooking did a good job of cooking the edges.  If needed, you can stand the pinwheels up on end to cook the edges a little better.  They are medium-rare once they hit an internal temperature of 120°F.
We had this for lunch along with a salad, which we completely ignored!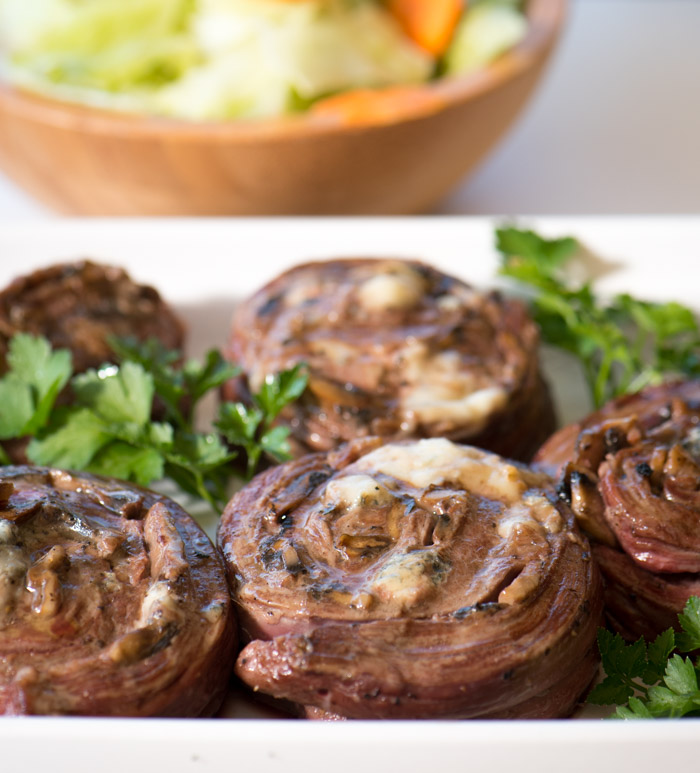 What do you think about using with spinach or arugula and other cheeses like provolone, pepper jack or feta???
Sounds delicious, doesn't it?
Enjoy! - The Recipe Wench
Stuffed Flank Steak

Print recipe
| | |
| --- | --- |
| Serves | 4 |
| Prep time | 10 minutes |
| Cook time | 10 minutes |
| Total time | 20 minutes |
| Meal type | Main Dish |
Grilled stuffed flank steak is easy and quick -- perfect for the busy weeknight and also beautiful enough for company.
Ingredients
1-two Pound flank steak (larger or smaller, depending on the number of people you are serving)
¼ Cup butter
½ Pound mushrooms, sliced
1 Cup crumbled gorgonzola cheese
salt and pepper to taste
Note
Grilled stuffed flank steak -- you don't need to limit the stuffing to mushrooms and gorgonzola like I did.  Feel free to use whatever your imagination comes up with!  Spinach, cooked bacon, different types of cheeses, etc.  This meal is a very simple way to put a gorgeous main course on the table!
By the way, this link to Serious Eats takes you to a great tutorial with lots of photos showing how to roll up and tie the steak!
Enjoy! - The Recipe Wench
Directions
Step 1

Butterfly the flank steak. If your flank steak has one end that is wider than the other, I prefer to start with the wide end and finish with the narrow end.

After butterflying, open steak up and press down on the center (where each side is still intact) to flatten in a bit.

Salt and pepper the steak and set aside.

Pre-heat the grill to high.

Step 2
Melt butter in skillet.
Add sliced mushrooms and saute until moisture from mushrooms has been released and then reduced.
Step 3

Spread sauteed mushrooms evenly all over steak.
Spread crumbled gorgonzola evenly all over steak.

Step 4

Starting with one end, roll steak up firmly.
Secure rolled steak with cooking twine in 6 or 7 places.
Next, insert skewers close to the twine.
Cut rolled steak into individual "pinwheels" about 1-½ inches thick.*

*Each portion should be secured by both twine and skewer.

Step 5

Cook on high heat (about 4 - 5 minutes on each side).
Close the grill during cooking.
If necessary, turn pinwheels onto their sides to allow the sides to cook on direct heat.
Steaks are medium rare at 120°F; medium at 130°F

Remove to a plate immediately. Cover loosely with foil and allow to rest 5 minutes or so -- this will allow the juices to redistribute. (To be honest, though, we pretty much dig right in when they are hot off the grill!)