Potato soup -- loaded, fast and easy!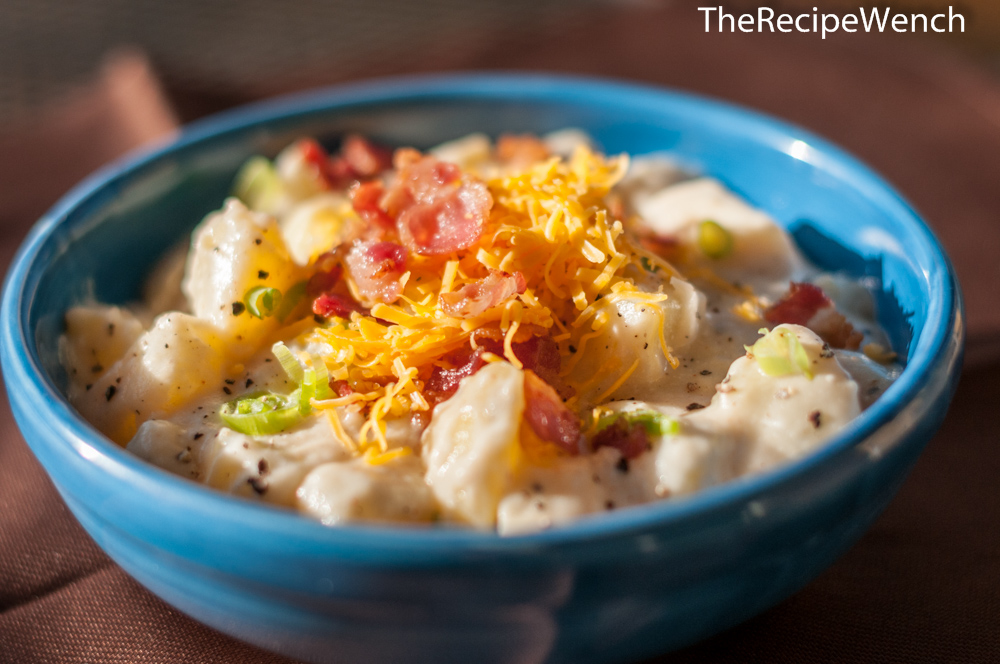 It hits the spot after a long day at work.
Sprinkle a little bit of bacon, cheese and green onions on top, serve with a fresh roll and you're good to go!
For a little variety, how about swapping the cayenne for a couple diced jalapenos (seeds and ribs removed)
. . . or even throw in some diced red peppers for extra color?!
The recipe is basic.  Let your creativity flow!
Hearty Potato Soup

Print recipe
A quick, easy and hearty soup that pulls together in a matter of minutes. Potatoes, as the featured ingredient, makes this an economical option for lunch or dinner. Topped with shredded cheddar, thinly sliced green onion and crunchy bacon, provides a beautiful presentation.
Ingredients
5 Slices Bacon (diced)
5 Tablespoons Butter
¼ Cup Flour
1-½ Cups Milk
2 Cups Chicken broth
3 Medium Russet potatoes (peeled and chopped into 1 inch chunks)
½ Cup Sour cream
½ Teaspoon Cayenne pepper
Salt and Pepper (to taste)
2 Green onions (thinly sliced)
1 Cup Sharp cheddar cheese (shredded)
Directions
Step 1
Cook bacon in high-sided skillet over medium high heat until crispy. Remove to plate to drain over paper towels.
Step 2
Pour off bacon fat and reduce heat to medium. Melt butter. Whisk in flour and continue cooking until a little brown (about 2 minutes).
Step 3
Gradually whisk in milk and chicken broth. Cook, whisking constantly, until slightly thickened (about 4-5 minutes).
Step 4
Add potatoes. Bring to a boil then reduce heat and simmer until potatoes are tender (about 20 minutes).
Step 5
Stir in sour cream and cayenne pepper. Add salt and pepper to taste. Add more milk to get the consistency you desire.
Step 6
Serve hot, topped with shredded cheese, bacon and green onions.