My brothers and I always loved our mom's Italian style meatballs.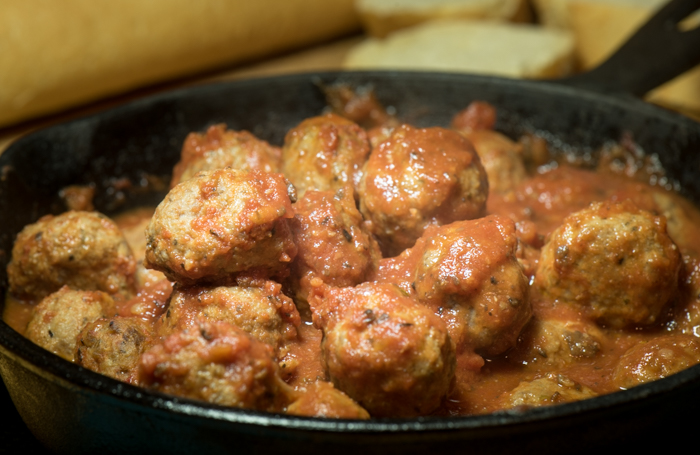 The technique was definitely "mom style."
You know -- no recipe.  Just a shake here and a pour there.  A quick sniff to verify the proper amount of spices had been added.
In 1975, military orders resulted in our family moving to Hawaii.
Tough, right?!  🙂
Our mom was born and raised on Oahu so it was awesome to get to spend 3 years with her side of the family, who are all amazing cooks by the way . . .
She brought her meatballs to one of many, many family gatherings.  Everyone loved them and asked for the recipe which resulted in my sitting down with her one day as she made the meatballs.  We tried our best to record just how she did it!
We had a lot of laughs as we shrugged our shoulders and guessed how much of each ingredient she actually added to the hamburger!
In the years since, I've achieved a bit more precision with the measurements!
It was during our time in Hawaii that my mom taught me how to throw a party.
Bless her for being so patient with my learning curve!
The drinking age was 18 in Hawaii at the time.  My brother, Bret, was having his 18th birthday and Mom and Dad let me throw him a surprise party -- complete with a keg of beer!
I promise, Mom, no one under 18 had any of that beer!  Cough, cough!
These Italian style meatballs were on the menu for that party, but we formed them smaller so they could be spooned into hollowed-out dinner rolls.
The result was a little meatball sandwich that was easy to walk around with.  Perfect party food.
Enjoy! - The Recipe Wench
Italian Style Meatballs

Print recipe
Tender Italian Style Meatballs are tasty and versatile. Super easy to make. You can adjust the size to suit your needs. Make them smaller to serve as appetizers or larger to go into a sauce or on a chewy Italian roll with lots of melted mozzarella cheese!
Ingredients
Meatballs
1 Pound hamburger (I like to use ground sirloin)
1 Teaspoon kosher salt
2 Teaspoons black pepper
2 Teaspoons garlic powder
1 Teaspoon oregano
1 egg
¾ Cup bread crumbs (Progresso Italian Style adds even more flavor)
½ Cup grated parmesan
¼ Cup (probably less!) tomato sauce (Open a 15-ounce can. What you don't use for the meatballs will end up going into the sauce.)
Sauce
2 Tablespoons olive oil
1-2 Cloves garlic (minced)
1- 28 ounce can crushed tomatoes (I prefer San Marzano brand)
1- 15-ounce can tomato sauce (I just use what's left in the can after making the meatballs)
1 Teaspoon basil
1 Teaspoon oregano
kosher salt to taste (The amount will depend on how much salt is in the cans of tomatoes)
black pepper to taste
Note
The recipe for these Italian Style Meatballs comes from my mom.  She always made the best!  But she never measured anything -- just a shake here, a pour there.  Back in the 70's -- at the insistence of my relatives -- I sat down with my mom one day and recorded her recipe.
Enjoy! - The Recipe Wench
Directions
Step 1
Crumble the hamburger into a medium bowl
Sprinkle with salt, pepper, garlic powder and oregono
Using your hands (Yes! You gotta give these meatballs the personal touch!), mix in the egg
Mix in the bread crumbs and parmesan
Add as much tomato sauce as you need (it'll probably be less than ¼ cup) to bring the hamburger mixture to a soft but firm consistency
Step 2
Form meat into meatballs slightly smaller than a ping pong ball.
(You can make them even smaller or larger, but you'll need to adjust the cooking time.)

Place in an ovenproof dish and bake in 350ºF oven for 20-30 minutes.

I prefer to use my cast iron skillet for this.

Depending on what dish you use, you may want to spray with non-stick spray first to make clean-up easier.
Step 3
While meatballs are cooking, make the sauce!

Add oil to pan, saute garlic briefly (making sure not to burn)

Add crushed tomatoes, tomato sauce, oregano and basil

Bring to a simmer. Taste. Add salt and pepper to taste

Allow to simmer until meatballs are finished -- or longer if you've got time!