Fresh asparagus is in season

and our lemon tree is practically falling over from the weight of all the lemons –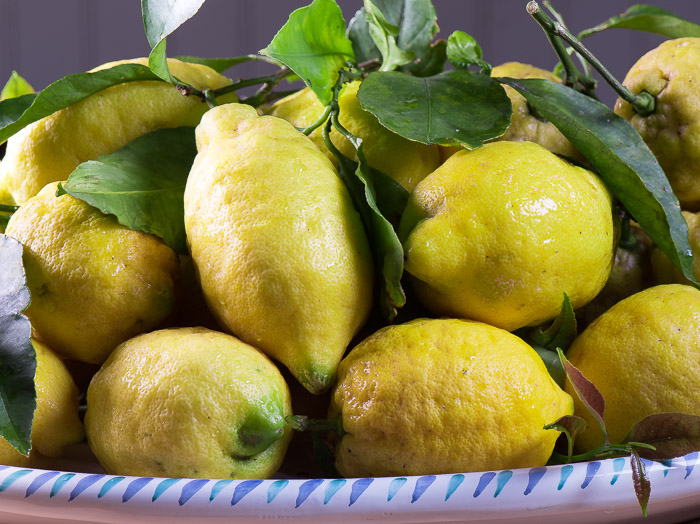 Lemon chicken pasta puts all those flavors together with a creamy sauce.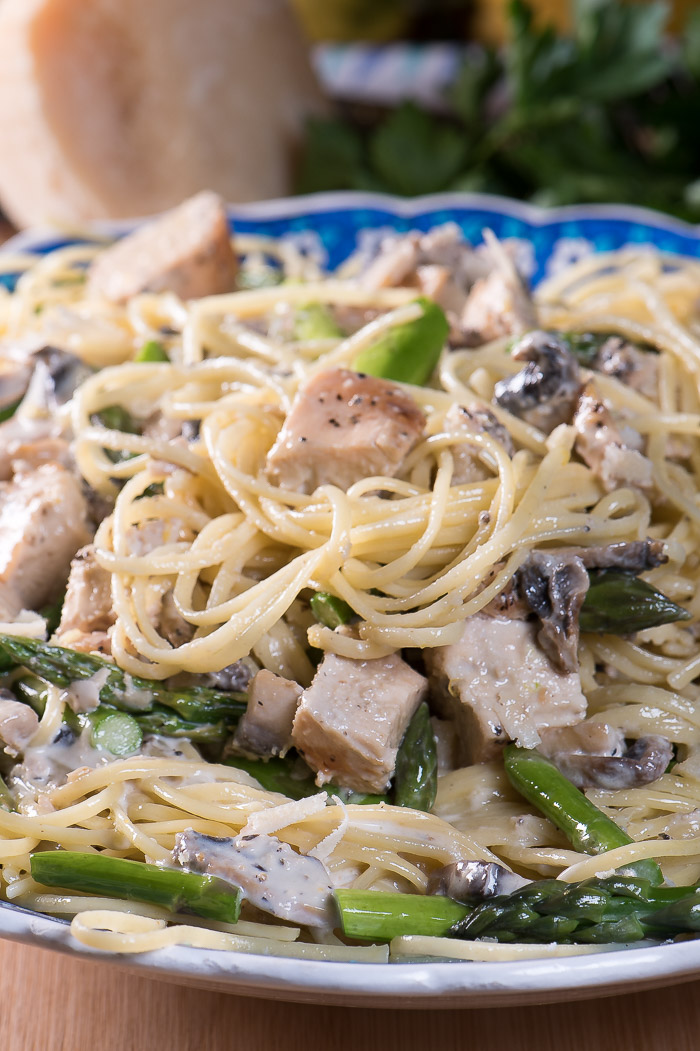 As Jeff's sis would say, there's a certain amount of "orchestration," needed to make sure this meal hits the table piping hot.
Here's the scenario –
While you're cooking the chicken, the pasta water will reach a boil.
You'll toss the pasta in the water and start putting the sauce together.
A few minutes later you'll add the fresh asparagus to the water.
Once the pasta and asparagus are cooked and strained (reserving a little pasta water just in case), toss it with parmesan and the sauce and serve.
The key to success and happiness here is: a little preparation before any fires are lit.
By that I mean -- get the table set, put on some music, pour yourself a glass of wine and have everything washed, sliced, zested and pulled out of the fridge before you get started.
Orchestrate, my friends!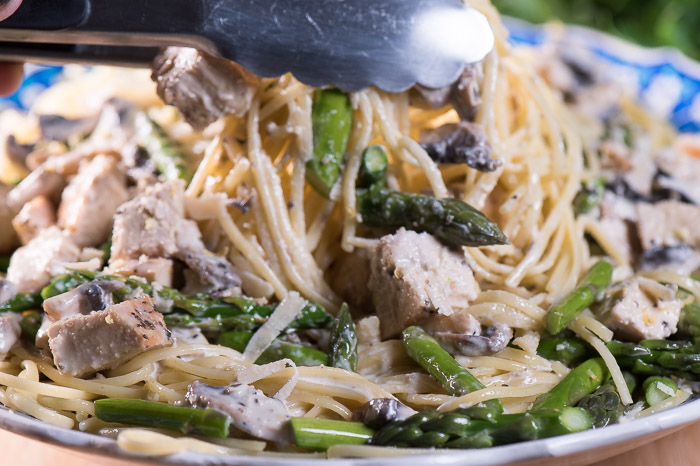 Lemon Chicken Pasta with Fresh Asparagus - Easily, deliciously done!
Enjoy! – The Recipe Wench
Lemon Chicken Pasta with Fresh Asparagus
Ingredients
1 pound fresh asparagus, ends removed, cut into 1-inch pieces.
2-3 Tablespoons olive oil
3 boneless, skinless chicken breasts, cubed or sliced thin (less than ¼ inch thick) and seasoned with salt and pepper
½ pound mushrooms, sliced
2 tablespoons butter
1 cup heavy cream
1 tablespoon lemon juice
1 heaping tablespoon lemon zest
½ cup grated parmesan (I bring more to the table for adding after the dish is served)
1 pound pasta
Salt and pepper to taste. (I use kosher salt)
Instructions
Heat water for pasta, toss in 1-2 tablespoons kosher salt. (Note: once water comes to a boil, you'll be adding the pasta. Three minutes before pasta is al dente, add the asparagus pieces.)
While the water is heating up, heat olive oil in a large skillet (cast iron if you have it!) over medium-high heat.
Add chicken and brown until thoroughly cooked. If you've got an extra bit of lemon, go ahead and squeeze some on the chicken just as it's finishing up in the skillet.
Move cooked chicken into a bowl. Set aside.
If you're using a cast iron skillet, you might want to deglaze it at this point by adding about 3 tablespoons of liquid (water is okay; white wine or chicken broth are even better). Scrape pan as liquid loosens the bits of chicken.
Add 2 tablespoons butter and mushrooms.
Saute until mushrooms start to soften.
Reduce heat to medium.
Add 1 cup heavy cream, about ½ teaspoon each of black pepper and kosher salt (more or less to taste).
Bring to a simmer and stir until mixture thickens to the point where it can coat the back of a spoon.
Turn off heat, stir in lemon juice and zest.
Add chicken back to the skillet.
Once pasta water comes to a boil, add pasta and set timer to go off 3 minutes BEFORE pasta reaches al dente.
Add asparagus pieces to the pasta for the last 3 minutes of cooking time.
(Before straining pasta/asparagus, remove about ½ cup of the pasta water because you MIGHT need to add it to the sauce.)
Drain pasta and asparagus.
Place pasta and asparagus back into the pasta pot, add the parmesan and sauce.
Toss until coated with sauce. (If you feel you need more liquid, add some of the reserved pasta water.)
Serve immediately.
7.8.1.2
28
https://www.therecipewench.com/lemon-chicken-pasta-asparagus/