This could be a side dish OR an appetizer.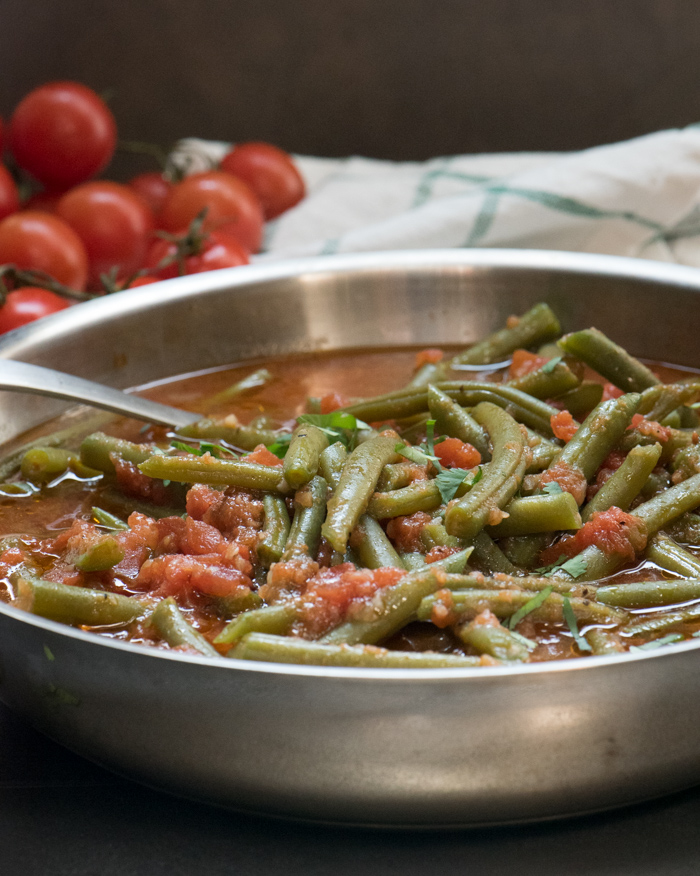 These Mediterranean green beans can be served piping hot OR at room temperature.
. . . And do I dare admit I may have actually enjoyed a serving straight from the fridge?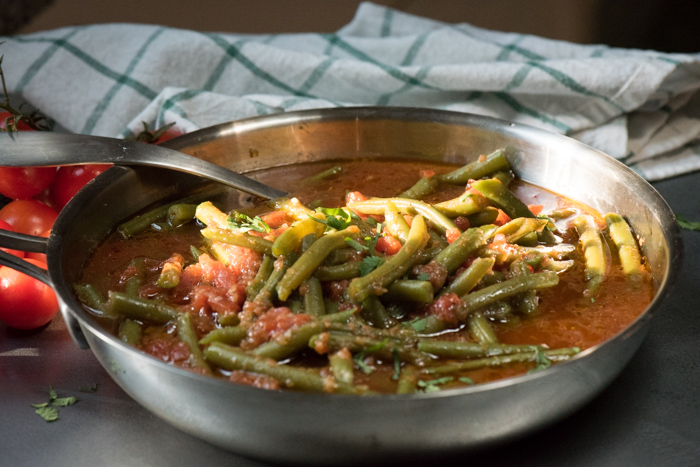 Mediterranean green beans are going to be making a frequent appearance at our dinner table.
The recipe I started with required baking in the oven for awhile.
I'm opting to cook on the stove top -- especially as our weather warms up.
Southern Italy can get miserably hot in the summer.
So, I'm always supportive of dishes that don't generate so much heat in the kitchen!
ENJOY! - The Recipe Wench
Mediterranean Green Beans

Print recipe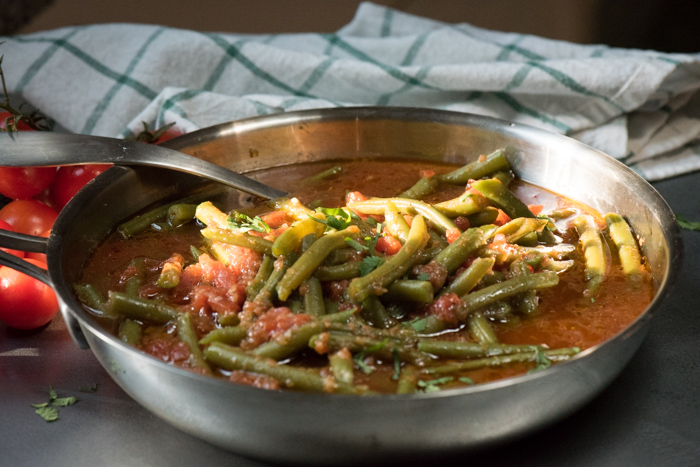 A rich tomato sauce livens up these green beans. Perfect as a healthy side dish or appetizer. Serve warm or at room temperature.
Ingredients
¼ Cup olive oil
½ Medium onion, finely diced
4 Cloves garlic, minced
2 Cups water
½ Teaspoon baking soda
½ Teaspoon cayenne pepper
1-½ Pounds green beans, trimmed and cut into 3-inch pieces
2 Tablespoons tomato paste
1- 14.5 ounce can diced tomatoes (I prefer petite diced)
1 Teaspoon kosher salt
½ Teaspoon pepper
Note
This recipe for Mediterranean green beans is slightly adapted from one I found on Cook's Illustrated.  The baking soda will help to tenderize the green beans.  My big tip would be to make sure the green beans don't overcook -- they are finished once they reach the firm/tender stage.
Enjoy! - The Recipe Wench
Directions
Step 1
Heat olive oil in a large skillet (or Dutch oven) over medium-high heat
Saute onions for about 2-3 minutes
Add garlic and continue cooking for another minute
Add water, baking soda, cayenne pepper and green beans
Bring to a simmer and cook for about 6 minutes
Stir in tomato paste, diced tomatoes, salt and pepper
Cover and cook over low heat until green beans are fork-tender (start checking after 10 minutes)