This potato salad has it all -- sweet, tangy, crunchy, creamy.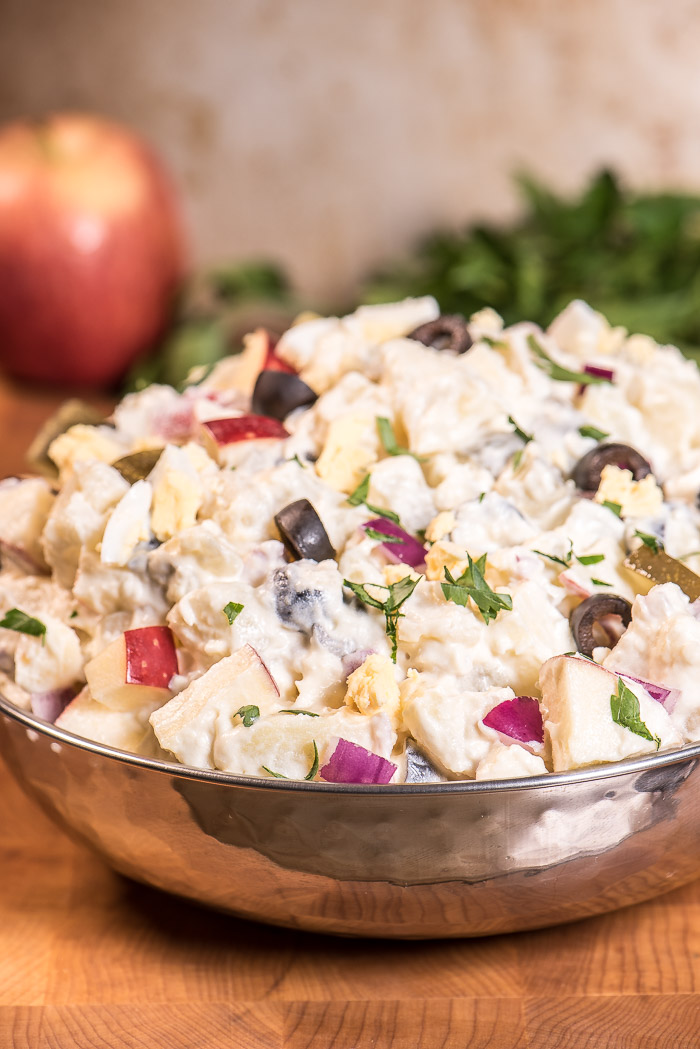 I first had this salad at a neighborhood potluck.
The recipe originates with MaryJo, our babysitter's mom.
I could not get enough of it!  MaryJo was kind enough to rattle off the ingredients for me.
This is one of those salads that is great the day it's made, but even better the next day -- after the flavors have developed.
Feel free to adjust the recipe to your liking, but here's what works for our family
 Enjoy!
Everything Potato Salad

Print recipe
A sweet, tangy, crunchy, creamy potato salad that has it all!
Ingredients
3 Medium Russet Potatoes (Sliced in half lengthwise, and then quartered)
1 Small Red onion (Finely chopped (approx. ⅓ cup))
3 Ribs Celery (Chopped in approx. ¼ inch pieces (a generous ½ cup))
½ Cup Sliced green salad olives
½ Cup Sliced black olives
½ Cup Diced dill pickles (I prefer the crunchiness of Claussen pickles!)
1 Cup Mayonnaise
1 Medium Apple, chopped (I prefer the sweet, crunchy Red Delicious variety. (I chop the apple right before adding to the salad to prevent browning.))
½ Teaspoon Sugar
2 Teaspoons Red Wine Vinegar
1 Teaspoon Yellow mustard
4 Eggs, hard-boiled
Salt and Pepper to taste
Note
Make this the day before your gathering and you'll be amazed how the flavors intensify!
Directions
Step 1
Place 4 eggs in medium saucepan. Cover with water. Bring to a boil and continue a slow boil for approx. 10 minutes.
Step 2
Peel potatoes, slice in half lengthwise and then quarter. Place in large pot , cover with water and sprinkle with approx. 1 Tablespoon Salt. Bring to a boil and cook until fork tender, but still firm.
Step 3
Drain cooked potatoes into colander and leave to cool.
Step 4
When potatoes are cool enough to handle, chop cooked potatoes into roughly 1-inch cubes and place in large bowl.
Step 5
Season the potatoes with black pepper and add the finely chopped red onion, chopped celery, sliced green and black olives, and diced dill pickles.
Step 6
Stir to combine.
Step 7
Add mayo, sugar, red wine vinegar, mustard, and chopped apple.
Step 8
Rough chop 2 of the eggs and add to salad. (Reserve the last 2 eggs to slice or quarter and use as garnish.)
Step 9
Sample, adjust seasonings. Refrigerate until ready to serve.
Step 10
Garnish with remaining 2 hard-boiled eggs, sliced or quartered. If you'd like to sprinkle a little Paprika, that looks pretty too.
This recipe is adapted from MaryJo's delicious potato salad.  Thank you!