[vc_row][vc_column][vc_column_text]We've enjoyed many restaurants here in Colorado over the last couple weeks, but every once in awhile Jeff and I opt for a relaxed, light meal that doesn't involve any cooking and allows us to stay home and relax.
We put this cheese plate together a few evenings ago. It was perfect. Satisfying and light.
I used guidelines I found in this article in Bon Appetit.
In a nutshell:
4 different cheeses:  a soft, a "bloomy rind" (think brie), a semi-hard and a harder, aged cheese.  We only used 3 cheeses because we just weren't that hungry!
Preserves or honey (we used raspberry preserves)
A bread
A cracker
2 savory options such as olives, pickles, salami
A fresh fruit.  I went ahead and tossed in some almonds we had purchased earlier for snacking.
Dinner is done!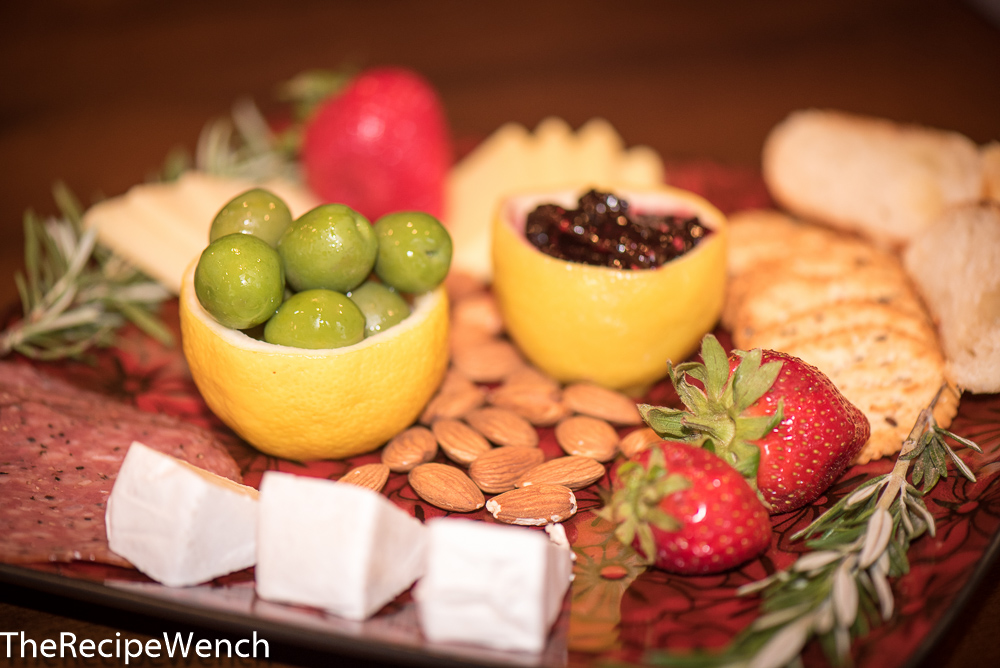 Jeff and I have a few more days together to enjoy our vacation in the good ol' U.S.
As I mentioned last week, our drive from San Diego to Lake Tahoe with Jackie and Christian was quite "cozy."  Christian sat in the back seat and we believe he could have worked the clutch, brakes and accelerator from there.
Poor guy -- every once in awhile I would see his foot (ever so tentatively) extend from the back seat to my lap so he could give his knee a chance to stretch.  He was probably the happiest of all when we pulled into the driveway of his friend's cabin in Tahoe!
We had a nice night's rest in Tahoe and then continued our two day journey to Colorado Springs the next morning.
A two-day drive in Europe would take us through numerous countries, but a two-day drive in America is different.
A drive across our country never ceases to amaze me.
One can't fully appreciate how vast the U.S. is until you cross it.
According to a chart I found on Worldometers, the USA ranks third in population, coming in behind China and India.
As for land mass we rank third again, coming in behind Russia and Canada.
After a couple days' driving, we arrived in Colorado Springs.  I'm in love with this area and am really looking forward to calling this place home!
For now, we are doing all the touristy things to get to know the area. Garden of the Gods
Pike's Peak
A train ride through the Royal Gorge
Craft beers . . .
Did I mention I love this place???
We are staying at a place I booked through Airbnb.  It's so comfortable.  Two bedrooms, a kitchenette, living room, fireplace, large bathroom, all the amenities you need.  They even stocked the kitchenette with food for breakfast.
Our hosts are wonderful people.  Transplants from New York who are as enamored with this place as we are.
We enjoyed getting to know them better over a meal and several (!) glasses bottles of wine.  It's amazing how much we have in common.
Jeff and I have met several interesting people during our stay.  The new bar owner who is a former Russian citizen.  She gave up her citizenship (but definitely not her accent!) to join the U.S. Army. She's retiring in the next few weeks and plans to enjoy life as a business owner.
Her husband, the son of a U.S. contractor, grew up in Egypt.  He now has his own contracting business.  It was great to talk to him about the area. We're excited to be here!
Jeff has to return to Italy next week.  I'll head down to Florida and then to North Carolina to visit Jackie, Alyssa and Zach.
Jackie and I will be taking on the challenge of furnishing her apartment and cooking a week's worth of meals -- all on a very tight budget.
Wish us luck!
[/vc_column_text][/vc_column][/vc_row]