Ricotta pancakes!
Alyssa raved about these.  I can always count on her to steer me in the direction of delicious recipes to try.
Tender and rich is how I would describe these ricotta pancakes.
If you're looking for something more "light and fluffy," I'm going to, very gently, turn you towards my Buttermilk Pancakes recipe -- but only after you've tried these ricotta pancakes, that is!
This recipe is a variation of the one Alyssa shared with me from Let the Baking Begin Blog.
Alyssa recommended adding some lemon extract in place of the vanilla so I did  --
Yeah, it was pretty awesome.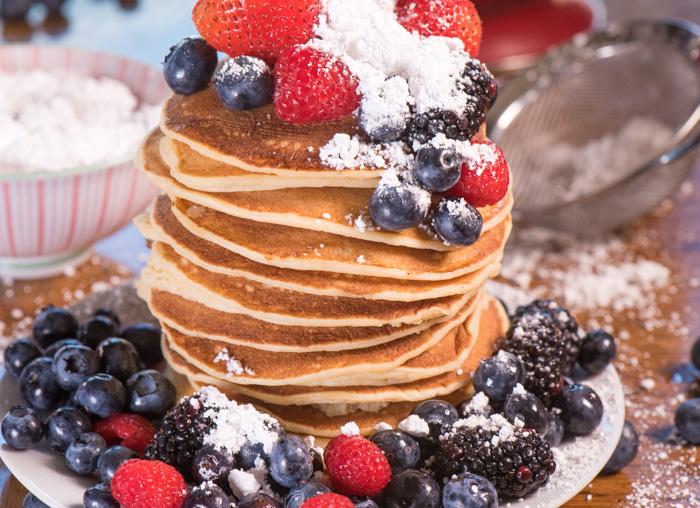 There are so many varieties of extracts these days -- lemon,coconut, orange, cinnamon, pumpkin pie spice.  You name it.
Experiment and let me know how it goes!
Enjoy! - The Recipe Wench
Bridget - The Recipe Wench
14 pancakes
Ricotta Pancakes
Tender and rich, the ricotta gives these pancakes a unique texture. Not your typical light and fluffy variety Enjoy!
5 minPrep Time
2 minCook Time
7 minTotal Time
Ingredients
1 Cup ricotta
1 Cup flour
1 Teaspoon baking powder
½ Cup sugar
1 large egg
¾ cup milk
1 Tablespoon lemon juice
1 Teaspoon vanilla extract (creative license granted here -- experiment with lemon, orange, cinnamon extract. Whatever you feel like!)
Instructions
Really simple -- just mix all ingredients in a mediumbowl.
Heat a non-stick skillet over medium. I also use non-stick spray to help my skillet a bit!
Pour ¼ cup of batter into the skillet.
Cook on each side for approximately 90 seconds
Notes
If you're having difficulty getting the pancake cooked in the center, try lowering the heat and/or thinning the batter by adding more milk.
7.8.1.2
3
https://www.therecipewench.com/ricotta-pancakes/