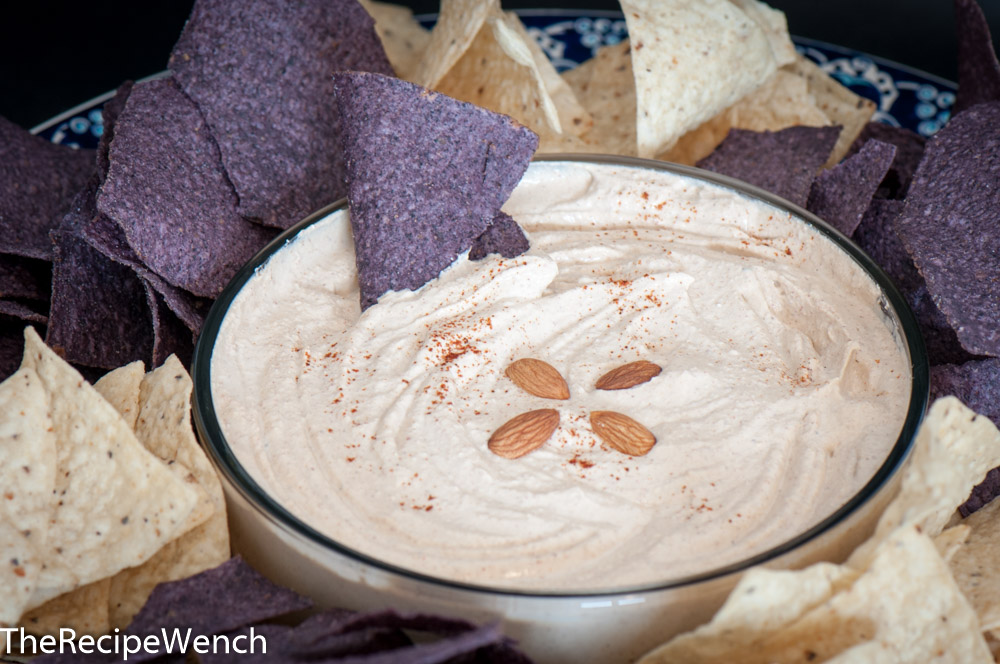 We were introduced to "Bitchin' Sauce" by Jeff's younger brother in San Diego a couple years ago before we moved to Germany.  Tasty. Addictive.
I felt I had won the lottery when I found a copycat recipe for this sauce on The Faux Martha.  A piece of "home" that we were able to take with us to Europe.  You have no idea how much you start to miss food from home when you can't get it...
The Faux Martha's recipe calls for nutritional yeast and Bragg Liquid Aminos.  I didn't bother with hunting those down.  Instead, I substituted a little bit of cream cheese.  I also used chipotle chili powder instead of the basic run-of-the-mill chili powder and made a few other minor changes to the proportions.  Jeff and I are really happy with the results and hope you like our modified version of Bitchin Sauce!
If you'd like to learn more about the original Bitchin Sauce, visit their webpage HERE.
ENJOY!
Righteous Dipping Sauce

Print recipe
This creamy dipping sauce is made from almonds. With a high-powered blender, you can have this sauce ready to dip into in 5 minutes' time. The cumin, garlic, coriander and chipotle seasonings are addictive and will have you returning time and again until all the dip is gone!
Ingredients
¾ Cup water
½ Cup + 2 Tablespoons grapeseed oil
¾ Cup raw almonds
¼ Cup + 2 Tablespoons fresh lemon juice
2 Ounces cream cheese
2-3 Cloves garlic
½ Teaspoon salt
½ Teaspoon cumin
½ Teaspoon chipotle chili powder
¼ Teaspoon coriander
½ Teaspoon paprika
Directions
Step 1
Throw everything in a high-powered blender and blend until smooth and creamy. Store in the fridge for up to a week. If the sauce separates, just give it a stir.