"I have to go to Niscemi for my quarterly visit," he said.  "Do you want to come with?"
Ummm, we've been married nearly 27 years, Jeff.  What do you think my answer is?
Hand me my suitcase!
Who doesn't love an adventure with friends and loved ones?
Just hearing the word "road trip" makes my heart flutter!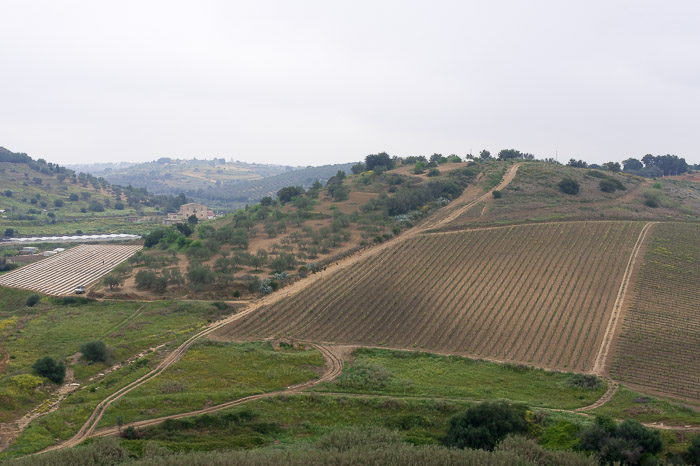 Fortunately for me, Jeff is one of my favorite people!  I could not wait!
Niscemi is on the island of Sicily. It's an easy, 6-7 hour drive from our place to the ferry landing in Reggio di Calabria.
We decided to start the trip from Naples over the weekend so we could have a little fun and explore a bit before he had to take care of business.
I assure you -- fun was achieved!
With Thor and Heidi safely delivered to the pet sitter, we jumped in our fuel-efficient yet feisty Ford Fiesta ST and off to Sicily we headed.
We drove like Italians on the Autostrada, listened to the eclectic selection of music I pulled from our collection (from Clapton to Florida Georgia Line to Bieber, with an Italian pop musician thrown in as well), stopped for gas, bathroom breaks, amazing fresh panini and, of course, "un cafe" at a few Autogrills along the way.
We stayed at two of Sicily's gorgeous agriturismos (i.e., farmstays).
The first, just outside of Taormina (Antico Borgo Agriturismo) and the second in Caltagirone (Vecchia Masseria Charm & Relax).
We woke up to beauty and delicious breakfast buffets.
We took a private cooking lesson with Chef Stefano in Taormina.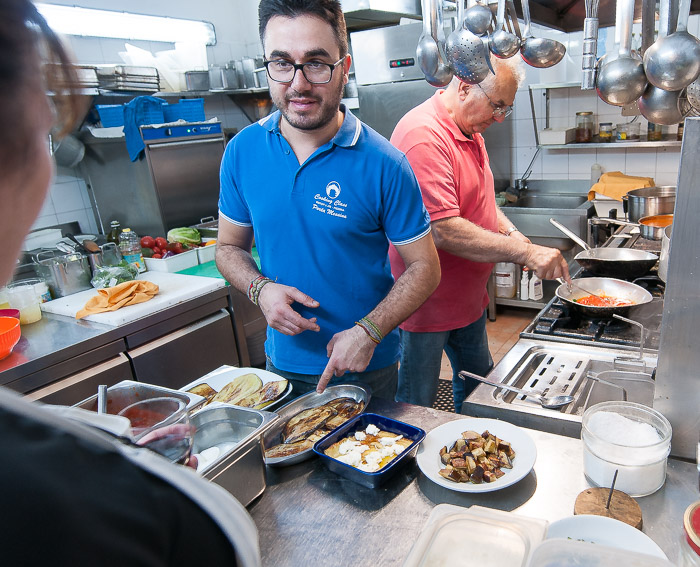 And learned how to make bread in a wood-fired oven, caponata, spaghetti stuffed eggplant, eggplant parmesan, eggplant, eggplant, eggplant, breaded veal cutlets, macaroni pasta.
Let me say that again --
We. Made. Macaroni.
We stumbled upon Hotel Timeo, an exceptionally beautiful boutique hotel, and indulged in an exceptionally expensive bottle of wine on the terrace while enjoying the exceptionally romantic sunset and view of Sicily's Mt. Etna as it blew smoky kisses to us from a distance.

We climbed some seriously impressive steps in Caltagirone for no good reason!

Staircase of Santa Maria del Monte.  Check it out.
We ate too much. Everywhere.
The agriturismo in Caltagirone was accessed by navigating the Fiesta two miles over a heavily-rutted hard-packed dirt road, better suited for travel by donkey.
I love finding these treasures off the beaten path, but not sure Jeff appreciated the off-road adventure -- he's the one who keeps our vehicles washed, waxed, maintained . . .
Given the challenges with access, it's not difficult to understand why we chose to enjoy dinner right there at the agriturismo, as did many of the guests.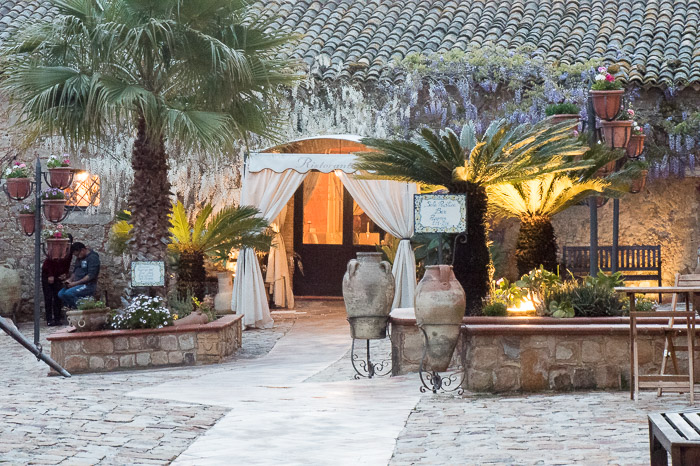 We made friends with newlyweds from Ireland.
And the four of us may have consumed a bit too much wine during our after-dinner chats.
The wait staff didn't seem to mind as they tidied up around us and prepared for the next day's breakfast service.
Even when Jeff was at work, I enjoyed my time.
Nevermind that it was raining and I couldn't lounge by the pool.  And nevermind that the WiFi signal wasn't strong enough to reach our room.
I marched myself and my laptop to the "sala," plopped down on a chair and kept the resident dogs, Bianca and Max, company as they napped at my feet.
A great time was had.  April.  No crowds.  No sweltering heat.
The ferry crossing from Reggio di Calabria to Messina takes about 20 minutes or so.  Just enough time to head up the stairs and grab an espresso or small beer.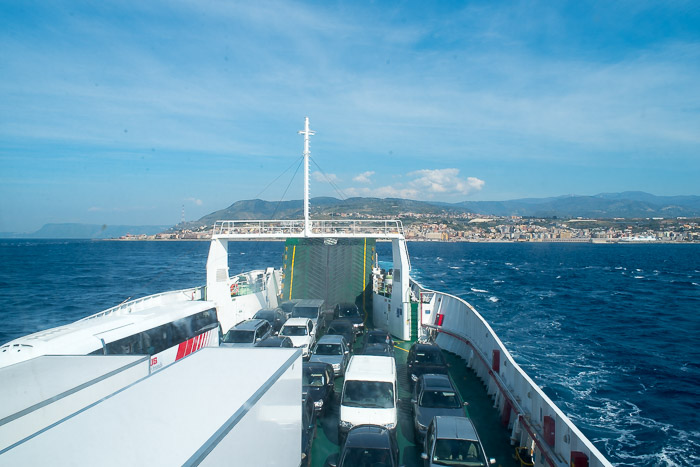 Once we disembarked the ferry in Messina, it was a quick drive to our lodging near Taormina.
We threw our luggage in the room and headed out to explore Taormina, forage for dinner and figure out where Ristorante Porta Messina was situated because that's where we were to meet our chef, Stefano, the next morning for our cooking lesson.
We used a public parking facility in Taormina -- Parcheggio Lumbi.  Reasonably priced and a free shuttle to the historical center of town.
How easy and civilized!
My takeaways are:
Road trips!  Take them!
Find beauty in the mundane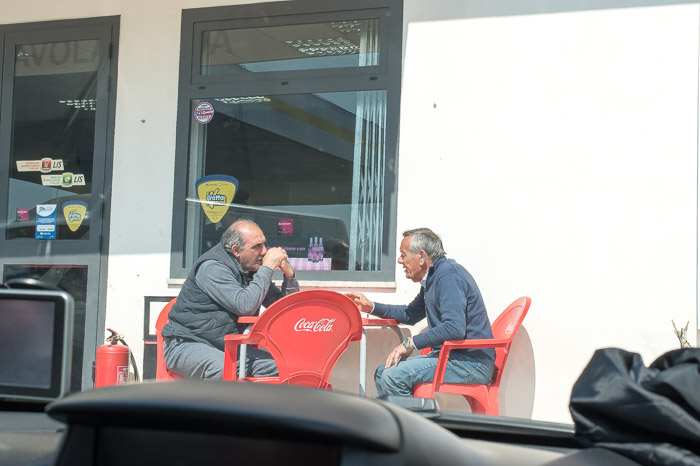 Even if you can't splurge on an expensive hotel room in a gorgeous hotel, that doesn't mean you can't enjoy the sunset on the hotel terrace overlooking a smouldering volcano.
Eat the cheese!
Drink the Prosecco!

ENJOY! - The Recipe Wench