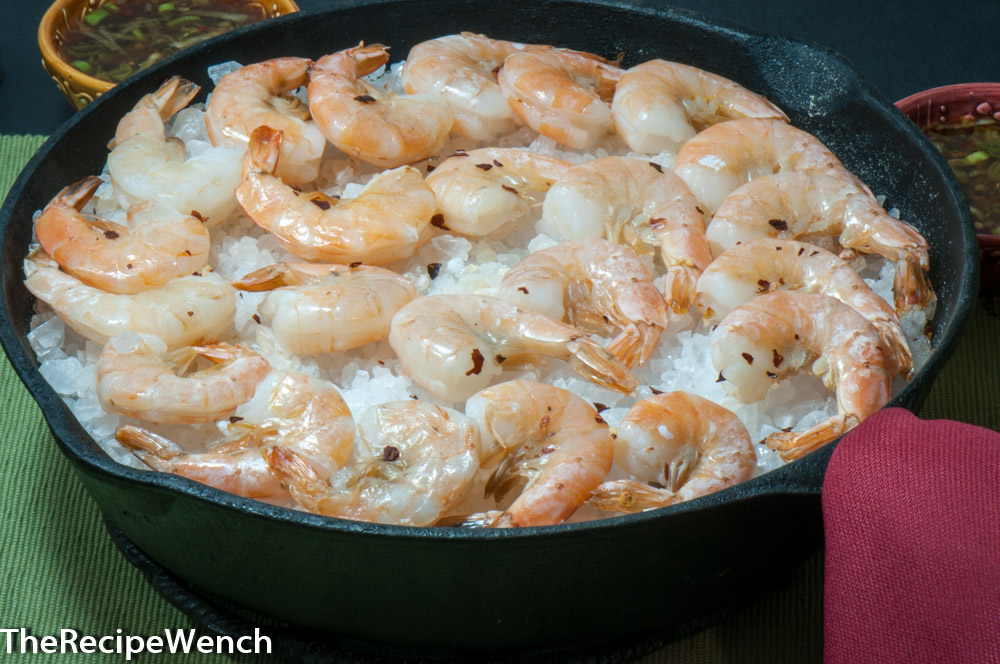 I happened across these roasted shrimp a few years ago in the Cooking Light magazine.
They were a hit with my family!
The magazine had a feature on the science of cooking with salt, which I found really interesting. This is also where I found the recipe for Sea Salt Chocolate Chip Cookies. By the way, these cookies still amaze me -- you need to try them if you haven't already.  The sweet/salty combo makes my heart go pitter patter!
Back to the shrimp, though....
I like to cook these roasted shrimp in a large cast iron skillet -- that way they can go directly from oven to tabletop.
Efficient, right?! Gorgeous too!
The honey-lemon dipping sauce is super tasty.  I recommend giving everyone their own little container of dipping sauce so they can double-dip to their heart's content!
The sauce is that good!
And, yes, Jeff and I have enjoyed this roasted shrimp appetizer as dinner -- one of the benefits of living in an "empty nest"!
I hope you enjoy these tasty morsels as much as we do!
 Enjoy!
Roasted Shrimp and Lemon-Honey Dipping Sauce

Print recipe
| | |
| --- | --- |
| Serves | 6 |
| Prep time | 30 minutes |
| Cook time | 5 minutes |
| Total time | 35 minutes |
| Meal type | Appetizer |
| Slightly adapted from recipe on | My Recipes |
This Roasted Shrimp appetizer is a delicious quick, simple and light appetizer your guests will enjoy. Perfect as an appetizer or add a salad and potato to this Roasted Shrimp to make a satisfying meal.
Ingredients
1- 4 pound box rock salt
24 Jumbo shrimp (UNPEELED and deveined)
1 tablespoon grated lemon rind
⅓ cup fresh lemon juice
¼ cup minced green onions
2 Tablespoons honey
2 Tablespoons soy sauce
½ teaspoon red pepper flakes
1-2 Cloves garlic (minced)
Note
I first came across this Roasted Shrimp appetizer in Cooking Light Magazine several years ago.
I've since misplaced the pages, but was able to find the Roasted Shrimp recipe online at MyRecipes.com.  Love the internet!  I found shell-on, deveined jumbo shrimp at my grocery store and they work really well.  No additional cleaning required!  If you have to devein your shrimp at home, simply use scissors to snip down the shell, left the vein out and discard. There are also helpful videos on YouTube!
Enjoy! -- The Recipe Wench
Directions
Step 1
Pour salt into large cast iron skillet. Spread out into an even layer. Place skillet in 400°F oven.

Heat salt for approximately 30 minutes.

Arrange shrimp in single layer over hot salt.

Cover with foil and return to oven for approximately 5-8 minutes, depending on size of the shrimp.

Step 2
While shrimp are cooking, whisk together remaining ingredients and serve alongside shrimp for dipping.