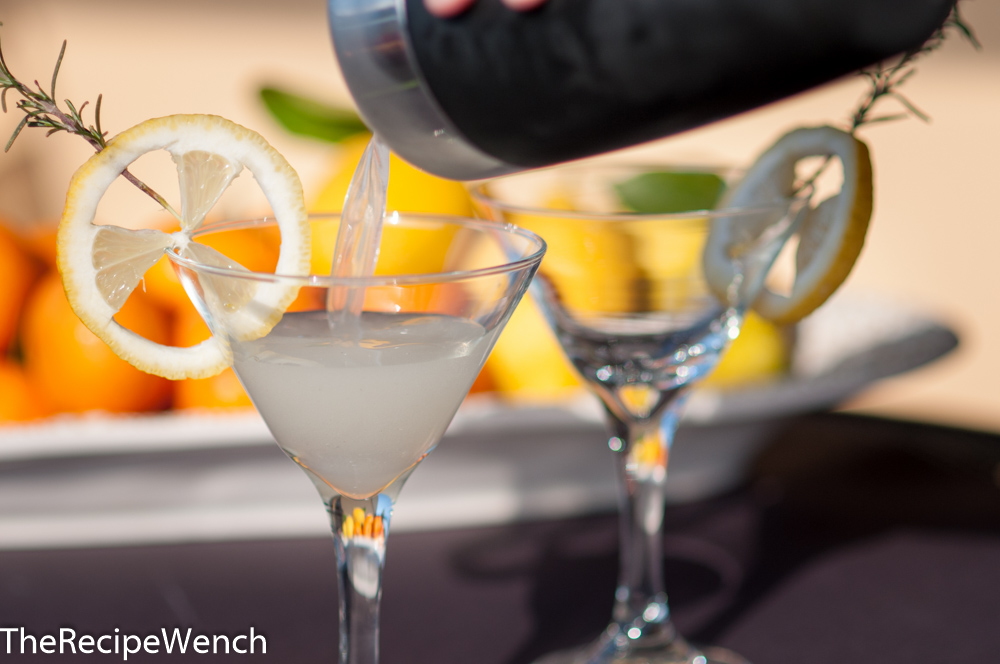 Apologize to your liver right now because these drinks are tasty.  You will be skipping back and forth to the kitchen to whip up "just one more"!  As I mentioned in my post on Rosemary-Lemon Bars, our lemon tree is full, and the rosemary bush-tree is standing ready, willing and able to contribute a few sprigs for a good cause.
I found the beginning of a good cocktail recipe on Livin' the Pie Life, and then I got all Martha-Stewart-like and infused the simple syrup with rosemary.  It was an awesome and tasty decision on my part, and all of you get to benefit from that.
So, once you decide you want to experience this drink (and you should!), start out by making the simple syrup.  Very easy to do, but it just takes a few minutes to prepare.
A basic simple syrup consists of equal amounts water and sugar.  Heat the mixture up and stir until sugar is dissolved.  Easy enough, right?  But to get a really deep, delicious rosemary flavor, you need to "brew" that rosemary in the water before you introduce the sugar.   So ....
- Heat 1 cup water until just under the boiling point (like you would for tea).
- Pour water into bowl along with a few sprigs of rosemary (it's a good idea to bruise the rosemary first).  Allow the rosemary to steep for 10 minutes.
- Strain the water back into the pot, add 1 cup sugar and cook over medium heat, stirring constantly until sugar is dissolved.  There.  Done.  Easy.
You can keep this simple syrup in the fridge for up to a week.
ENJOY!
Rosemary-Lemon Martini

Print recipe
Ingredients
2 Ounces vodka
1 Ounce freshly-squeezed lemon juice
1 Ounce rosemary simple syrup
Directions
Rosemary Simple Syrup
Step 1


Heat 1 cup water to just under a boil. Pour into bowl along with a few sprigs rosemary (bruise first). Allow to steep for 10 minutes. Strain water back to the pot and add 1 cup sugar. Heat over medium heat, stirring continuously until sugar is dissolved. Allow to cool. This can be stored in fridge up to 1 week.

Assemble cocktail
Step 2
Fill cocktail shaker two-thirds with ice. Add vodka, lemon juice and simple syrup. Shake to thoroughly chill -- then shake some more! Strain into martini glass. Garnish with lemon peel and/or rosemary sprig. Slurp away!