Jeff and I had the pleasure of accompanying our friends to attend a festival celebrating chestnuts and truffles in the town of Bagnoli Irpino.
Bagnoli Irpino is located approximately 75 miles from Naples, in the Italian province of Avellino, region of Campania.  I am already looking forward to going back to this celebration next year!  The festival was held in the town center.  Food stands, were set up throughout the town, tucked into tiny alleyways.  The aroma of food cooking on an open fire, the jovial people -- from babies to the "anziani" (elders), the folk music and the sense of community all came together to make this festival an evening to remember.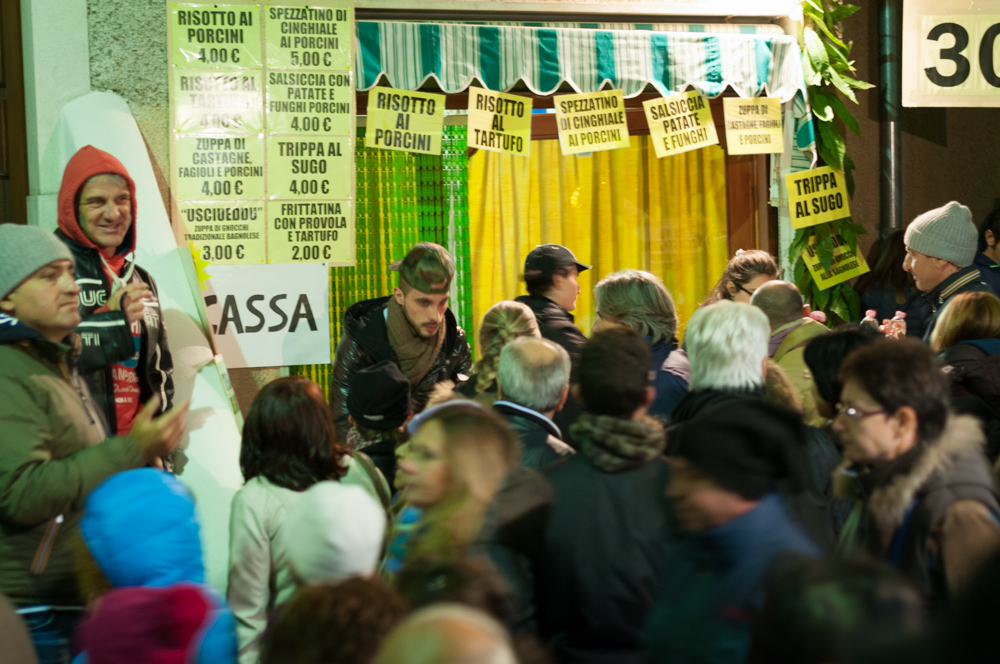 But let me tell you about the food!  Chestnuts, pumpkin, truffles, cheese, sausage, porcini mushrooms -- were highlighted throughout the festival.
We started with risotto with pumpkin and cheese.  We followed with tiny pizzas topped with black truffles.  After that came pasta with porcini mushrooms, ravioli with truffles, sausage panini with broccoli rabe and scamorza cheese.  Each dish ordered came with a complimentary plastic cup of wine.  Bonus!  How civil!  Of course, bottles of wine were available for purchase...
There was so much more we wanted to sample, but we'll have to wait until next year.  There was this cheese being cooked over an open flame that I will be thinking about in the months to come!  As the cheese melted, they'd swoop it up and spread it on toast.  It looked awesome.  Of course, there was no end to the desserts!
The pride and joy of the festival was a gigantic chestnut cake -- free slices to all who had room for it!  We did not!
Well, I returned home inspired to cook up something delicious with the 20 lbs. pumpkin our landlord gave to us.  My first dish was this Roasted Pumpkin and Sausage Lasagna.  It is a winner and I'll definitely be incorporating more pumpkin into our lives!
Until next year, Bagnoli Irpino!