I don't think I've ever been so excited about a pepper before.
Listen -- Shishito Peppers, people!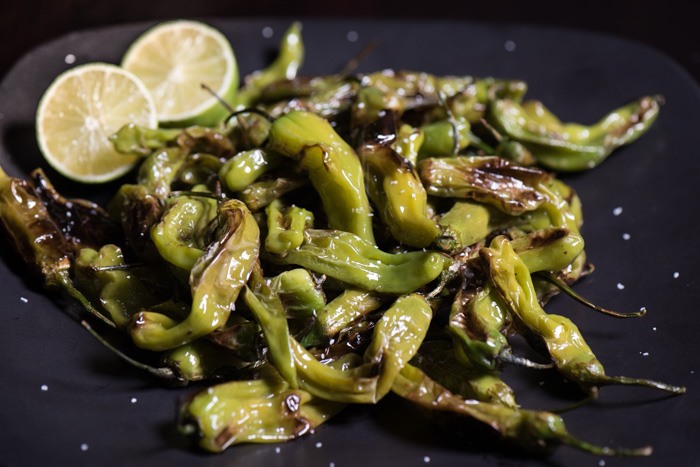 Heat up a little olive oil.  Infuse the oil with a little minced, sliced, diced or crushed garlic.  Then plop the peppers in and allow them to blister and soften a bit.  It won't take long.
Consider these done before they get mushy.  No one has time for mushy shishitos!
Squeeze a little fresh lime juice, sprinkle with some kosher salt and   . . .  Wow!
So it's my brother, Barth, who I must thank for this delightful discovery -- he's the one who brought the peppers home the first time.
We prepared them with Barth at the helm and me just watching as he deftly wielded the wok.
How did he flip them in the wok with just a flick of his wrist?!  If I tried that, they'd end up all over the stove top and floor. Who's with me on this?  Who can relate to the struggle?
What a fantastic snack or appetizer!
I didn't come across any that were spicy hot. My brother, however, seemed to find all the hot ones.
I've read that one out of every ten are spicy.
Barth said the heat was different from, say, a jalapeno.  Jalapeno heat lingers.  Instead, the shishito heat was short-lived.
So much flavor!
I fell in love with the flavor and simplicity of preparation.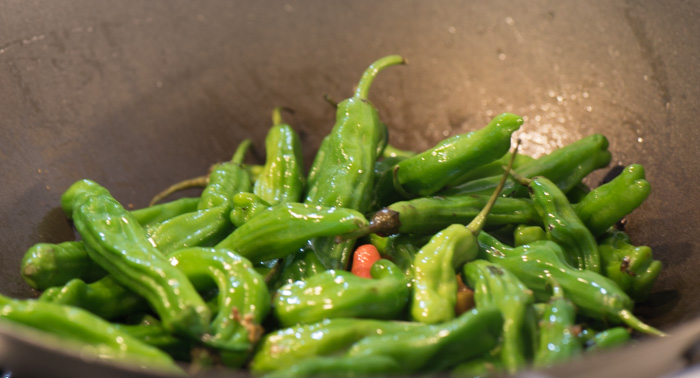 I promptly headed out to the store to get more so I could photograph for the blog (and enjoy them again, of course!). Surprisingly, I had a difficult time finding them.  Fortunately, Sprouts came through for us and I grabbed several bags.
So I'm thinking this would be a good thing to grow in my garden (which doesn't yet exist!).
If you run across them as you're grocery shopping, grab a few and thank me later.
Super simple -- you need to try these!
Enjoy! - The Recipe Wench
Shishito Pepper Appetizer

Print recipe
| | |
| --- | --- |
| Serves | 4-6 |
| Prep time | 5 minutes |
| Cook time | 6 minutes |
| Total time | 11 minutes |
| Meal type | Appetizer |
Sauteed shishito peppers seasoned with garlic, fresh lime juice and kosher salt. So simple and delicious!
Ingredients
1-2lb fresh Shishito peppers, rinsed
2 Tablespoons olive oil
1 Clove garlic, sliced or miced
1 lime
Kosher salt to taste
Directions
Step 1
Heat olive oil over medium-high heat.
Add garlic, followed by peppers.
Saute until peppers have reached desired tenderness (I prefer to keep them a bit firm)
Season with Kosher salt and fresh lime juice.