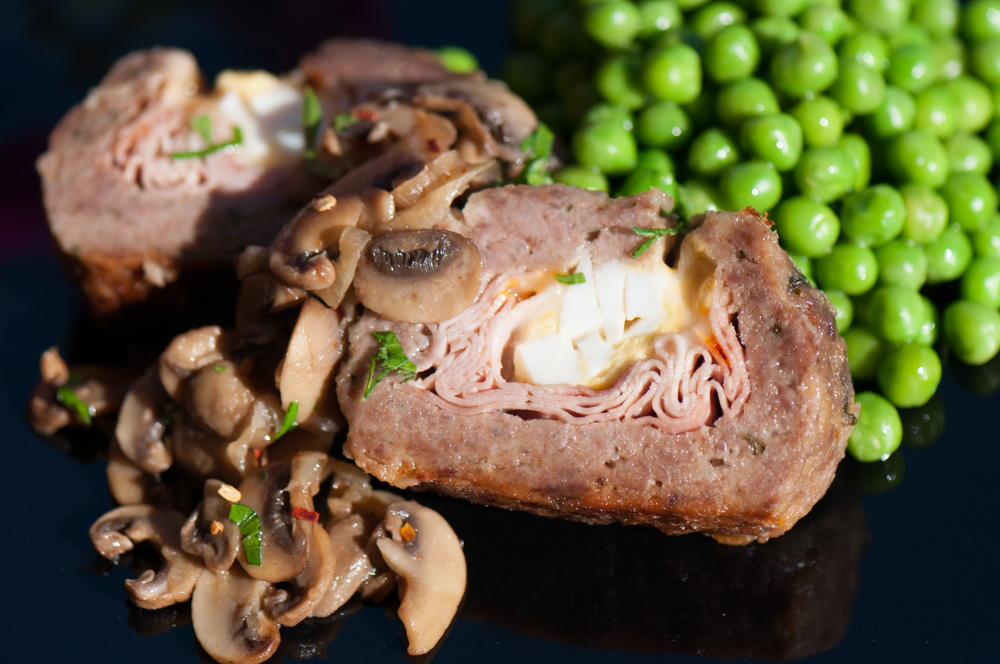 You have no idea how happy it makes me to share this Stuffed Meatloaf recipe with you. Seriously!
My family has had to endure my "enthusiasm" for awhile now.
Jeff was witness to it in person.  Jackie and Alyssa had to hear all about the stuffed meatloaf via Facebook and on the phone for days!
"Polpettone" translates to "large meatball."
Valeria, a very good friend of mine (and trained chef!), came to the house recently to teach me how to make Polpettone.
The variations to stuffed meatloaf are endless!  As she was coaching me, she was listing all the different things we could use as stuffing.  I'm intrigued by the idea of placing a spinach omelette inside.  I can imagine how beautiful it will look once the meatloaf is sliced!
I'm telling you, this meatloaf is worthy of a dinner party.  I feel like throwing a dinner party because of it!
Dinner party meatloaf!  Trust me!
I especially like that stuffed meatloaf is prepared ahead of time -- it needs to be thoroughly cooled before slicing.
Once your guests arrive, pour the sauce over the slices and place everything in the oven to reheat while you enjoy the party. Genius!
Valeria is originally from Sicily.
Polpettone made a frequent appearance at her family's dinner table while she was growing up and even today she continues to make this for her husband and friends.
This amazing stuffed meatloaf is just the tip of the iceberg!
Valeria has all kinds of cool culinary tricks up her sleeve.  We usually get together a couple times a week for a yoga class.  Then we follow that with a stop for a coffee (and pastry!).  We often chat about the dishes she'd like to teach me.
I can't wait to learn more from her -- I will share the joy with all of you!
So there is a bit of technique involved.
I hope my photos and explanation are clear.  I will probably supplement this post with a short video to give you a visual on how to fold up and seal the meatloaf.
Basically you're going to start by seasoning the ground beef.
You'll take sheet of foil -- I'd say about 16 inches long.
Spray it with Pam and then sprinkle about ½ cup of bread crumbs over the foil.  This will keep the meat from sticking to the foil.
Wet your hands (again, to keep the meat from sticking) and then flatten out and shape the meat mixture into an oblong shape -- probably 11 inches long.  You can see from the photo just how smooth the edges of the oblong shape are -- this will help make it easier to seal.
Then you layer your deli ham, then cheese (either sliced, finely cubed or shredded), then finely chopped hard-boiled egg.
The addition of the hard-boiled egg is amazing -- don't pass this up!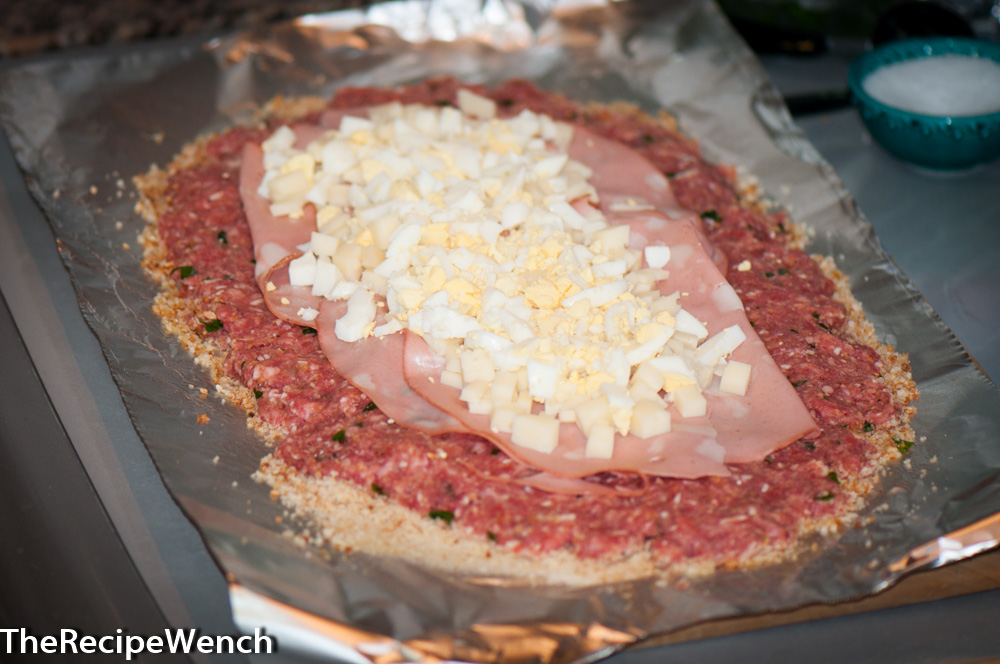 Then you lift the sides of the meat, using the foil to assist with this.
Using wet hands manipulate the meat (how's that sound?!) over the stuffing and press the sides and ends of the meat together to form a "cocoon" over all that delicious stuffing.
Quality Control
Then you need to perform the ever important "quality control" by checking very carefully to make sure there are no cracks in the meat.
Cracks in the meat will allow the stuffing to escape during cooking, and you don't want that.
If you see cracks, use your wet hands to move the meat and repair those cracks.
You're a sculptor . . .
You're a meat artist . . .
You are a Martist!
After the meat is nicely folded and sealed, sprinkle with another tablespoon of bread crumbs and gently press into the meat.  Spray everything with more Pam and then fold up the foil. It doesn't need to be air tight -- you want the steam to be able to escape.  Just fold the foil over to securely cover the meatloaf.
Throw it all in the oven for 45-60 minutes.
While it's cooking you can make the sauce.
We made two versions.  The first version used sauteed mushrooms and onions.  The second version had fresh peas (from our landlord's garden!) and garlic.  They were both delicious and really simple.
After the meatloaf cools, it can be sliced.  Cool it thoroughly -- place in the fridge.
My meatloaf split!  No problem, though.  I just turned it over before slicing and it was fine!
Look how pretty!
Not bad for a first try!  A big thanks to Valeria for her excellent (and patient!) guidance as I fumbled my way through this first attempt!
SO delicious!
 Enjoy!
Stuffed Meatloaf (aka "Polpettone")

Print recipe
| | |
| --- | --- |
| Serves | 8 |
| Prep time | 15 minutes |
| Cook time | 1 hour |
| Total time | 1 hour, 15 minutes |
| Meal type | Main Dish |
Stuffed meatloaf is so tasty and easy. Impress your dinner guests with this gorgeous dish! The variations you can make to this dish are endless. Try it!
Ingredients
1 Pound ground sirloin
1 egg
¾ Cup grated parmesan
¼ Cup fresh minced Italian parsley
1 Teaspoon kosher salt
½ Teaspoon pepper
2- 2-½ Cups bread crumbs (divided)
¾ Cup (approx.) milk (enough to make a soft, yet firm consistency)
¼ - ⅓ Pound thinly sliced deli ham (mortadella is another delicious option)
1 Generous cup shredded cheese such as provolone or munster (thinly sliced or finely cubed cheese is also ok)
2 hard-boiled eggs (finely chopped)
non-stick spray such as Pam
sauce
2-4 Tablespoons olive oil
1 Cup thinly sliced onions
8 Ounces fresh mushrooms (cleaned and thinly sliced)
1-½ Cups vegetable, beef or chicken broth
crushed red pepper to taste
sauce (Optional)
1 Tablespoon cornstarch (for thickening sauce, if desired)
Note
Stuffed Meatloaf is a beautiful and tasty dish you can be proud to serve to your dinner guests.
The stuffed meatloaf is prepared earlier that day or even the day before and sliced once thoroughly cooled.  All that needs to be done once your guests arrive is add the sauce and place everything in the oven to reheat.  This allows you time to relax with your guests.
Enjoy! -- The Recipe Wench
Directions
Prepare Meatloaf
Step 1
Preheat oven to 375°F

Place the ground sirloin in a medium bowl. With your hands work in the egg, parmesan, parsley, salt, pepper, 1 cup of bread crumbs and a bit of milk.

Add additional milk and/or bread crumbs until you get a consistency similar to cookie dough.

This may take some trial and error -- too many bread crumbs and the meatloaf will be dry. Too much milk and the meatloaf won't hold together.

A soft, but firm consistency is what you're looking for.
Step 2

Take a 16" length of foil and spray with non-stick cooking spray.

Sprinkle about ½ cup of bread crumbs on the foil.

Wet your hands and form the meat into an oblong shape, approximately 11-12 inches in length.

Smooth out the perimeter of the oblong shape (see how smooth the oblong sides are in the photo).

Place a layer of thinly-sliced deli ham down the oblong, leaving a bit of a margin.

Follow the ham with the cheese (sliced, finely cubed or shredded).

Last comes the finely diced hard-boiled egg.

Step 3
Wet your hands again and, using the foil to assist, lift the long sides of the oblong and fold them over the stuffing. Pinch the sides of the oblong together and close up both ends in the same manner.
Step 4
Take a close look at the meat loaf to look for any cracks in the meat. If you see any, use your wet hands to move the meat and patch the cracks.
Step 5
Sprinkle the sealed meatloaf with a tablespoon of breadcrumbs and gently pat the crumbs into the meat.

Spray the top of the meatloaf and foil with cooking spray and fold up the foil to enclose the meatloaf, leaving some room for the steam to escape during cooking.

Bake for approximately 45 to 60 minutes.
Step 6

Remove from the oven and allow to cool completely before slicing.

It is best to refrigerate the meatloaf before slicing.

Prepare Sauce
Step 7
Heat 2 tablespoons olive oil in large saucepan.

Saute onions and mushrooms, adding additional oil if necessary.

Continue sauteeing until most of the liquid from the mushrooms has been absorbed.

Add 1-½ cups beef, vegetable or chicken broth and crushed red pepper to taste.

Bring to a simmer.

Mix cornstarch in ¼ cup water and add a little at a time to the sauce, stirring until combined and until the sauce has reached the thickness you desire. Keep in mind the sauce will continue to thicken when it is reheated in the oven.

Add salt and pepper to taste.


Assemble for reheating
Step 8

Slice meatloaf into ½ - ¾ inch slices.* Place in ovenproof baking dish. Pour sauce over and reheat in 350°F oven for approximately 30 minutes or until heated through.

*If the meatloaf splits open during cooking, it is easiet to turn it over and slice it from the bottom.

Step 9
Enjoy!