So . . . we flew to Greece over Fourth of July weekend.
Being able to say and do things like that is probably one of the best things about living in Europe.
Actually it IS the best part of living here.
Our flight from Naples to Athens was one hour and 20 minutes.  How could we NOT go?!
I'm skimming over the highlights of our Fourth of July trip in case you have a burning desire to go to Greece for a long weekend.
And I would totally understand if you did!
I think I might have been Greek in a prior life . . .

I'm drawn to this country!
After all -- Gods and goddesses!
Myths and legends.
Strappy sandals. Sultry, flowing summer fashion.
Exquisite jewelry and sculptures.  I'm already scheming another trip just for the purpose of purchasing art for the house . . .
Fresh fruits and vegetables. Grilled meats.
Gorgeous, friendly people.
Crisp, chilled white wine.
And views just too stunning for words.

It was 2011 when I first explored Athens and Santorini.
Just Alyssa and I.
That trip could only have been more perfect had Jeff and Jackie been with us.
It took 6 years, but I finally came through on my promise to visit Greece with Jeff.
The pressure was on thanks to my high expectations.
Greece is one of my favorite countries to visit.
Rest assured the 2011 travel-with-daughter version and the 2017 travel-with-husband version were equally as perfect.
Next time, it'll be the whole family.
And of course, I returned to Naples inspired to try some recipes -- Tzatziki, Chicken Skewers, Watermelon Salad, Orzo Salad and Lemon Cake.
BUT FIRST --
The highlights!
Brace yourself -- there were many "highlights"
A little celebratory "travel prosecco" at the airport in Naples. I highly recommend this! Sometimes even if you're not travelling . . .
And, yes, that is a hunk of prosciutto there under my glass of prosecco.  There was also a selection of sausage and cheese trying to tempt us!
A quick flight to Athens on EasyJet. Like I said -- one hour and 20 minutes from start to finish!  Incredible.
A private half-day tour of Athens arranged through Private Greece Tours.
These guys at Private Greece Tours are amazing -- friendly, professional, knowledgeable and super easy to work with.
You can customize your tour however you want.  We had them meet us at the airport. It went so smoothly.  After we grabbed our luggage, we spotted George holding a sign with our names. He escorted us to the air conditioned minivan just a few steps away, gave us a nice cold bottle of water and off we scooted to see the city!
I've used Private Greece Tours twice now and recommend them without hesitation!

Our budget-friendly accommodations at Ionion Hotel in Athens for our first night.  Perfectly situated for the next day's (very) early ferry departure.
THIS restaurant in Athens -- just a quick walk from the hotel.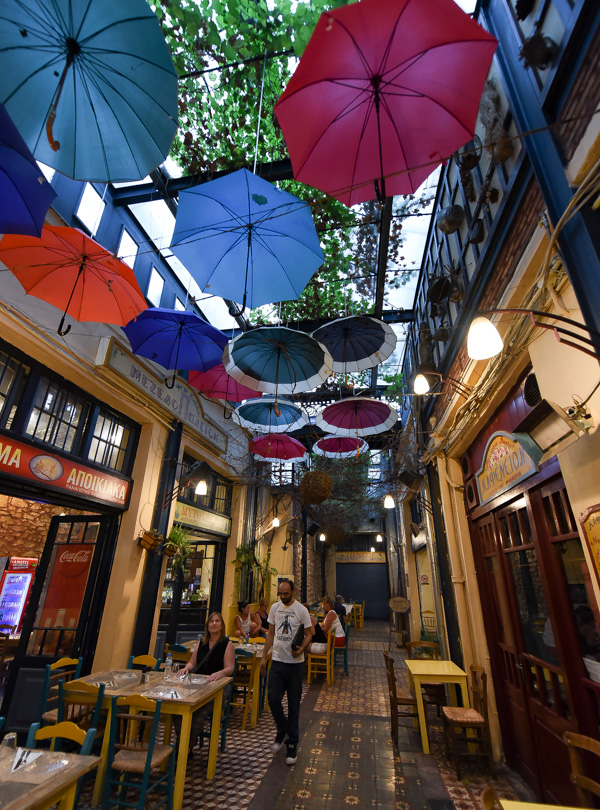 Ferry ride on Blue Star Ferries to Santorini – yay me for booking a cabin for this 8 hour trip.  It didn't cost much more than reserving a couple seats but the ability to nap in the privacy of your own cabin, and even take a shower if you wanted, was SO worth it!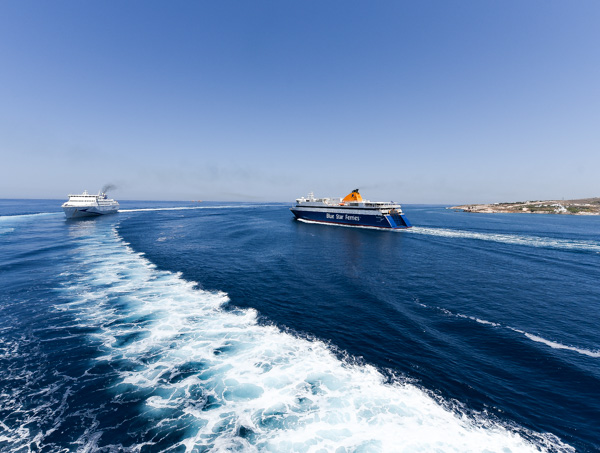 Georgi's Apartments just outside of Oia in the area of Finikia on Santorini.  We were there 3 nights. Our apartment was super comfortable with an amazing view from our balcony. Breakfast was delivered to the apartment each day.  The pool, although small, was perfect for cooling off after exploring.  We used it 2 or 3 times each day.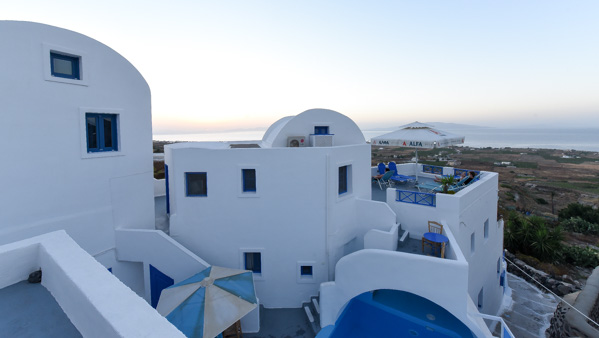 Georgi's DONKEY to haul our luggage through narrow alleyways to the apartment.  We were NOT expecting to have our luggage loaded onto a donkey when we got out of our taxi from the ferry landing.
What?!  A donkey?!  We loved it!
I now need a donkey in my life . . .
Winetasting at Sigalas winery – a 15 minute walk from Georgi's Apartments.  We drank ALL the wine!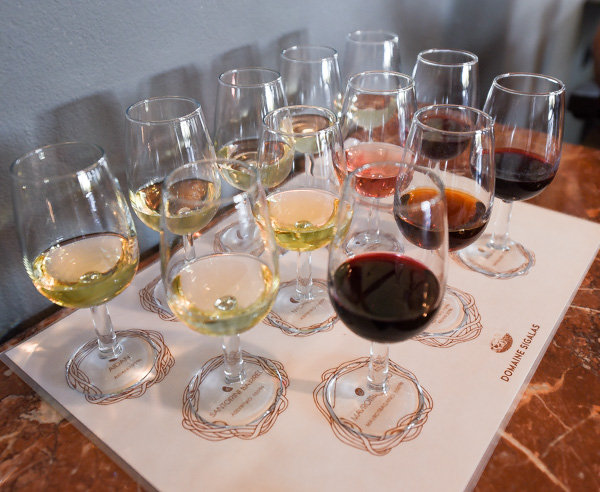 And ate all the snacks!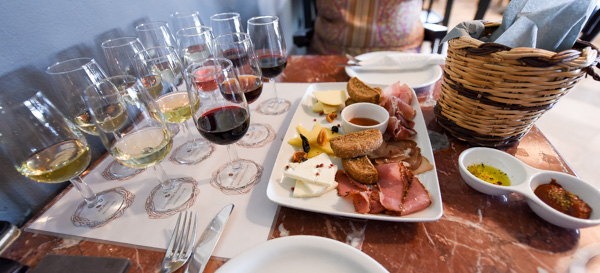 Semi-Private Sunset Dinner Cruise on a gorgeous, pristine catamaran booked through Pelican Travel Services.  Several swim stops along the way.  Breathtaking scenery, scrumptious food and a seemingly bottomless wine glass.
Alyssa and I did this tour in 2011 too.  I ENTHUSIASTICALLY recommend this.   Note, though, sometimes the seas get choppy.  We experienced choppy seas in the beginning of our cruise.  It settled down (thankfully) after the first swim stop.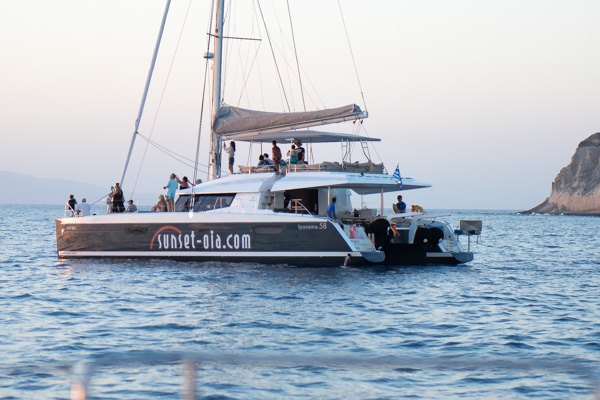 Our fearless captain pondering our next swim stop . . .


There were 3 crew members -- all very friendly, professional and capable.
SUNSET. It was magical.

Exploring on our own in a buggy.  Except for the part where all the sand in Santorini blew into my eyes!
The row of adorable restaurants and cafes lining the port at Amoudi Bay -- just below Oia.

I am here to say, it IS possible to have too much beauty in one place and it happened in Amoudi Bay!
Hotel Byron in the Plaka area of Athens. An economical choice -- and it has the most amazing view of the Acropolis.
THIS was our view as we were sipping wine at Hotel Byron's rooftop bar in the evening. The Acropolis is gorgeously lit.  Unforgettable.
ALL the sightseeing and photo opportunities.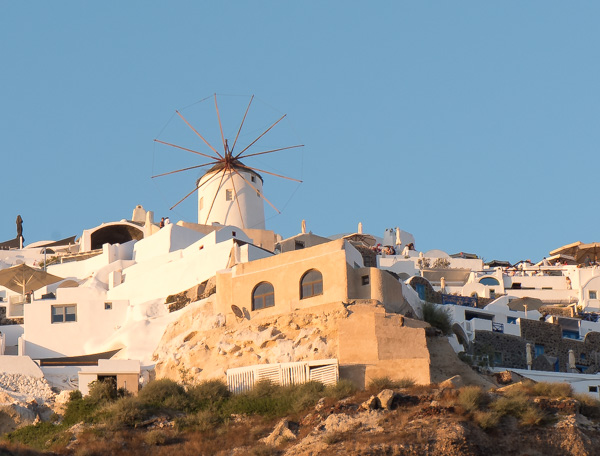 The food!  And my first watermelon cucumber salad.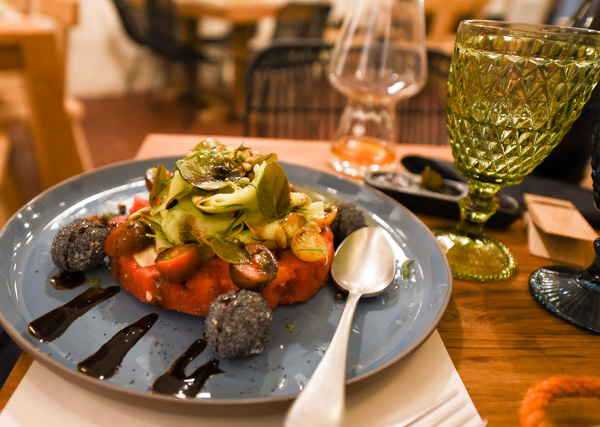 Tzatziki the way it's supposed to be. Flatbread, grilled chicken . . . and Crazy Donkey beer.
We never made it to the brewery, but we drove past it.
So I will add that activity to the list for next time!
Until we meet again, my precious Greece!
                         Forever yours,
                               The Recipe Wench