Chocolate daiquiri!  Pure bliss.
I partnered with Bouchard Chocolate to develop this chocolate daiquiri recipe.  It's rich and indulgent.
I'm ready for holiday entertaining!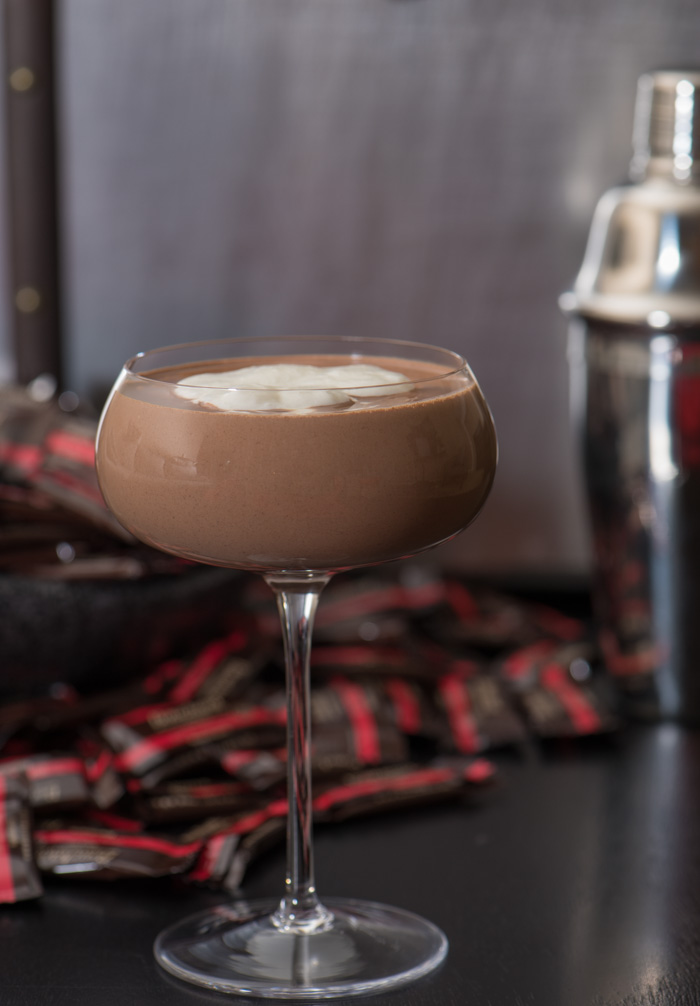 I tested versions using half and half, low-fat milk, evaporated milk and heavy cream.
As much as I was hoping I could cut back on calories, the heavy cream version was my favorite. But the half and half as well as the evaporated milk versions were pretty good too!
I figure if you're going to drink chocolate in liquid form, you might as well go big.  This is not the place to cut calories.
I also compared vodka to rum.  I vote for rum!
So let's talk about the chocolate itself.
#BouchardChocolate has been in business since 1931.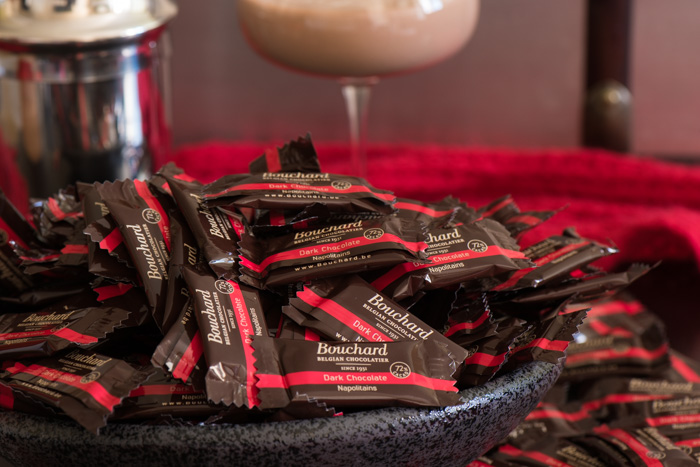 The chocolate I sampled was their dark chocolate Napolitains. Little, individually wrapped, bites of 72% cacao happiness. The chocolate has a rich flavor without the bitter aftertaste you might have experienced with other dark chocolates. This is thanks to the high quality ingredients used by Bouchard Chocolate.
What are your thoughts on dark chocolate?
I consider dark chocolate a chocolate for grownups.  Naturally, my first thought was to create a cocktail, but I also used this chocolate in Chocolate-Orange Scones.  What a treat!  That recipe is coming up soon!  (Be sure to sign up for our newsletter so you don't miss any new recipes!)
Bouchard Chocolate is based out of Ghent, Belgium.  Jeff and I were able to tour Belgium with Jackie when we lived in Germany in 2014.  We filled up on chocolate, beer and waffles.
Amazing, gorgeous place. You should go!  We should go!
Can't swing an impromptu trip to Belgium?
No worries -- you can find Bouchard Chocolate at Costco!
The Recipe Wench
1 cocktail
The Essential Chocolate Daiquiri
This chocolate daiquiri is perfect for special occasions . . . like Tuesday! A rich and indulgent after dinner treat!
2 minPrep Time
3 minCook Time
5 minTotal Time
Ingredients
½ cup heavy cream
5 chocolates (about ½ cup, roughly chopped)
¼ teaspoon vanilla extract
1-½ ounces rum
Instructions
Heat the cream over medium heat
When cream is warm, turn off heat and add in chopped chocolate and vanilla
Whisk well until all chocolate is melted and fully blended with the cream
Allow to come to room temperature
Fill a cocktail shaker ½ full of ice
Add rum and chocolate mixture
Shake until chilled
Pour through strainer into coup or martini glass
Top with additional heavy or whipped cream, if desired.
Notes
Be sure to whisk the chocolate mixture well. Upon chilling, you may notice solidified pieces of chocolate. I recommend pouring this drink through a fine strainer just in case.
7.8.1.2
4
https://www.therecipewench.com/the-essential-chocolate-daiquiri/