When Alyssa brought Zach home to meet us for the first time, he definitely won points by cooking dinner!  He made this Tortilla de Patata which he learned while living in Spain.  Zach is an excellent cook as is demonstrated by his egg-cracking technique --
I also admired the technique he used to flip the tortilla over to cook on the other side.
He employed the use of our chopping board.
No one was hurt and the tortilla didn't burn.  It was a successful maneuver!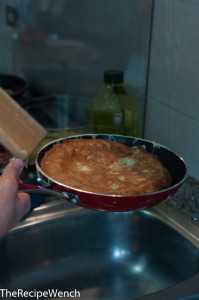 You can always "gourmet up" this tortilla by adding cheese, ham, onions, etc.  Personally, I prefer it just the way Zach made it -- simple, straightforward with a fresh tomato salsa spooned over the top just before serving.  Thank you, Zach!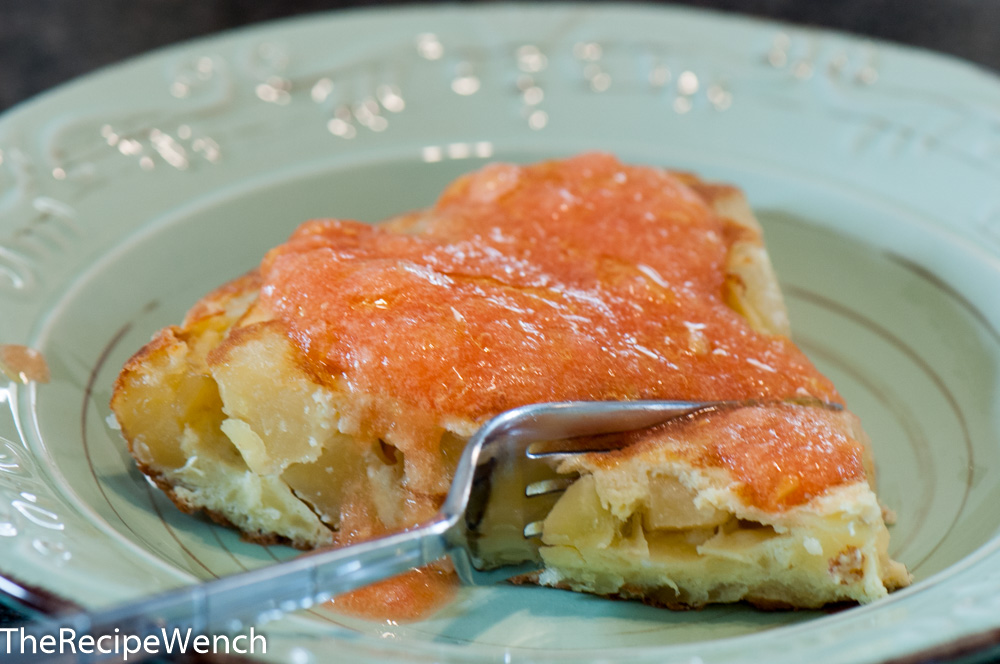 ENJOY!
Tortilla de Patata

Print recipe
This Tortilla de Patata (potato pie) is a super easy and delicious meal or side dish. Serve with a fresh tomato salsa and enjoy!
Ingredients
2-3 Large potatoes (peeled and chopped into 1)
1 cup olive oil (or Canola oil)
10 eggs
½ cup water
salt to taste
2 Medium tomatoes
Note
Brought to you by The Recipe Wench (www.therecipewench.com)
Directions
Step 1

Heat oil in a medium non-stick skillet over high heat. Add potatoes (in batches if necessary). Reduce heat to medium-low and allow potatoes to cook until tender. Note that the goal is not to brown the potatoes, but rather to cook them slowly until tender.

Step 2

While potatoes are cooking, whisk eggs and water in large bowl.

Step 3

Once potatoes are tender, remove from skillet with slotted spoon and transfer to bowl with egg/water mixture.

Step 4
Remove all oil from skillet, except for 2 tablespoons. (You can save the oil for another use.)
Step 5

Pour egg/potato mixture into skillet, reduce heat to low, salt to taste, and cook until egg is almost set in the center. Flip and cook on other side until firm, being careful not to burn egg.

Fresh Tomato Salsa
Step 6

Cut tomatoes in half. Taking the cut side, grate tomatoes over a bowl until you are left with just the skin which can be tossed. Add salt to taste.

To Serve
Step 7

Spoon tomato salsa over Tortilla de Patata just before serving. Enjoy!