This recipe for homemade ranch dressing is so easy and delicious you'll wonder why you ever spent your hard-earned money on the store bought version.
I adapted this recipe from the ranch dip recipe I found in RecipeTin Eats' Chicken Wings Cookbook.
As a side-note, check out RecipeTin Eats' cookbook, when you have a moment.  I bought it -- it's an awesome book with with a bunch of recipes (33!) for "oven baked" chicken wings. Super crunchy and SO good.
Back to the ranch dip . . .
I was impressed by how easy it was to make and how fresh the dip tasted.
We finished the homemade dip . . . but we still had more wings.  I pulled out the bottled ranch dressing . . .
NO.  Just no.
The difference in flavor between the bottled version and the homemade version was shocking to me.
I love ranch dressing and had no idea what I was missing out on.
I vowed right there to never purchase bottled ranch ever again.
As I was making this dressing, one of the things that appealed to me is that I already had all the ingredients on hand.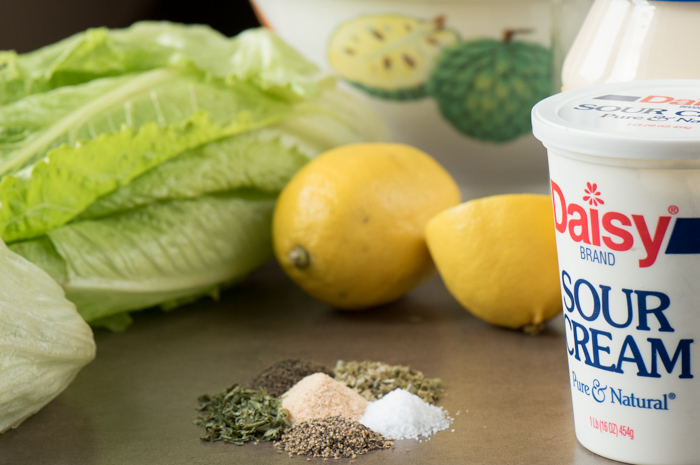 There's no reason why I couldn't whip up a batch of dressing as needed.
I'm hoping you all can do that too!
I realized keeping a 32 ounce bottle of ranch in my fridge at all times is not necessary!
One thing I did to make future batches even faster, is pre-measure the dry seasonings.
Now I have the seasonings in a jar and when the need for dressing arises, all I have to do is add milk, sour cream, mayo and lemon juice and we're good to go.
I hope this works for you.  It's delicious!
Enjoy - The Recipe Wench
Ranch Dressing

Print recipe
Homemade ranch dressing is super easy. This recipe uses ingredients you probably already have on hand. Once you taste the fresh flavors of this dressing, you'll never go back to store bought! Sorry, Hidden Valley!
Ingredients
½ Cup mayo
½ Cup sour cream
½ Cup milk
1 Tablespoon lemon juice
1 Teaspoon garlic powder
½ Teaspoon each of dried dill, parsley, chives, black pepper and kosher salt
Note
I made ranch dip for some chicken wings recently.
Delicious!  But after the dip was gone, I used a bottled ranch dressing that we've enjoyed for years. The flavors didn't compare!  Homemade was the clear winner!  Make it fresh. I pretty much always have the ingredients on hand.  This recipe makes about 1-½ cups.
Enjoy! - The Recipe Wench
Directions
Step 1
Whisk everything together! Add more milk, if necessary, to get the consistency you want.