Summer!
Long days, blistering heat, crowded seaside towns, never ending supply of fresh fruits and vegetables, grilling outside while the dogs romp in the yard --
. . . trips to Greece . . .
What?!!!

Yes – these chicken skewers are inspired by our trip to Athens and Santorini.
I mean, our amazing trip to Athens and Santorini.
I go into all the gory details here.
If I wasn't eating watermelon and feta salad, I was having grilled chicken for dinner.
Every night.
Delicious!
And from personal experience I can tell you Greek chicken skewers are a great choice for entertaining a crowd --
Whip up a simple marinade, toss the chicken chunks in, marinate for 30 minutes or so (I usually let them go longer), stick 'em on a skewer and grill.
But why stop there?
They are especially delicious accompanied by tzatziki and flatbread.
We recently had a small gathering at our house -- I also included watermelon salad, orzo salad and lemon cake.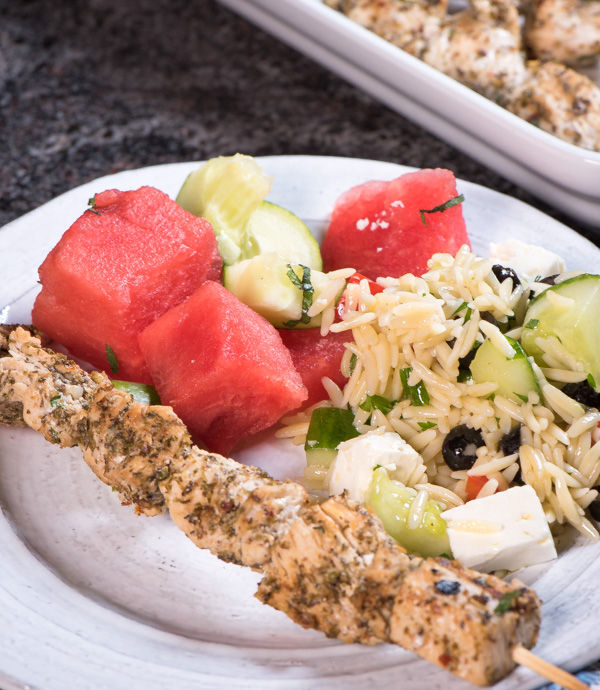 Treat your family and friends to a Greek-inspired summer feast!
Enjoy! - The Recipe Wench
Ingredients
2 pounds boneless/skinless chicken breast, cut into 1-2 inch chunks (about 5 medium breasts)
2 tablespoons dried oregano (or you can use 3 tablespoons chopped fresh oregano)
5 garlic cloves, minced (more or less to taste)
¼ cup olive oil
¼ cup fresh squeezed lemon juice
½ teaspoon cumin powder (more or less to taste)
3 tablespoons fresh minced parsley
½ teaspoon crushed red pepper
1 teaspoon kosher salt
1 teaspoon coarse grind black pepper
Instructions
Soak wooden skewers in water so that they resist burning on the grill.
In medium bowl, mix marinade ingredients together.
Add chicken, stir to ensure marinade coats chicken.
Place in fridge for at least 30 minutes (but I usually go 5 hours).
Thread chicken onto skewers.
Grill over high heat until chicken is fully cooked on all sides.
This serves about 4-5 people (figuring 1 breast per person).
You can make the dish more plentiful by adding some vegetables to the skewers (e.g., chunks of red or yellow onions, red bell pepper, cherry tomatoes, zucchini, mushrooms, etc.)
7.8.1.2
35
https://www.therecipewench.com/greek-chicken-skewers-6/