You can thank my friend, Eloisa, for this recipe . . .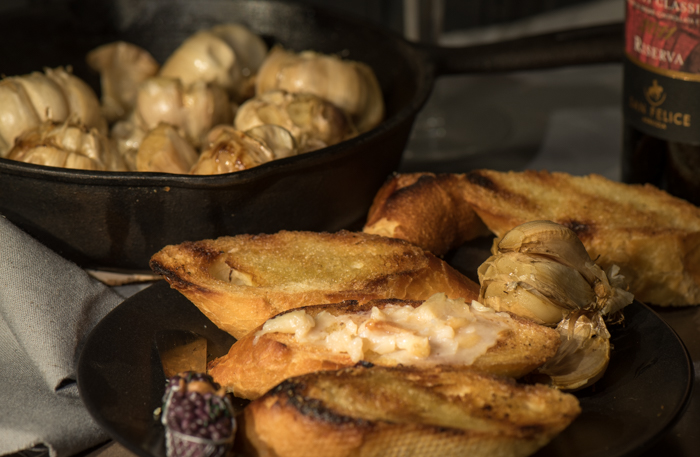 So, one day while Eloisa and I were exercising, we started chatting about food (no judging, okay?)  . . .
She recalled how much she enjoyed the roasted garlic we served at a gathering we hosted a few years back.
She mentioned wanting to make it at her house so I gave her a quick how-to, and she couldn't believe how easy it was.
It's true -- super easy!
If you haven't made roasted garlic before, you really must!
. . . and while you're at it, grab a baguette, a nice bottle of wine and enjoy!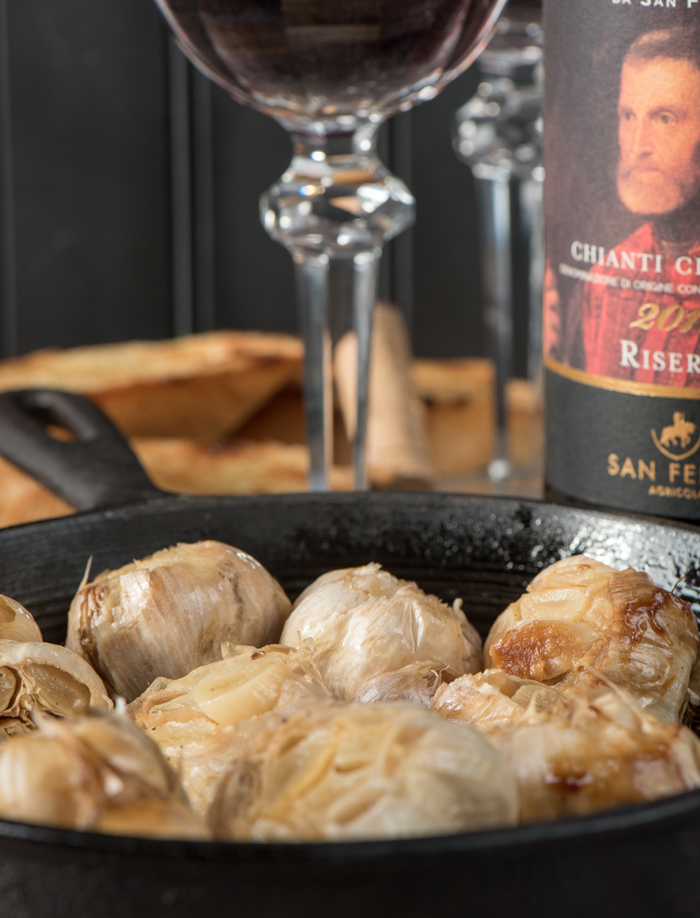 Raw garlic and roasted garlic have two completely different flavors.
Roasted garlic has a sweet, mellow flavor and buttery texture.
Once roasted, scoop the garlic out of the clove and spread on toasted baguettes (if you toast the baguettes on the grill, that's even better!).
And make extra while you're at it.  Scoop out the garlic and store in the fridge or freezer.
You can use roasted garlic in your cooking -- pasta, garlic butter, garlic-mayo, soups, etc.
Roasted Garlic Bulbs

Print recipe
| | |
| --- | --- |
| Prep time | 5 minutes |
| Cook time | 40 minutes |
| Total time | 45 minutes |
| Meal type | Appetizer |
Roasted garlic bulbs are easy to make and delicious to eat! Spread that creamy, buttery, roasted garlic over toasted baguette slices for an amazing appetizer!
Ingredients
whole garlic bulbs
olive oil
kosher salt
Note
Roasted garlic bulbs!
Spread on toasted baguette slices for a tasty appetizer. But make extra to use in pasta, mash into potatoes, mix into mayo for extra pizzazz on your sandwich. Remove the soft, roasted garlic from the clove to store. It'll keep in the fridge for up to 2 weeks or you can freeze up to 3 months.
Enjoy! - The Recipe Wench
Directions
Step 1
Pre-heat oven to 400°F
Peel as much of the loose, papery outer skins off the bulbs as you can
Cut off the top of each bulb so that the tops of the cloves are exposed
Place bulbs in an ovenproof dish - I like to use my cast iron skillet. For easier cleanup I suggest lining the dish with foil
Drizzle olive oil over tops of bulbs (a teaspoon or so on each bulb), allowing the oil to seep down into the bulb
Then use your fingertips to make sure the surface of all cloves has received some oil.
Sprinkle with a little kosher salt
Cover loosely with foil
Roast for about 40 minutes (more or less, depending on the size of the bulbs)
The bulbs are done when the garlic is soft and some has caramelized