I started to fantasize about this gorgonzola pasta sauce -- a combination of creamy gorgonzola, tender chicken, and walnuts -- after a recent trip to Sicily with Jeff.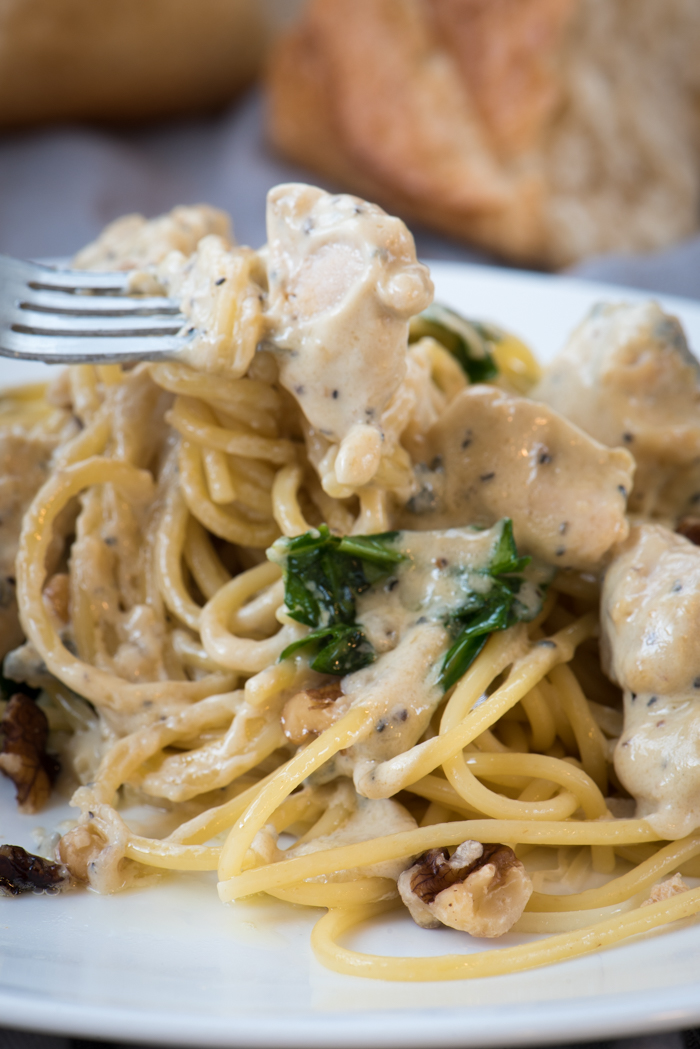 We stayed at Wine Relais Feudi del Pisciotto in Niscemi, along the southern portion of Sicily.


Niscemi is a remote town – a couple hours' drive from our ferry landing in Messina.  But so worth it!
This, my friends, is a gorgeous hotel with a winery on the property.  It's such a treat to stay in a place like this.  I felt so pampered just being surrounded by the beauty.
There is no end to such treasures in Italy.
The hotel consisted of a total of 10 rooms.
We were the only guests on the first night.  The second night, I believe there might have been a couple more rooms occupied.
Look at the night view out what used to be the stable.  I'd live in a stable like that!
And those doors!
Breakfast -- even on the day where we were the only guests – was plentiful and amazing.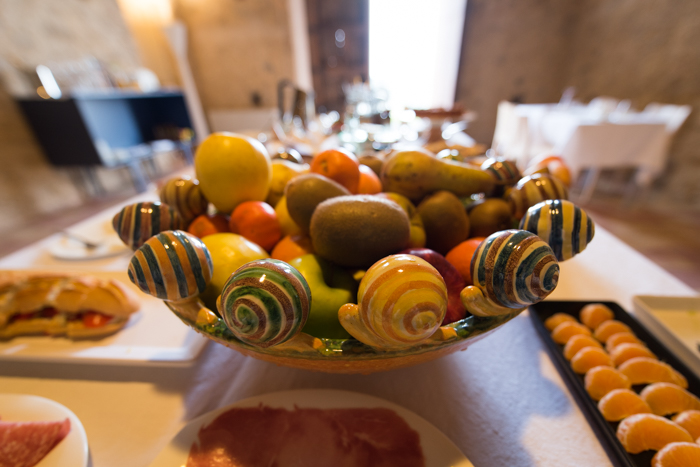 Fresh fruit, thinly sliced salami and prosciutto, fresh mozzarella and other cheeses, yogurts, cereal, fresh juices, various breads, sliced tomatoes and much more.  Most importantly (this is how you know you're being pampered) there was a chilled bottle of prosecco for our enjoyment.
Unfortunately, this was a work trip for Jeff so no indulging (for him!)
The hotel had a wonderful restaurant – we ate there both nights.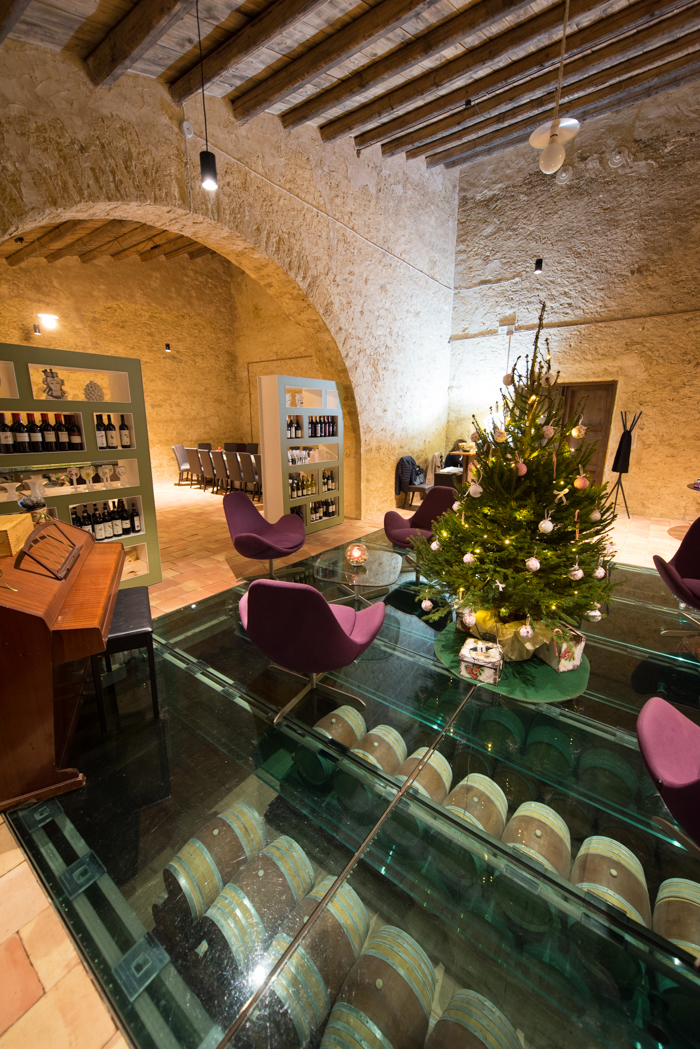 I've been  a big fan of gorgonzola from when we lived in Sardinia.
Gorgonzola pizza is one of my favorites so I was thrilled to see offerings with gorgonzola on the menu.  I enjoyed the heck out of a pasta dish with said creamy gorgonzola pasta sauce.  It was amazing.
I thought about that pasta a lot for the next few weeks.
Finally, I decided to create a gorgonzola pasta dish when I was visiting Alyssa and Zach in Idaho.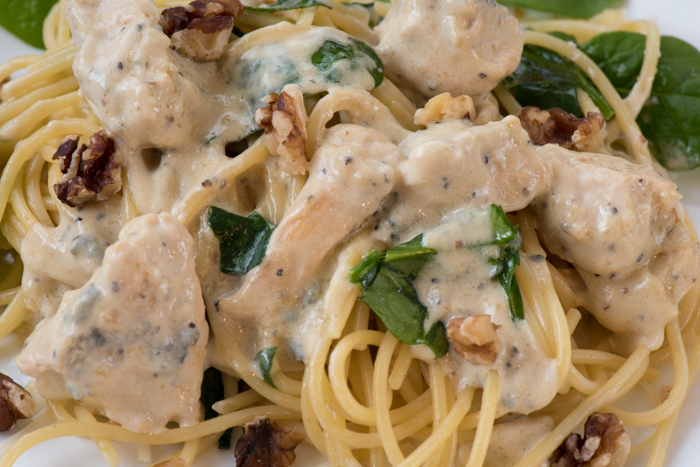 It was much easier than I imagined.  The creamy gorgonzola adds so much flavor and texture.
Folks, gorgonzola pasta sauce is rich. A little goes a long way.
For the sake of convenience, I used pre-washed baby spinach. Of course, you could use any fresh spinach for this dish.
And the walnuts . . .
Please do this.  Just a sprinkle over the pasta before serving.  They go so well with the gorgonzola!
ENJOY - THE RECIPE WENCH
Creamy Chicken Gorgonzola Pasta Sauce
Ingredients
1 pound chicken breast, cubed into bite-sized pieces
1-2 tablespoons butter
1 tablespoon olive oil
½ lemon (to squeeze over chicken)
⅔ cup heavy cream (you may want a little more cream)
⅓ cup gorgonzola cheese
½ cup grated parmesan
1 teaspoon black pepper (I prefer coarse grind)
1 package Dole baby spinach, roughly chopped
½ cup chopped walnuts (for garnish)
Salt and pepper to taste
Instructions
Heat butter and olive oil in large skillet over medium high heat.
Add chicken and cook 3 minutes then squeeze the lemon juice over chicken
Continue cooking until chicken is done (approx. 6 minutes total, but this will depend on how you cubed the chicken).
Remove chicken from skillet and set aside.
Lower heat to medium.
Add heavy cream, gorgonzola, parmesan and black pepper.
Continue cooking until mixture starts to thicken.
Add cooked chicken to sauce and simmer until everything is heated thoroughly.
Add spinach, cook until just starting to wilt and serve immediately over pasta of your choice.
Garnish with chopped walnuts.
Notes
7.8.1.2
18
https://www.therecipewench.com/creamy-chicken-gorgonzola-pasta-sauce/