I can't believe I'm actually using the term "poke cake."

I promised myself I wouldn't fall into a "poke" cake frenzy.
Yet here I am – I fell.
Well, I'm not full-on "frenzied."
But I'm not counting out that possibility quite yet either . . .
And . . . at least it's not a "dump" cake, right?
I won't do "dump" cakes.
I promise.  Really.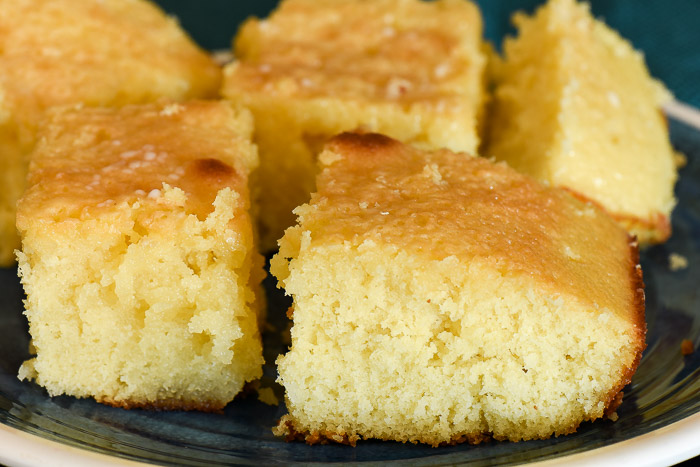 This lemon poke cake is a treat I remember from my childhood.
But I'm almost positive my mom's version used boxed cake mix.
I just remember I LOVED that cake.
Because you are awesome and deserving, I'm elevating this luscious lemony cake by swapping the boxed cake mix for a cake from scratch.
The texture of a cake made from scratch is just unbeatable.

Did your heart beat a little faster???
Have you ever attempted a cake from scratch?
Listen -- it isn't difficult.  At. All.
One of the things I like most about this lemon poke cake (aside from the texture) is -- no frosting.
Just a sweet, lemony glaze drizzled over the top of the cake once it comes out of the oven.
Delicioussss!
I made this cake recently for a casual Greek-themed get-together for a group of hard-working guys.
They travelled here to Italy from Colorado and North Carolina to complete a project on base.
Of course, they've been enjoying their share of Italian food on a daily basis.
But when you've been away from home for an extended period of time like these guys, a home-cooked meal is pretty appealing.
Aside from the lemon cake, we served tzatziki, chicken skewers, beef skewers, orzo salad, fresh watermelon salad and homemade flatbread.
(Yes.  Homemade flatbread.  It was really easy.  I used the recipe from Mel's Kitchen Cafe.)
Oh . . . and mai tais.
Several mai tais with spiced rum, amaretto, fresh-squeezed juices and lots of ice.
Definitely hit the spot!
It warmed my heart to see these hard-working men huddling around the table, devouring multiple pieces of this cake and declaring how delicious it is.
I doubled the recipe and had Jeff take some into work to share.
Enjoy! - The Recipe Wench
Ingredients
For the cake:

½ cup butter (unsalted)
1-½ cup sugar
1 small box lemon jello
1 cup hot water
3 eggs
2-¼ cup flour
4 teaspoons baking powder
1 teaspoon salt

For the glaze:

1 1/ 2 cup powdered sugar
1/ 2 cup lemon juice
Instructions
Preheat oven to 350
Mix butter and sugar together
Stir in lemon jello and hot water
After the water has cooled off a bit, stir in eggs
Add flour, baking powder and salt
Mix well.
Pour into 11 x 8 baking pan that has been sprayed with non-stick spray.
Bake 30 minutes, or until toothpick inserted in center comes out clean.
While cake is baking, prepare glaze by whisking powdered sugar and lemon juice together.
When cake is removed from oven, use a fork to poke holes all over the cake, including along the edges.
While cake is still warm, spoon glaze over entire cake.
Cool completely, slice into squares and ENJOY!
7.8.1.2
32
https://www.therecipewench.com/lemon-poke-cake/