This Shrimp Appetizer is a winner!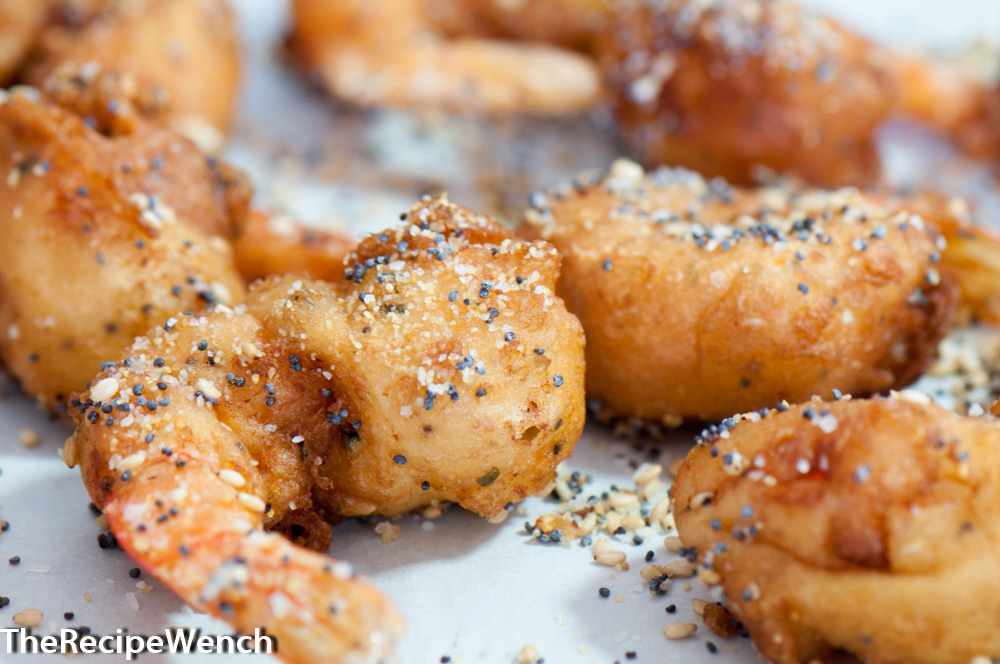 Prepare the batter, seeded coating and aioli in advance.
When the time's right, fry the shrimp, coat them in the seeds and dig in!
These beauties are delicious on their own, but the garlic-lemon aioli pushes them over the top.
I found this recipe in the Rachael Ray magazine.  I have to say, that woman provides fantastic suggestions for appetizers on a consistent basis!
Everything Seeded Shrimp Appetizer is the perfect way to start a casual dinner party and would go great with Grilled Marinated Flank Steak with Arugula and Stacked Roasted Potatoes.
Admission -- Jeff and I actually enjoy Everything Seeded Shrimp and Garlic-Lemon Aioli as our main course!
 Enjoy!
Everything Seeded Shrimp Appetizer

Print recipe
| | |
| --- | --- |
| Serves | 8 |
| Prep time | 20 minutes |
| Cook time | 10 minutes |
| Total time | 30 minutes |
| Meal type | Appetizer |
| From magazine | Rachael Ray |
This Shrimp Appetizer with Lemon Garlic Aioli dip is a super tasty treat for your guests. Delicious piping hot or at room temperature. Beautiful too!
Ingredients
1 cup flour
4 Teaspoons baking powder
¼ teaspoon salt
¼ teaspoon sugar
1 cup milk
3 eggs
5 Tablespoons butter (melted)
1 tablespoon vegetable oil (plus oil for frying)
4 Tablespoons garlic (minced and divided)
4 Tablespoons sesame seeds (divided)
3 Tablespoons poppy seeds (divided)
1 tablespoon garlic powder
2 Teaspoons kosher salt
32 Large/jumbo shrimp (peeled, cleaned, tail on)
2 Cups mayonnaise
3 Ounces fresh lemon juice
salt and pepper to taste
Note
This Shrimp Appetizer is inspired by a recipe I found in Rachael Ray's magazine.
The combination of seasonings is delicious, and the cooked shrimp are gorgeous.  This is a perfect shrimp appetizer for a small dinner party.  The shrimp cook up really fast  -- you could put the final touches on this shrimp appetizer while your guests are getting settled (my preference!).  Or, cook even before your guests arrive -- this shrimp appetizer is delicious at room temperature too!
ENJOY!  -- The Recipe Wench
Directions
MIX BATTER
Step 1
In large bowl, mix flour through vegetable oil. Whisk until smooth.

Stir in 2 tablespoons EACH of minced garlic and sesame seeds plus 1 tablespoon poppy seeds.

Set aside.
PREPARE SEED COATING
Step 2
Line large baking sheet with paper towels.

In small mixing bowl, stir together remaining sesame and poppy seeds, garlic powder and salt.

Sprinkle this seed mixture over paper towels.



PREPARE THE AIOLI
Step 3
In small bowl mix mayonnaise, lemon juice and 2 tablespoons minced garlic.

Season with salt and pepper to taste.

Place in refrigerator until ready to serve.
COOK THE SHRIMP
Step 4
Fill fryer or heavy bottomed pot with 2 inches of oil.

Heat oil to 350ºF.

Hold shrimp by tail. Dip in batter, place in oil and fry for approximately 5-6 minutes, turning over half-way through.

Drain on seeded paper towels, making sure to turn shrimp over so both sides are seasoned with seeded mixture.