[vc_row][vc_column][vc_column_text]
Have you ever tried a grain bowl?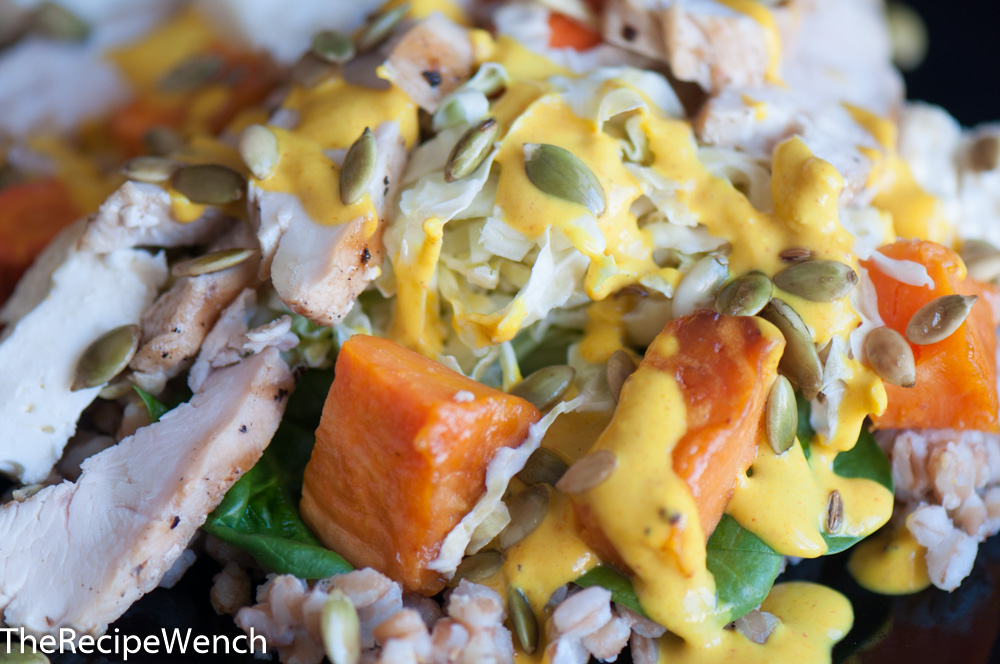 The variety of textures, colors and flavors has landed this dish a spot on my list of favorites!
I first read about grain bowls in the Bon Appétit magazine, where grain bowls were discussed as if they were a "thing."
A thing I hadn't yet experienced!
I followed the instructions in the magazine, adding a bit of grilled chicken.  I am hooked!
I used farro for my starring grain, and I loved it.
I imagine brown rice would be delicious as well.
This recipe has it all --
creamy feta and roasted sweet potato and carrots;
crunchy toasted pumpkin and fennel seeds;
crunchy cabbage and spinach;
tangy apple cider vinegar in the tahini-based dressing, which complements this dish perfectly by the way!
Roasting a variety of in-season vegetables and preparing the grain(s) and dressing in advance would allow this dish to be assembled quickly and enjoyed as an easy weeknight dinner.
I'm excited to discover new combinations of veggies, grains and dressings as the seasons come and go!
ENJOY!
Grain Bowl

Print recipe
This hearty grain bowl is versatile and can be adjusted to suit your tastes or to what you have on hand. The components can be made ahead of time to allow for a quick assembly.
Ingredients
1 grilled chicken breast (sliced or cubed)
1 Cup cooked farro (instructions below)
½ Cup baby spinach
½ Cup Savoy cabbage (thinly sliced)
1 Tablespoon apple cider vinegar
⅓ Cup olive oil
¼ Cup pumpkin seeds
1 Teaspoon fennel seeds
½ Cup Feta cheese (cubed or crumbled)
½ Cup sweet potatoes (cut into 1-inch cubes)
½ Cup carrots (cut into 1-inch pieces)
½ Cup tahini
3 Tablespoons fresh lemon juice
¼ Cup water
½ Teaspoon Cayenne pepper
½ Teaspoon ground turmeric
salt & pepper to taste
1-2 Tablespoons Olive oil
Directions
Cook Farro
Step 1
I use my rice cooker with a 3:1 ratio of water to farro (e.g., 3 cups water, 1 cup farro). If you are cooking farro on the stovetop, 1 cup farro, 2-½ cups salted water. Bring to boil. Reduce heat, cover and simmer for 15-30 minutes or until tender. Drain extra water, if necessary.
Roast Vegetables
Step 2
Preheat oven to 400°F. Toss cubed sweet potatoes and sliced carrots in 1-2 tablespoons olive oil. Spread in roasting pan and season with salt and pepper. Roast for 30-45 minutes or until tender.
Prepare Cabbage
Step 3
While vegetables are roasting, place thinly sliced cabbage in bowl and drizzle with apple cider vinegar. Give the cabbage a few squeezes and let it sit in the vinegar until you're ready to assemble the grain bowl.
Prepare Dressing
Step 4
Whisk together tahini, lemon juice, 2 tablespoons olive oil, turmeric, cayenne and water. Season to taste with salt and pepper. This makes enough dressing for about 4 grain bowls.
Toast the nuts and seeds
Step 5
Drizzle about a teaspoon of olive oil in a non-stick skillet over medium heat. Add pumpkin and fennel seeds. Toast until golden. Remove from heat (careful they don't continue to cook in the hot skillet).
Assemble the Grain Bowls
Step 6
Start with about 1 cup of cooked farro. Add the cabbage and baby spinach. Next, sprinkle the seeds. Add the roasted sweet potato and carrots and grilled chicken breast. Sprinkle the feta and spoon some dressing over the top.
[/vc_column_text][/vc_column][/vc_row]