Don't you love crispy chicken wings?
I do!
We tasted, tested, experimented and tasted some more before finding the perfect mix of seasonings and cooking techniques.
I started with a recipe from RecipeTin Eats, which was actually pretty awesome on its own.
But we like a little more seasonings so I added a bit of garlic powder and paprika.
The trick to the crispiness is to dry the wings really well and also to use baking powder (this is different from baking soda, so be careful!).
I've read that the addition of other seasonings may interfere with the crisping, but I didn't feel the crispiness was compromised by adding a few additional seasonings . . .
We enjoyed these wings three different ways:
• Just the way they came out of the oven;
• Dipped in Homemade Ranch Dressing; and
• Tossed in Whiskey Glaze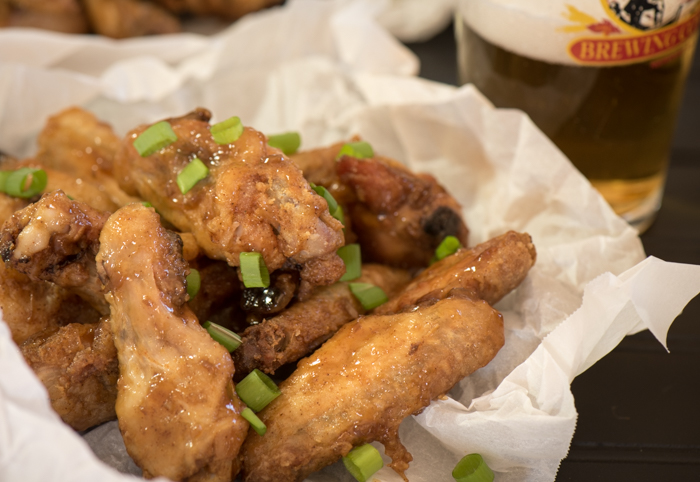 I'm not sure which I liked best.  Time to try again!
Enjoy! - The Recipe Wench
Oven Crispy Chicken Wings

Print recipe
| | |
| --- | --- |
| Serves | 4 |
| Prep time | 5 minutes |
| Cook time | 1 hour, 20 minutes |
| Total time | 1 hour, 25 minutes |
| Meal type | Appetizer |
| Slightly adapted from recipe on | Recipe Tin Eats |
Ingredients
4 Pounds chicken wings
¼ Cup flour
2 Tablespoons baking powder
2 Teaspoons kosher salt
1 Teaspoon paprika
1 Teaspoon garlic powder
Note
The recipe for these oven crispy chicken wings is the result of combining cooking techniques from Cook's Illustrated and Recipe Tin Eats along with my own personal experience and preference.
I like the fact (LOVE the fact!) there is no frying involved. These wings also reheat very easily (425°F for 10-15 minutes) and crisp up very well.  These are a perfect snack to keep in the freezer for those munchy times or nights when you just don't have the energy to create in the kitchen!
I serve these wings with Ranch dressing and Whiskey glaze. So good!
ENJOY! - The Recipe Wench
Directions
Step 1
The key -- and I can't stress this enough -- is to start with DRY wings. This will help achieve the crispiness we're looking for.

To do this, I thaw the wings and then place them on a dish-towel lined baking sheet in layers (with dish-towels in between) until ready to use. You can use paper towels instead, but I find that a (lint-free) kitchen towel does a better job of absorbing moisture.
Step 2
Heat oven to 350ºF

Line a cookie sheet with foil for easier clean-up (trust me!). If I'm making a lot of wings (like for a party), I use disposable aluminium cookie sheets. The wings tend to take longer to crisp up but the easy clean-up is worth it to me.

If you have a rack to place on top the cookie sheet, that will allow the heat to circulate and crisp up the wings. I've done it both ways. Without the rack, the wings need to cook longer to reach crispiness.

In a jumbo-sized ziplock, add flour, baking powder, paprika and salt

Add the wings and shake vigorously until all are well-coated.

Place the wings on the cookie sheet (or rack), skin side up.

Bake for about 30 minutes then crank up the heat to 425ºF and continue baking for about 50 minutes, rotating the trays half-way through to even out the crisping.

No need to flip the wings during cooking.

Once the wings have reached your desired crispiness, they are done!