Salisbury steak reminds me of lunches at my elementary school.
We had the best hot lunch program way back, and Salisbury steak with mashed potatoes and gravy was one of my favorites.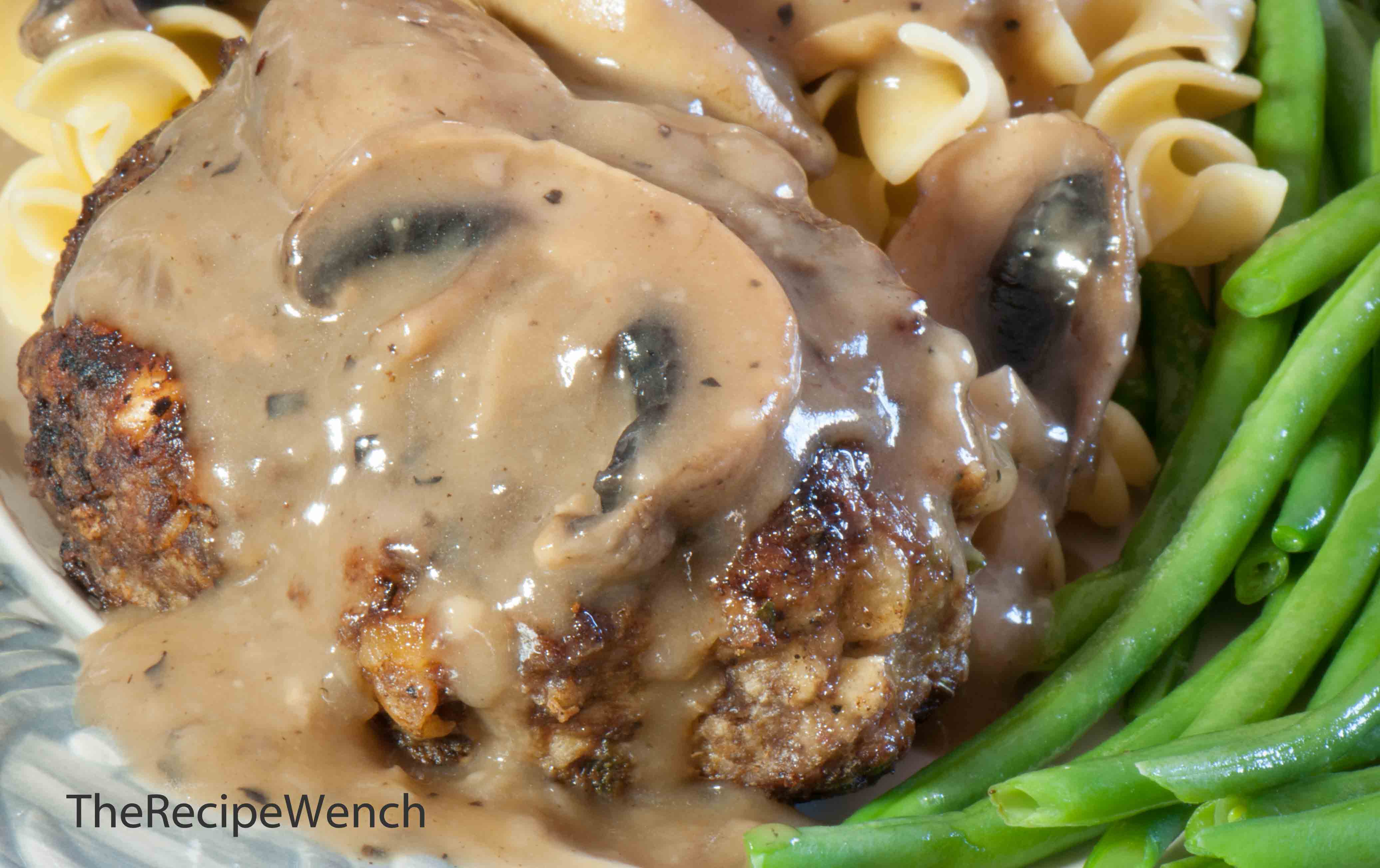 The gravy is excellent spooned over noodles, rice or potatoes.  Add a fresh vegetable and you're all set!
ENJOY! - The Recipe Wench
Salisbury Steak with Mushroom Gravy

Print recipe
Salisbury Steak with Mushrooms Gravy is classic, hearty and delicious. Add tender egg noodles and a fresh vegetable for a beautiful and tasty meal.
Ingredients
1-½ Pounds ground sirloin
2-3 Teaspoons onion powder
1-½ Teaspoons Worcestershire sauce
2-3 Teaspoons minced garlic
3 eggs (slightly beaten)
½ Cup crushed saltine crackers
½ Cup breadcrumbs (I use Progresso Italian Style)
1 Teaspoon kosher salt
1 Teaspoon black pepper
¼ Cup canola oil
4 Tablespoons butter
8 Ounces mushrooms, sliced
½ Cup diced onion
3 Tablespoons flour
2 Cups beef broth
2 Tablespoons soy sauce (I recommend Kikkoman brand)
additional salt and pepper (to taste)
Note
This Salisbury Steak with Mushroom Gravy is inspired by Cuisine Tonight's recipe for Everyman Steak in its Summer 2015 Favorite Weeknight Menus.  Such an easy meal to put together.  If egg noodles don't excite you, swap noodles out for rice or potatoes.  Or you can serve these Salisbury Steaks open-faced on chewy rustic bread with a generous serving of gravy.
Enjoy - The Recipe Wench
Directions
Step 1
Preheat oven to 350ºF

In a medium bowl, mix the first 9 items

Form into 6 oval shaped patties

Heat oil in a large skillet over medium-high heat, sear the patties on both sides until browned.

Remove patties to oven-proof baking dish and place in oven until meat is cooked through (i.e., an instant read thermometer reads 160ºF in the thickest part (about 15-20 minutes))

Step 2
While patties are cooking, melt butter in skillet over medium-high heat.

Add mushrooms and saute until moisture is released and evaporates.

Stir in onions and flour. Cook 2 minutes.

Whisk in broth and soy sauce.

Cook until gravy is thickened to your preference.

Taste and adjust seasonings by adding additional salt and pepper -- possibly some garlic or garlic powder.


Step 3
Serve gravy over steaks. I like to serve these with egg noodles and a fresh green vegetable.