Yes, I did this.  Vanilla lavender cake.
Isn't that what everyone who joins Weight Watchers does on their first week?!
Bake a big ol' cake  to tempt yourself with?  Nice.  I'm winning at this weight loss effort!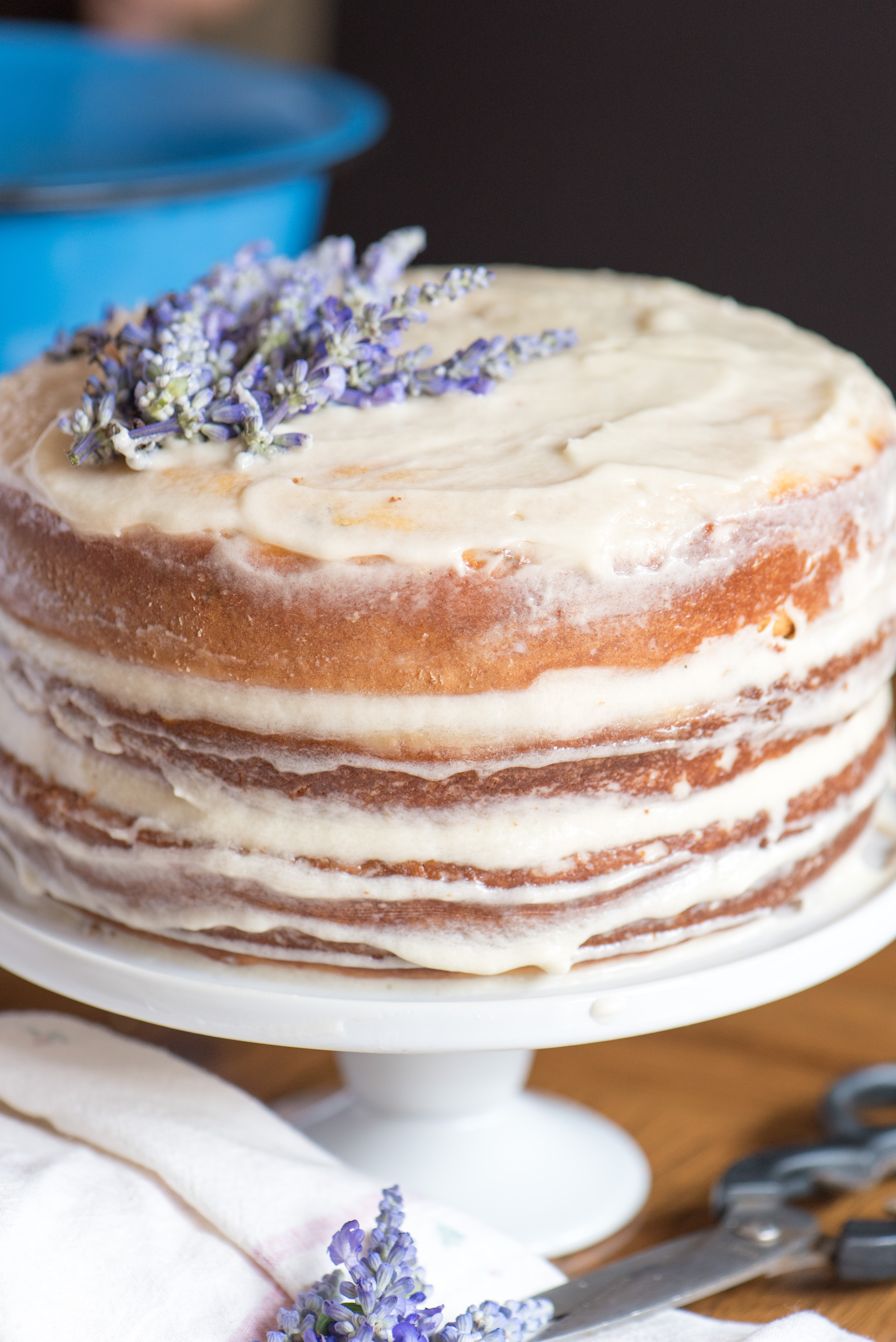 I've currently got the last quarter of the cake wrapped securely in foil so I can't see it.
You know -- "out of sight, out of mind."
It's not working . . .
I'm finding it hard to focus on anything but that cake.
But can you blame me?!  Look at the texture!  I love what buttermilk does to cake.
It's glorious!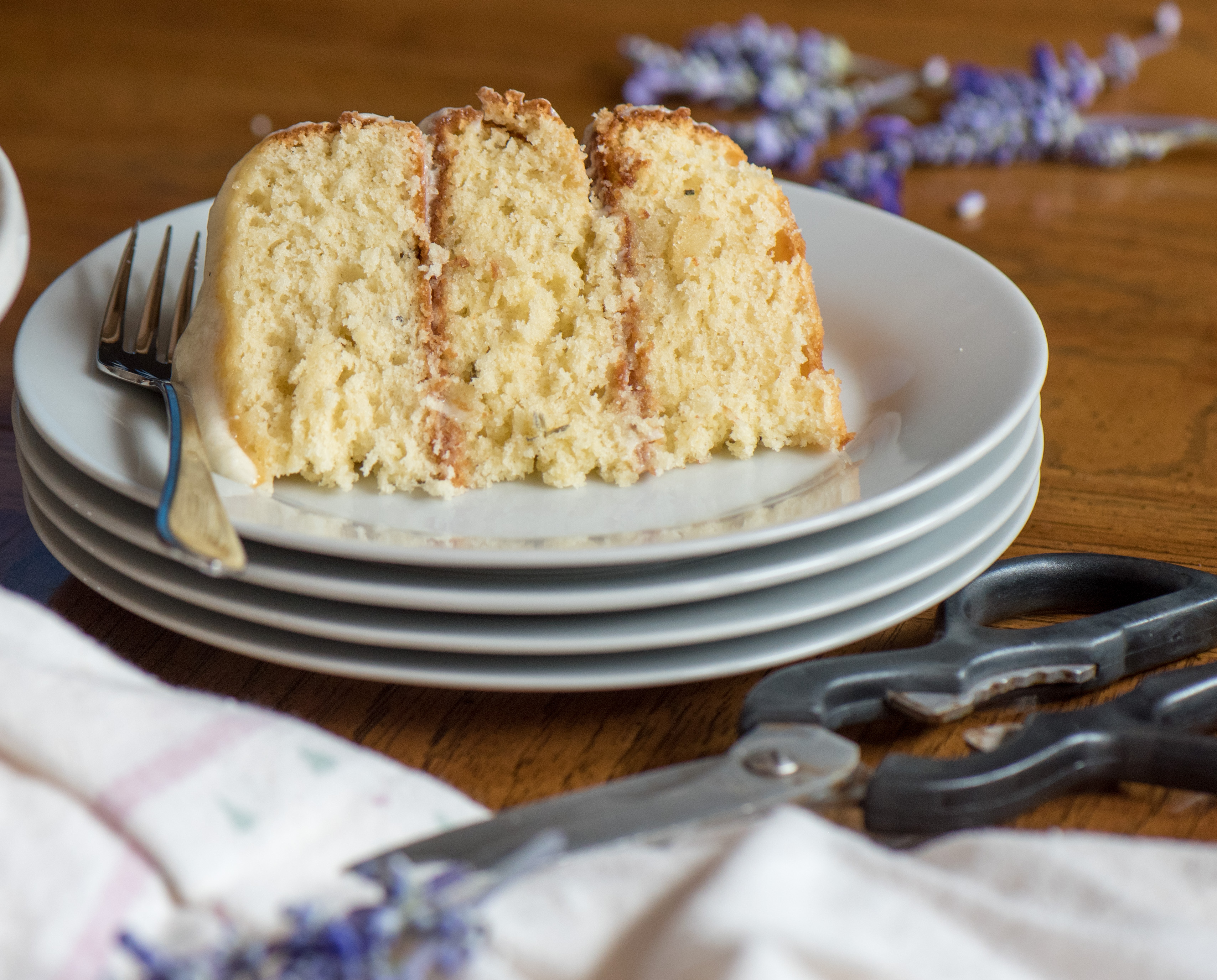 So, can we talk about frosting?
It's obvious from the photo -- I'm all about the cake.
Frosting?  I can take it or leave it (mostly, I leave it!).
I have to admit, though, a little bit of the buttercream frosting adds a really nice kick of sweet to this!
And the lavender part of this vanilla lavender cake?  Subtle.  That's intentional.
You need to be careful with lavender.  Too much is . . . just not good!
But, hey, if you love lavender, then have at it!  You go ahead and drizzle extra lavender simple syrup  all over those delectable layers!
Enjoy! - The Recipe Wench
Vanilla Lavender Cake

Print recipe
| | |
| --- | --- |
| Serves | 16 |
| Prep time | 20 minutes |
| Cook time | 20 minutes |
| Total time | 40 minutes |
| Meal type | Dessert |
Ingredients
Cake
1-½ Sticks unsalted butter, softened
1-½ Cups sugar
2 Whole eggs
4 egg yolks
2 Teaspoons vanilla extract
3 Cups flour
4 Teaspoons baking powder
1 Tablespoon dried lavender (using fingers to crush before adding)
¾ Teaspoon salt
1-¼ Cup buttermilk (regular milk can be substituted)
6 Ounces white chocolate
Lavender Simple Syrup
⅓ Cup sugar
⅓ Cup water
2 Tablespoons dried lavender
Buttercream Frosting
½ Cup unsalted butter, softened
2-3 Cups powdered sugar
2 Tablespoons lavender simple syrup
1 Teaspoon vanilla extract
Note
This vanilla lavender cake requires a few steps, but none of those steps is difficult.  Start off by melting the white chocolate.  Then throw your lavender simple syrup together.  Next is the cake.  While the cake is baking, it's time to whip up the frosting.  Easy.
Enjoy! - The Recipe Wench
Directions
Melt the White Chocolae
Step 1
Using a double boiler (or make one by stacking 2 pots on top of each other), fill bottom portion with 1-2 inches of water and bring to a boil. Turn off heat, place broken pieces of white chocolate into the top pot and allow to sit while you make the rest of the cake.
Make Lavender Simple Syrup
Step 2
Bring ⅓ cup sugar and ⅓ cup water to a boil, whisk constantly to ensure sugar is completely dissolved. Turn off heat, add 2 tablespoons dried lavender and allow to steep while you prepare the rest of the cake.
Make the Cake
Step 3
Whisk 3 cups flour, 4 teaspoons baking powder, 1 tablespoon dried lavender and ¾ teaspoon salt to combine. Set aside.

In large bowl, mix 1-½ sticks softened butter.
Add 1-½ cups sugar. Mix until light and fluffy.
Beat in 2 whole eggs and 4 egg yolks, 2 teaspoons vanilla extract and melted chocolate.

Add flour mixture and 1-¼ cup buttermilk by alternating between the two until everything is well incorporated with the butter/sugar mixture.

Divide cake batter among three prepared 8-inch cake pans. Bake at 350ºF until cake pulls away from sides of pan and wooden toothpick inserted in center of cake comes out clean (about 20 minutes).
Make the Frosting
Step 4
Mix ½ cup softened butter, 2-3 cups powdered sugar, 1 teaspoon vanilla extract and 2 tablespoons lavender simple syrup until light and fluffy.

Adjust powdered sugar and lavender simple syrup as needed to thicken/thin frosting to your preference.
Assemble Cake
Step 5

Using a fork, poke cake several times. Then spoon strained lavender simple syrup over the layers while still warm.

Frost cake as desired. Enjoy!