Feeling a little adventurous, I bought a whole chicken the other day.
Well, NOT a whole chicken, complete with feathers, feet and beak!  No, no, no.  A whole chicken in the meat section of the grocery store.
See, I generally buy boneless, skinless chicken breasts or thighs so this purchase of a whole chicken was a change in my normal routine.
I had been toying with the idea of making "Beer Can" chicken because it sounded like a fun thing to do!
Jeff was skeptical that I could prop the chicken up on the beer can without a special rack made just for that purpose.
He was probably right, but I didn't want to admit it.
So I marched forward with my plan . . .
I started my online search for beer can chicken tutorials/recipes and found several articles which made a lot of sense to me, like this one from Naked Whiz.
Based on the results of Naked Whiz's tests, I scrapped the idea of beer can chicken (for the time being) and opted to butterfly and grill the whole thing.  And I used this awesome Seasoning Recipe too.
Easy.  Juicy.  Tender.  Tasty. Amazing!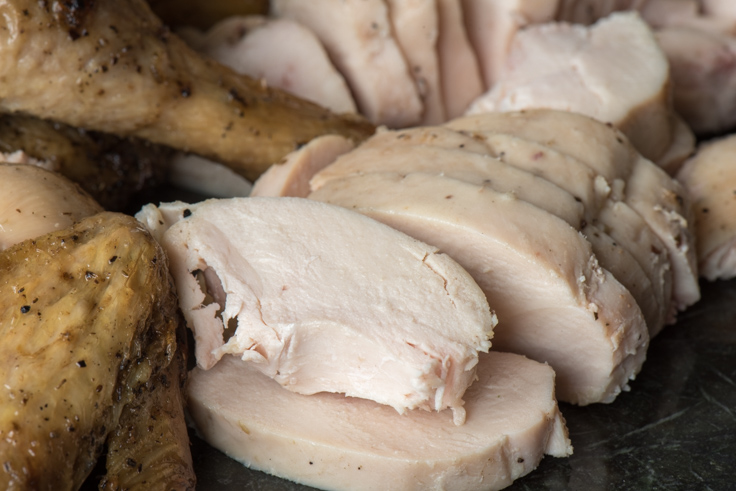 What more does one demand from their chicken?!
We have these "chicken shacks" here in Italy that make the best rotisserie chickens.
This butterflied grilled number rivals those we buy at the chicken shacks.
I'm quite pleased and hope you like it!  Definitely give the Seasoning Recipe a try -- I think it's the seasoning that really helps to make this chicken so deliciously exceptional!
ENJOY! - The Recipe Wench
Whole Grilled Butterflied Chicken

Print recipe
Delicious and easy, this whole grilled butterflied chicken is a great start to any meal. Pack up leftovers and use in soups, sandwiches or chicken nachos!
Ingredients
1 4 pound whole broiler/fryer (washed, dried, packet of giblets removed)
Seasonings of your choice (See the link to my Wench Seasoning in the NOTE section)
¼ Cup olive oil
Note
A basic seasoning of salt and pepper with a little garlic will be delicious, but I highly recommend using this Wench Seasoning recipe on Whole Grilled Butterflied Chicken.
Also, to give you a better visual on how to prepare the chicken, there's a great pictorial at Tasty Yummies if you want to take a look!
ENJOY! - The Recipe Wench
Directions
REMOVE BACKBONE FROM CHICKEN
Step 1
Just take a pair of kitchen shears (or a sharp knife) and cut along one side of the backbone -- all the way up the chicken.

Then cut along the other side of the backbone -- all the way up the chicken

That's it! Remove backbone and toss. If you want to save it for making stock, feel free.
TRIM EXCESS FAT
Step 2
At this point, I like to trim some of the excess fat off the chicken. This is optional.
FLATTEN CHICKEN OUT
Step 3
Flip chicken over so that the part you just cut is facing down.

Press down firmly to flatten that chicken out. You'll hear the rib/breast bones cracking. That's okay.
SEASON WELL
Step 4
Brush with olive oil and season chicken however you prefer. I have a link to an excellent seasoning in the NOTE section of this recipe.

If Wench Seasoning for Grilled Meat doesn't trip your trigger, try basic salt and pepper. Maybe some garlic and rosemary?

Let your creativity lead you! 🙂
HEAT THE GRILL
Step 5
Turn both sides of your grill to high, close the lid and allow to heat for a good 10 minutes or so.
PLACE CHICKEN ON GRILL
Step 6
Turn off one side of the grill. The other side stays at high.

Place chicken, breast up, on the side of the grill you just turned off.

Close the lid and WAIT 45 minutes. Don't open lid. Don't move chicken. Just wait.

After 45 minutes, turn the high heat down to low. Flip chicken over and place on the heated side of the grill.

Close lid and wait another 15 minutes.

Check temperature of breast meat -- chicken is cooked when thickest part of breast meat reaches 160°F.

Remove chicken from grill and allow to rest 15 minutes before carving.

Allowing the meat to rest before carving gives the juices a chance to redistribute throughout the chicken which results in a much juicier chicken. So don't skip this step no matter how hungry you are or how delicious this chicken looks!