Jeff and I traveled to Norway in March to celebrate the third anniversary of my 49th birthday.  We stayed in an "ice hotel" for one of the 3 nights.  Doing something like this had been on our bucket list for quite some time.  We had a great adventure!
First leg of the flight was from Frankfurt, Germany to Oslo, Norway.  We had a 14 hour layover so we booked a room at the Radisson Blu which is in the airport complex. Norway is VERY expensive -- the cheapest beer we could find cost 13 euros!  Because we felt an obligation to drink some vodka, we splurged on a couple of Moscow Mules. At $20 a pop, we called it an early night!
We arrived in Alta, Norway the next morning.  Got a taxi to our hotel -- Altafjord Gjestegaard & Spa.  It was adorable and I would definitely stay there again.  The restaurant at the hotel was top notch.  The owner was extremely helpful and arranged Northern Lights photography and dog sled excursions for us.
The Northern Lights excursion was booked through Glod.  Our guide, Anved, arrived at the hotel at about 9 p.m. and briefed Jeff and I as well as another couple on how he planned to find the best location to view the Northern Lights.  So many things factor into the equation -- not just the obvious cloud cover, but also wind direction, precipitation, etc.  He researched several weather sites while we sat with him and made a decision as to location.  We all piled into his van.  He brought along some water, hot cocoa and tea as well as a typical Norwegian snack (almost like cinnamon toast) and we headed off in search of the Northern Lights!
We arrived at our destination after about 40 minutes of driving, set up camera equipment, took several test shots, and waited, and waited, and waited.  Luck was on our side -- all of a sudden we saw the beginning of the formation of the Northern Lights.  I'm not going to lie -- it was exciting.  The Northern Lights form.  Then they dissipate and reform.  There is never any guarantee one is going to be able to see the Northern Lights so we feel very fortunate it all worked out for us.
The following day we were picked up from our hotel and taken to the Sorrisniva Igloo Hotel for the night.  The hotel is divided into the "warm" part (reception, bathrooms, showers, restaurant, lobby) and the "ice" part (the ice bar, chapel, lobby, and hotel rooms).  The ice part of the hotel is constructed anew each winter.  There are no doors on the rooms, but only curtains.  Each room has a bed made of ice, covered in reindeer skins, and perhaps some ice furniture -- ours had a small table and chair.  Before dinner, we were free to roam all areas of the ice hotel to take photographs and admire the craftsmanship and design that went into creating the structure.  They even ran lighting through the ice!
Dinner was a delicious and leisurely evolution.  There were only 9 hotel guests on the night we stayed so we all had the Chef's undivided attention.  It was amazing and that was a relief because the hotel restaurant was our only option out there in the middle of nowhere.
After dinner, we had more time to stroll around and enjoy the "ice bar."  We drank a deliciously sweet blue vodka concoction out of glasses made of ice.  One of the owners of the hotel poured our first glass and then left us to refill as we pleased.  I imagine the fact there were only 9 guests that night allowed him to feel more willing to leave the vodka unsupervised!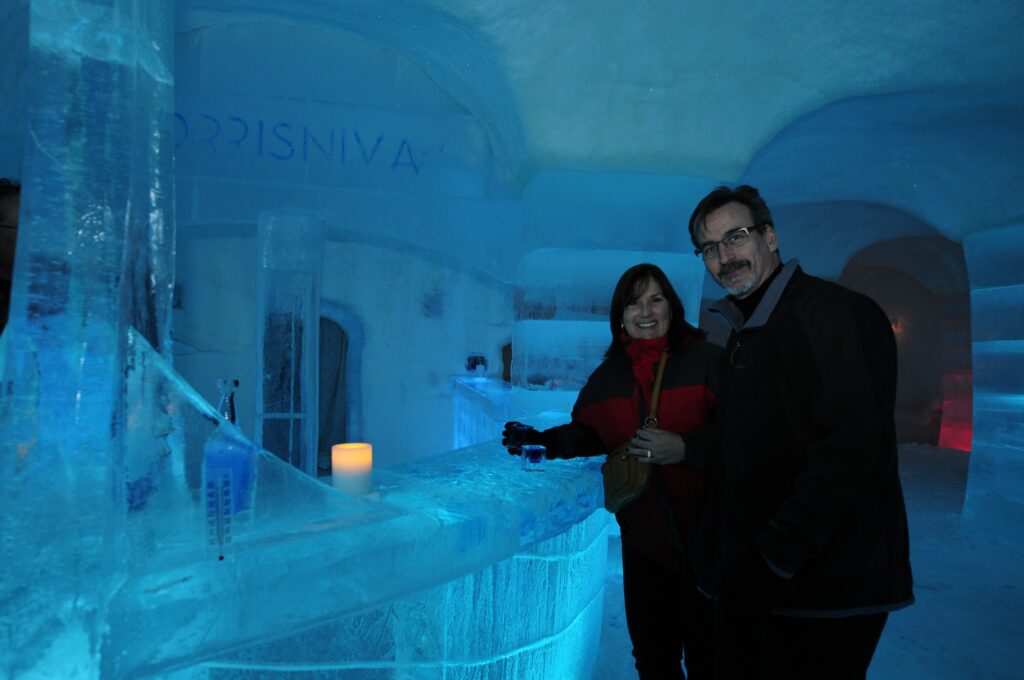 When it was time to sleep, all guests got dressed for bed in the locker rooms (one for males; the other for females), grabbed sleeping bags and pillows from the hall storage closet and shuffled off to our respective rooms.  As I had read before arriving, the rooms, beds, temperature are surprisingly comfortable.  Even the middle of the night trek to the bathroom in the main part of the hotel was not uncomfortably cold.
So thankful we had the opportunity to experience this.
We returned to Altafjord Gjestegaard & Spa for our last night and took off on a dog sledding adventure booked through Holmen Husky (www.holmenhusky.no).  The company picked us up at the hotel and took us to their facility.  We were greeted by the happy, excited barking of about 60 energetic huskies.
We received our orientation and sledding apparel (they even provided boots and socks!  This was very thorough!) and ventured out to meet our dogs.   The phrase that really stood out to me during orientation was -- "the dogs know what to do."  I had never driven a dog sled before so I was comforted knowing that I could rely on my dogs to know what to do.  Silly me!
This round-trip sled adventure was roughly 6 miles.  Jeff drove the sled the first half while I sat and enjoyed being pulled through the beautiful scenery.
At the half-way point, the drivers and riders switched places.  It was so fun to stand up on that sled and have "my" dogs pull us.  I was amused to see that as the dogs get thirsty they simply scoop up a mouthful of snow on the run, without even missing a beat.  Same goes for when the need to use the bathroom occurs!  Interesting.  Not something I had ever even thought about until I saw it in real life!  How efficient!  How can I work this into my every day life?!
So, my team of 5 dogs is pulling us along at a nice, energetic pace.   We're going down a slight decline, picking up speed and turning ever so slightly to the left.  I'm telling myself "the dogs know what to do, the dogs know what to do" when CRASH, BANG, right into a tree trunk goes my sled.  Talk about an abrupt halt!  The dogs are fine (of course, they know what to do!).  Jeff bailed off the sled just before impact to save his camera.  I was thrown off at impact accompanied by my own blood curdling scream, immediately followed by laughing because it was so ridiculous that I crashed the dog sled.  Who does that?!  The sled was wedged into the tree trunk and took the strength of 3 guys to pull it out.  Our guide shook his head and commented that had never happened before.....
We were able to limp the sled back to camp where we were met with amused expressions from the rest of the guides.  I don't know why I didn't think to use the brakes to slow the dogs down as they rounded that corner.  Next time I'll know better!
All good things must come to an end, and  we had caused enough damage in Norway.  We we bid farewell to that beautiful country and returned to Germany with many fond memories and photographs.