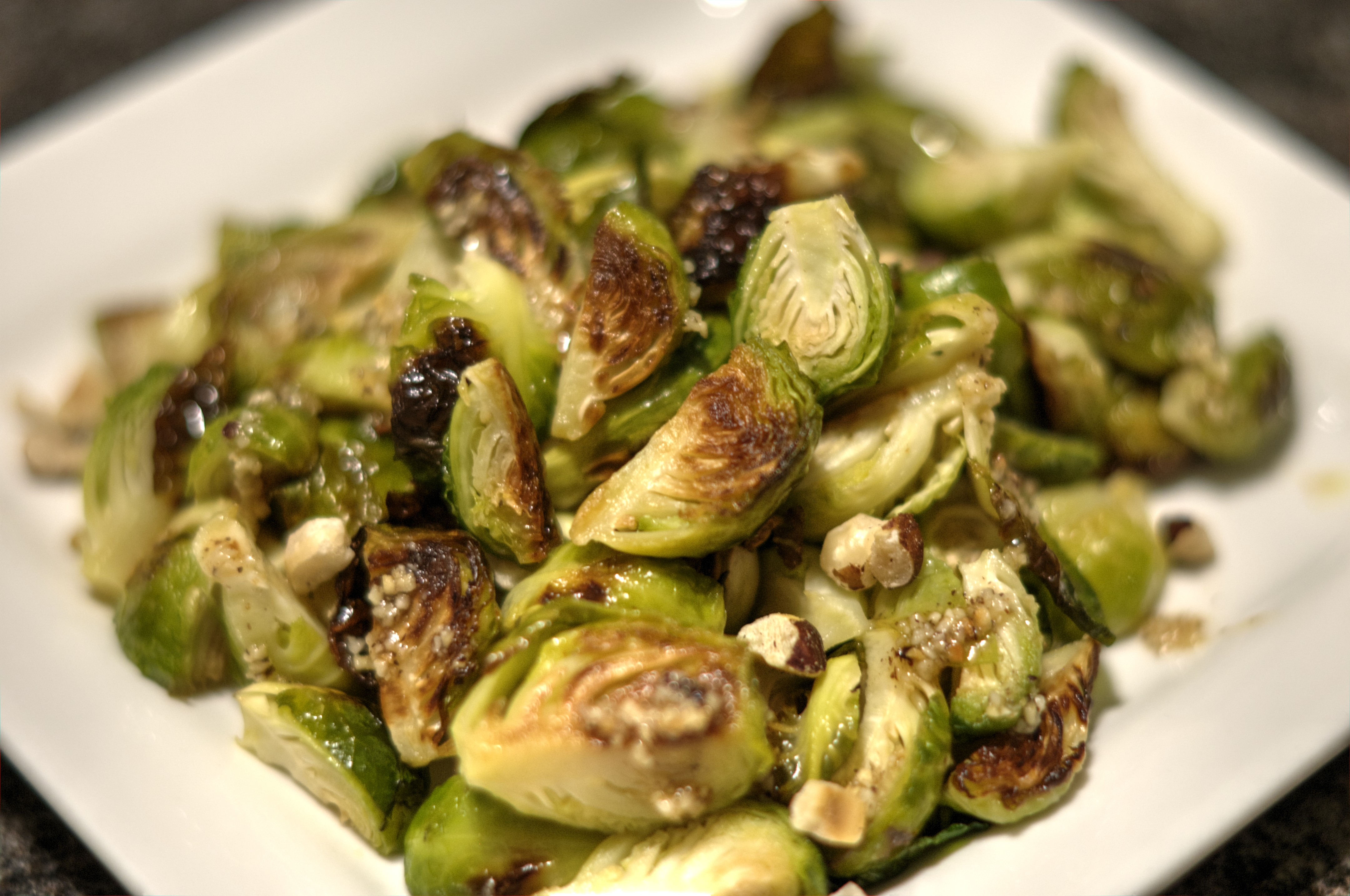 I am a fairly new fan of Brussels Sprouts, and I have my daughters (and Natalie!) to thank for that.  Growing up, Brussels Sprouts were frozen, then boiled with bacon, if I recall correctly.  I like most vegetables, but as cute and delicious as they looked, I just didn't care for the taste.  Fast forward to 2007, Jackie and Alyssa came home from having dinner with our neighbors and raved about the fresh Brussels Sprouts Natalie prepared.  I was perplexed!  "Really?!  You like Brussels Sprouts?!"  I decided to give them another try.  I found that I really do enjoy fresh, roasted Brussels Sprouts.  A completely different experience from boiled.  This recipe one-ups the basic roasted by topping it with a hazelnut butter.  The honey and lemon add layers of flavor.  Let me know what you think!
Brussels Sprouts With Hazelnut Butter

Print recipe
Ingredients
⅓ Cup hazelnuts (finely chopped)
4 Tablespoons unsalted butter (softened)
2 Teaspoons finely grated lemon zest
1 Teaspoon dried thyme (or 1-½ teaspoon chopped fresh thyme)
1 Teaspoon honey
Kosher salt
¼ Cup extra-virgin olive oil
1-¾ Pounds Brussels sprouts (approx. 6 cups) (trimmed and quartered)
1 Teaspoon lemon juice
Directions
Roasting Brussels Sprouts
Step 1
Preheat oven to 400°F.
Making Hazelnut Butter
Step 2
Toss Brussels sprouts in olive oil, place in single layer in roasting pan (or cookie sheet) and sprinkle with salt. Place in oven until nicely roasted. This should take approximately 15-20 minutes. Check halfway through and mix so that Brussels sprouts can get roasted on all sides.
Step 3
Place hazelnuts in skillet on stovetop over medium-high heat. Stir constantly until nuts are toasted to a deep golden brown (careful not to burn). Remove from heat.
Step 4
Finely chop ¼ cup of the nuts in a food processor. The final product will be fine like cornmeal. Reserve the remaining nuts for garnish.
Step 5
Mix the finely chopped nuts with butter, lemon zest, thyme, honey and salt.
Step 6
Place roasted Brussels sprouts in serving dish, drizzle with lemon juice followed by hazelnut butter and top with reserved coursely chopped nuts.