I felt like I was in an episode of "Iron Chef" when our landlord presented me with a 20 pound pumpkin from his garden.
I could just imagine the challenge -- "Here.  Twenty pounds of pumpkin. Make something spectacular."
As luck would have it, we met up with our friends for drinks Friday night.  The wife is Italian and, genetically, a great cook!
I asked her how she used fresh pumpkin.  Without hesitation, she rattled off a number of ways I could use the pumpkin and let me know I could even cut it into cubes and freeze it for later.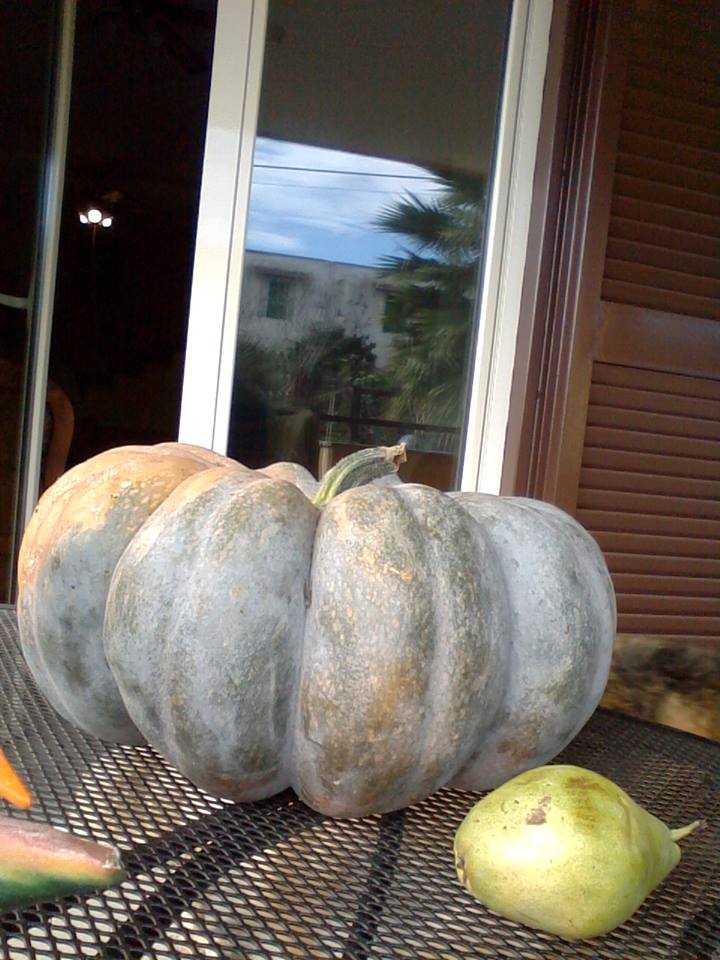 The following day, we accompanied these friends to a festival in a town not too far away.  (Read about it here.)
One of the dishes I tasted at the festival was risotto with pumpkin and cheese.
I was so impressed with the flavor and texture of the fresh pumpkin, I returned home inspired to create something along those lines.
This lasagna with roasted pumpkin and sausage is simple to put together.
I think you'll be pleased with the flavor and creamy texture the roasted pumpkin adds to it.
ENJOY!
Roasted Pumpkin and Sausage Lasagna

Print recipe
Roasted pumpkin gives this lasagna a creamy, buttery texture and beautiful color. The spicy Italian sausage livens up this dish. Perfect for fall weather. The leftovers (if there are any!) freeze well too!
Ingredients
2 Lbs. Fresh pumpkin (chopped into 1 inch squares -- maybe a little smaller)
2 Teaspoons Fresh rosemary (chopped)
Cooking spray
1 Package (approx. 19 oz.) Italian Sausage (I prefer spicy - casings removed)
1 Can (14.5 oz.) Crushed tomatoes (Use petite diced tomatoes, if you prefer chunkier sauce)
3-4 Cups Tomato sauce
1 Large container Ricotta
3 Eggs
1 Lb. Mozzarella (shredded)
1 Generous cup Parmesan cheese (shredded)
9-12 Sheets Lasagna noodles (I recommend using noodles that can cook in the oven instead of having to be cooked beforehand.)
Note
If you haven't tried making your own pasta at  home before, I am here to tell you that it is so easy -- especially if you have a food processor and pasta attachment.
What I like about making fresh pasta for lasagna is that I can get the lasagna noodles extra, extra thin.  It can really make a difference in the final dish (although store-bought pasta works perfectly well!)
For this recipe, I used my kitchen scale to measure out 400 grams of all purpose flour (yep -- no special flour needed!), plus 4 eggs and a couple pinches of salt.  Mix it up in the food processor.  Turn the dough out onto a floured surface and knead just a little bit.  Run through pasta machine according to your machine's instructions.
Directions
To Roast the Pumpkin
Step 1
Heat oven to 400°F. Spray large cookie sheet with cooking spray. Spread out your cubed pumpkin. Sprinkle with chopped fresh rosemary. Give all another spritz of cooking spray and bake in oven until soft (approx. 25 minutes).
Step 2
Remove from oven. Once the pumpkin has cooled a bit, take a potato "masher" and press down on the pumpkin to take out most of the lumps.
To Prepare the Sauce
Step 3
In medium skillet, cook sausage (casings removed) over medium high heat until browned. Drain off fat and return to skillet. Add mashed pumpkin. Add crushed tomatoes and tomato sauce.
Step 4
Taste and add salt and/or pepper as desired. Simmer for approx. 15 minutes.
To Assemble the Lasagna
Step 5
In medium bowl, add ricotta and eggs. Mix to combine.
Step 6
In the bottom of a 8 x 12 (or thereabouts) casserole dish, add about 1 cup sauce. Layer pasta sheets on top, followed by more sauce, ricotta mixture, parmesan, and mozzarella. Continue layering until you run out of ingredients (the parmesan and mozzarella should be the last things you put on top). I was able to get 3 layers in, but one of these days I'm going to find a deeper pan and go for 6 layers!
Step 7
Bake in 350ºF until thoroughly heated and bubbly. (About 45 minutes.)
Step 8
Let cool a bit before serving with a hearty Italian bread on the side!