If you're looking for an easy, fresh dressing recipe, lemon poppy seed dressing is a great choice.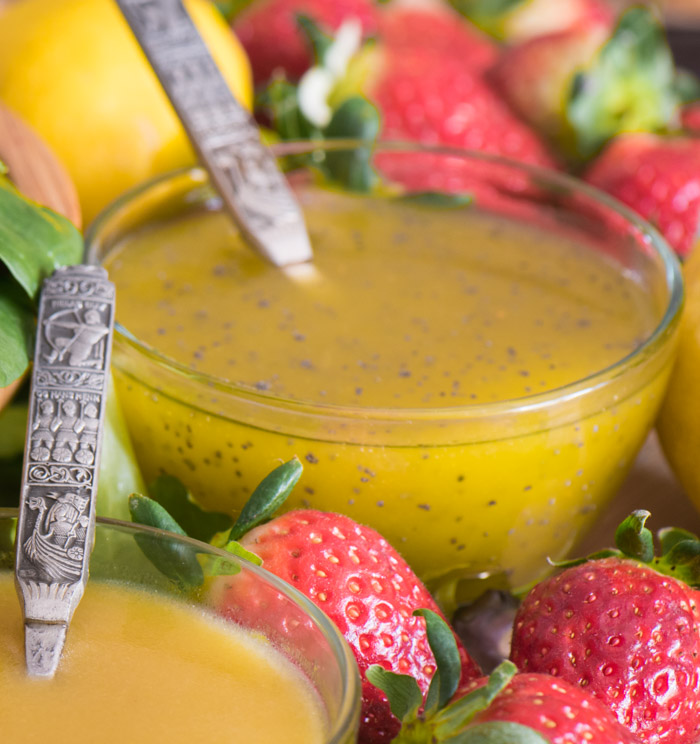 Five minutes is all it takes to whisk this up and you're well on your way to a delicious salad.
I could see using this lemon poppy seed dressing on cole slaw before adding to a pulled pork sandwich.
This sweet-tangy dressing goes really well with fresh spinach, fruits, grilled chicken, bacon.
I love it on Breakfast Salad.
If you like this dressing, you're probably really going to enjoy maple balsamic dressing and lemon, honey, ginger dressing
Enjoy! - The Recipe Wench
Lemon Poppy Seed Dressing

Print recipe
| | |
| --- | --- |
| Serves | 1 cup |
| Prep time | 5 minutes |
| Meal type | Condiment |
Lemon poppy seed dressing is sweet and tangy dressing that goes really well on salads containing fresh fruit and/or grilled chicken. Super easy to make and you can't beat the fresh flavor!
Ingredients
¼ Cup sugar
½ Teaspoon dry mustard (you can substitute a teaspoon of prepared or dijon mustard)
1 Teaspoon kosher salt
¼ Cup olive oil
¼ Cup vegetable oil
2 Tablespoons + 2 Teaspoons white wine vinegar (you can substitute apple cider vinegar)
1 Tablespoon fresh lemon juice
1 Teaspoon poppy seeds
Note
Lemon Poppy Seed dressing goes really well on a Breakfast Salad with fresh fruit.  I would also highly recommend this dressing on a salad with grilled chicken.  Other tangy/sweet dressing options for these types of salads would be Maple Balsamic and Lemon Honey Ginger.
Enjoy! - The Recipe Wench
Directions
Step 1
Whisk everything except poppy seeds in small bowl.
Taste.
Adjust seasonings to your preference.
Whisk in poppy seeds.
Step 2
Enjoy!